On Tuesday we took a day-long field trip to Managua, the capital, starting at the old city center.  The original Cathedral is now in ruins with its clock frozen at the time (12:32 a.m.) when the 1972 earthquake leveled almost all the major buildings in the downtown area.  The Somoza dictatorship's theft of international relief aid after the earthquake was one of the factors that lead to the insurrection in 1979 that toppled Somoza.  The former National Palace, now a museum that we toured, also sits on the same square with the cathedral ruins.
At the Batahola Norte community center a volunteer and recent GC grad, Andrea Kraybill, explained the center's beginnings inspired by liberation theology in the 1980's during the revolutionary period.  Andrea also interpreted the many events and personalities depicted in multiple murals.  She also explained the philosophy behind the center's anti-poverty programs and why the efforts are all directed at helping women.
After a brief visit to the capital's new cathedral, built in the 1990s, we took a break for lunch and cold drinks, a welcome respite from the 95-degree heat that day.
The afternoon was dedicated to seeing neighborhoods from opposite ends of the social spectrum.  The Santo Domingo neighborhood has expansive houses, brilliant green lawns, and an upscale mall.  Afterwards we visited Barrio (a lower income neighborhood) Grenada, which had begun with cardboard and plastic shacks in the 1980's, but has now progressed to concrete block homes and better living conditions.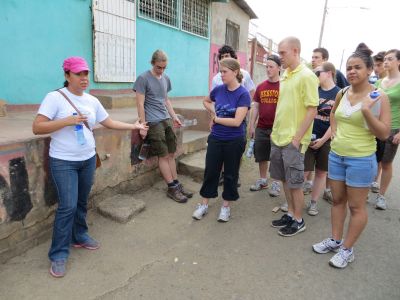 The original children of that barrio, now adults, started Anexo Dios Provera (Annex God Will Provide) on an adjacent bean field.  The organization Companeros (www.companeros.ca) has helped the new neighborhood as they are transitioning from cardboard and plastic shacks to ones made with sheets of scrap metal roofing and, with the help of Companeros, better wooden homes built off the ground.  Basic city services – running water, electricity, and sewer – typically only comes after residents have lived there for multiple years.  With the help of Companeros, the Anexo was able to get those services quicker than usual.
We were given a tour through the Anexo by Dalena Taylor, who works for Companeros  and is the local coordinator who helps GC staff with the logistics of SST each summer, and Gonzalez Duarte, the executive director of Companeros.  They work closely with the leaders of the local community and their organized efforts to improve living conditions for all residents.