A Trip Out East – Part 3 (Finale)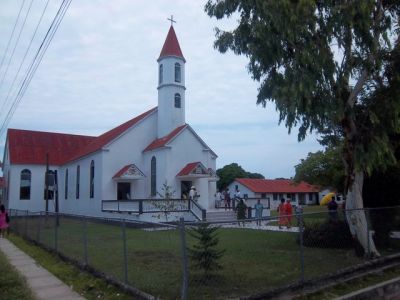 Moravian Church and a Miskito Village
by Sarah
Sunday took us to the Moravian Church in Pearl Lagoon, where we worshiped with a lot of singing and rather long sermon in Creole about honoring one's family and being obedient to one's parents. Our group sang two hymns for the church members: "I Sing the Mighty Power of God" and "Come Thou Fount of Every Blessing."  The church seemed to enjoy it and Dalena was pleased with us, so that all turned out well despite some initial reservations.
After lunch we went to the Miskito village of Awas. It was just a short distance from Pearl Lagoon. The term "Miskito" describes an indigenous group from Nicaragua. This group traded with the British during the 1700s and received muskets from the British. To distinguish them from other indigenous groups the British called them "Musketo" which eventually turned into "Miskito."  After a short talk with a local woman and her husband, we went into the water there and discovered some neat (non-stinging) jellyfish.
We ended our day with a rousing game of spoons, some ice cream and an early bedtime to prepare for the return trip.