Associate Professor of US History & MQR Book Review Editor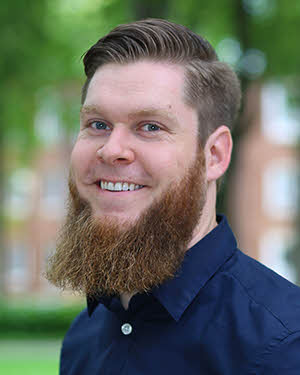 Education
Undergraduate, Ludwig Maximilian University of Munich, 2007
M.A., University of Chicago, 2014
Ph.D., University of Notre Dame, 2016
Contact
(574) 535-7460
Wyse Hall 312 (map)
Good White Christians: How Immigrant Religion Made Racial Privilege in America – book manuscript in progress
"A historian of religion in North America tells the story of a recent conversation with a business owner in Lancaster County, Pennsylvania, who employs six men. "Three are Amish," the business owner said. "And three white guys." Whatever the context here: this off-the-cuff remark suggests that there are situations in which contemporary racial binaries have no foundation other than religious practices. After all, we often assume – correctly and sadly so – that in North America, skin pigmentation determines a human's social, cultural, and economic privilege. But members of the Amish church have entirely pale skin. So how can they be non-white, even if only to one business owner?
More importantly: why does no one make a similar distinction between white Americans and religious communities with comparable immigration stories as well as skin pigmentation – mainline Mennonites of Swiss descent, evangelicals with Swedish and Norwegian names, liberal Protestants from German stock for example? The picture gets even more messy when the America religious descendants of such groups today are understandably concerned about the kind of privilege their status as good, white Protestants affords them.
I attempt to shed new light on how religion shaped this interplay between race and power that still weighs on America. I draw mostly on Chicago's religious and immigrant life between 1885, the year Josiah Strong published his Protestant nationalist manifesto Our Country, and the outbreak of World War I. Based on foreign-language sources, my project tracks the ways in which these immigrants shaped their racial credentials through religious encounters with America's Anglo-Protestant activist scene – its social-gospelers, revivalists, and home missionaries – and through defining themselves over against others – passive, quietist, tribal religious groups. I argue that various well-meaning immigrant religious groups harnessed the cultural capital and coercive power of white Protestantism by adopting a posture of restless cultural activism and missionary zeal, as well as a view of ethnic boundaries as harmful to proper religion.
Religion, then, outlined racial spaces, not just the other way around. And "white religion" in America as we know it today is not simply an afterthought of racial binaries, but a fundamentally spiritual construct – never simply Anglo-Saxon, nor always American-born. With this framework in mind, I am interested in how  immigrants used activist religious postures to shape racial status and cultural privilege. 
My interest extends to the present: despite the contributions of their busy, world-bettering activism to the vitality of religious life in America, the immigrant religious groups I am interested in probably lost what could be a considerable gift to a culture still fraught with racial tensions: the instinct of ethnoreligious minorities that declined to exploit the advantages of their skin pigmentation, but opted instead for "wise provincialism" – a position on the sidelines of dominant culture."
(This book began as a dissertation at the University of Notre Dame History Dept, Committee: Mark A. Noll, Thomas A. Tweed, Rebecca Tinio McKenna, Darren Dochuk)
BOOKS
Good White Christians: How Immigrant Religion Made Racial Privilege in America –Manuscript in progress
SCHOLARLY ARTICLES
"'Evangelize-Americanize:' White Religion and Chicago's Immigrants, 1884-1889." American Studies (forthcoming, Spring 2017)
"How Mennonites Became White: Religious Activism, Cultural Power and the City." Mennonite Quarterly Review 90 (April 2016): 51
BOOK REVIEWS
Review of Janis Thiessen, Not Talking Union: An Oral History of North American Mennonites and Labour, in Conrad Grebel Review (forthcoming)
Review of Elizabeth Gritter, River of Hope: Black Politics and the Memphis Freedom Movement, 1865-1954, in H-SHGAPE, H-Net Reviews, November, 2014. URL: https://www.h-net.org/reviews/showrev.php?id=41924
Review of John D. Carlson and Jonathan H. Ebel, eds., From Jeremiad to Jihad: Religion, Violence and America, in Journal of Multilingual and Multicultural Development, Vol. 35 (6/2014).
Review of Jared S. Burkholder and David C. Cramer, eds., The Activist Impulse: Conversations on the Intersection of Anabaptism and Evangelicalism, in Mennonite Quarterly Review 87, No. 2 (April 2013): 265-267.
Review of David R. Swartz, Moral Minority: The Evangelical Left in an Age of Conservatism, for the American Society of Church History blog, February 2 2013. http://www.churchhistory.org/blogs/blog/david-schwartzs-moral-minority
PUBLIC HISTORY
"It's Good to Be Nobody: Beyond the Spiritual Rat Race Lies the Promise of a Marginal Community," Mennonite World Review, June 8 2015.
"The Blessings and Embarrassments of Tribalism," Mennonite World Review, July 22 2013.
"Historians and Politics in the Age of Trump and Beyond," Roundtable, Conference on Faith and History, Grand Rapids, MI September 2018
"Tired of the Diversity:" Latinx Disenchantment with the Protestant Mainline," American Society of Church History, Denver, CO, January 2017.
"Disenchanted by Diversity: Ethnic Protestants among Good White Christians," American Academy of Religion Annual Meeting in San Antonio, Texas, November 2016.
"Crossing 'Our Country' to the Salt Lake: Mormon Otherness as a Foil for Immigrant Belonging," American Academy of Religion Annual Meeting in Atlanta, Georgia, November 2015.
"Mormons, Swedes, Americans, and the Color of Religion." World Congress of the International Association for the History of Religions in Erfurt, Germany, August 2015.
Organized, Chaired and Presented: "Roundtable: Moving into Whiteness: Mobility and Pan-Ethnicity in late 19th Century Midwestern Immigrant Protestantisms," American Society of Church History in Minneapolis, Minnesota, April 2015.
"How Mennonites Became White: Troubling our Anti-Racist Activism," Anabaptist Mennonite Biblical Seminary in Elkhart (invited lecture), February 2015.
"How Mennonites Became White: Religious Activism, Power and the Limits of Race," University of Winnipeg Mennonite Studies Conference, October 2014.
"Evangelize-Americanize:" Religion and Acculturation through Chicago Immigrant Eyes, 1884-1919," American Society of Church History in Oxford, England, April 2014.
HIST 105: United States History
CORE173: Seminar: Global Christianity
HIST205: Immigration and American Identity
HIST299: Race and Religion: An American History
HIST323: Colonial and Revolutionary America
HIST327: US Immigration and Ethnic History
HIST375: Eating in America: A History of Food
HIST410 and 411: Junior and Senior Seminars
External Fellowships, Awards, Grants
2018                Faculty Renewal Grant, Goshen College
2018                Research and Travel Grant, American Congregational Library, Boston.
2016                Mininger Center Grant for Teaching Faculty, Goshen College
2015-16    Louisville Institute Dissertation Fellowship, The Louisville Institute
2014         Fellowship for Research in Scandinavia, The American-Scandinavian Foundation (Crown Princess Märtha Fund)
2014         Graduate Scholar-in-Residence, Newberry Library Chicago (declined)
2014         Open Research Grant, Mennonite Historical Society
2014         Dagmar and Nils William Olsson Visiting Scholar Award, Swenson Swedish Immigration Research Center at Augustana College
2014         Scholarship, King Olav V. Norwegian-American Heritage Fund
2014         Research and Travel Grant, American Congregational Library
Internal Fellowships, Awards, Grants
2014         American Dream Grant, Institute for the Study of the Liberal Arts
2013,14    Graduate Research Awards, Institute for the Study of the Liberal Arts
2009-10    University Merit Scholarship, University of Chicago
2006-10    Advanced Studies Scholarship, Government of Austria
Prizes
2013         Outstanding Graduate Student Teaching Award, University of Notre Dame
2013         Striving for Excellence in College and University Teaching Certificate, Kaneb Center, University of Notre Dame