Photo album: Track and field volunteering with Elkhart Community Schools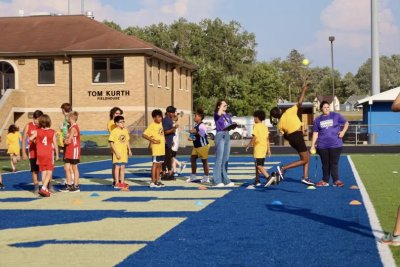 In collaboration with the Track & Field teams of Goshen College, Todd Johnson, K-12 Coordinator for the Center for Community Engagement led a volunteer group of 10 student athletes and Head Coach Sean Foulkes. The group volunteered at the Elkhart Community Schools' Track & Field meets on Wednesday, August 30th and September 6th. Johnson got the chance to take our very own Men's and Women's Track & Field team to the Elkhart track meet where our students got a chance to engage in the community. "This partnership with Elkhart County schools will ensure that Goshen College and its athletes continue to be involved with events in our surrounding areas", said Johnson.
While the students volunteered in different events during the track meet, Coach Sean Foulkes was the event's announcer. Huge shout out to Coach Foulkes and our student athletes who helped make this event possible! Thank you for jumping into action and engaging with our community!