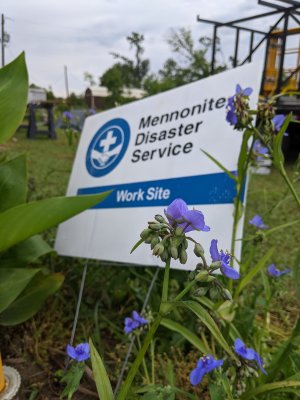 After a couple days of very little schedule, there was a shock factor on Monday as we all realized how tightly scheduled our days would be with Mennonite Disaster Service (MDS). The schedule each day with MDS is identical: wake up, pack lunches at 6:30 AM, breakfast at 7 AM, devotional at 7:30 AM, and then leave for the site by 8 AM. We have a morning break and snack, lunch break, and an afternoon snack. We are definitely not going hungry!
Day one at the job site consisted of a steep learning curve for most of us involved. Some were outside in the Florida sun painting siding, others were learning to use air powered nail guns to fasten the siding on to the outside of the house, while the rest of the group was inside the house power sanding down the base floor. The photo on this post is the students after day one of working on the job site!
We arrived back at base camp, Rivertown Community Church (RCC), to shower and eat dinner. MDS is known for their delicious food and we have not been disappointed. For dinner, we ate pizza rice casserole.
Adhika Ezra, junior psychology major, reflects on the first day.
I had a thought about how it takes 16 people working 8 hours and still there is a lot of work left to do. It turns out that building a house is not easy. At the same time, we make great progress collectively… I learned to lean into the work instead of avoiding it because by trying to help and give effort I feel more satisfied and it gives meaning to what we did today. I learned the importance of other people and how social support is crucial in pushing through work.
Courtney Smith, junior nursing major, reflects on her first day of work experience.
Today was a good start to the volunteer work. There was a lot of teamwork going on. It was a long day, but a good day. It was interesting to see how much we could accomplish with really no experience. I learned that I have a very strong work ethic and at times I am able to take leadership. I also learned that I am able to tolerate the heat here more than expected. I look forward to the next two weeks. I am excited to see all the progress we make, as well as all the connections and friendships.
Every piece of our day is grounded in social support. Whether it be preparing a meal for a large group of people or working as a group of individuals towards a common goal on the job site — we are constantly leaning on each other for support, laughs, and guidance.