Moving West through the Serengeti
Sorry this post took a little longer than I expected.  We had an interesting week dealing with electricity to our house.  But, we are back!!
Also, sorry this is a LONG post with LOTS of photos and a few videos.  So brew up some coffee or tea, and enjoy!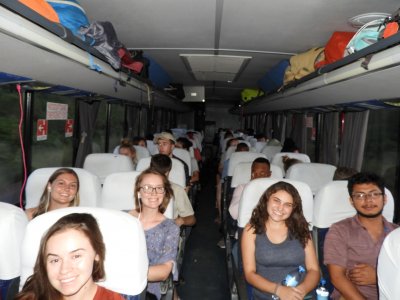 After leaving Dar es Salaam, our first stop was to Arusha, where we stayed for 2 nights.  We were welcomed with cool weather (BLESSINGS!!!!).
We met up with Rebecca and Paul Mosley, who are currently serving with MCC in Arusha.  They presented a slide show and lecture about all the ways MCC is partnering with local organizations to promote safety, gender equality, care for pregnant women, etc.
After the slideshow we drove to a place called ECHO (the acronym no longer represents what they do, but they kept the organization name).   Erwin Kinsey gave us a tour and described how ECHO partners with community members and farmers to promote better nutrition in their daily diets.  This includes education about nutrition, seed saving and promoting better farming practices, cover crops to help encourage better soil health, etc.
After lunch we climbed Kilima Moto ("Hot Mountain"), a crater where an active volcano once stood.
Then off we went to explore the wild world of the Serengeti.  This part of the post is mostly pictures and very few words.  Really, words can barely describe the awe we felt as we made our way through this magical part of the world.
First day: Ngorongoro Crater.
Second day: the plains of the Serengeti.  I have almost 2000 photos, but I only chose a few of my favorites.  You're welcome.
Here are some videos I caught of the animals.
Giraffe eating: https://youtu.be/PVeyx8MfAY0
Elephants on the move: https://youtu.be/rLpUcqE4Cxo
Sleepy Hippos: https://youtu.be/LCfBAk8vrek
Lion hunting: https://youtu.be/VVoRTWk6rLU
As we went through the Serengeti we stopped at Olduvai, a museum and old archaeology dig-site where evidence of our original human ancestry begins.  We were actually finding human and animal bones while hiking around the site.
Third day: a morning game drive (photos actually included in above set), then off to Ikoma Cultural Center.
Fourth day: Natambisho Village.
Fifth Day: making our way to Musoma with a stop at the Butiama-Nyerere Museum where we got to meet the son of the late Julius Kambarage Nyerere, Madaraka Nyerere, who still lives at the former-President's residence.