'Miss Anna' and 'Miss Claire': Teachers Serving in Oxapampa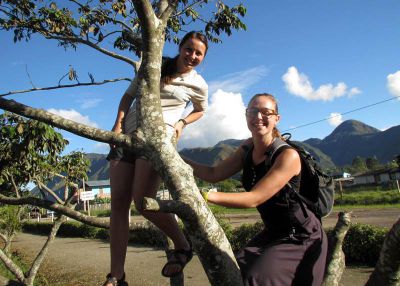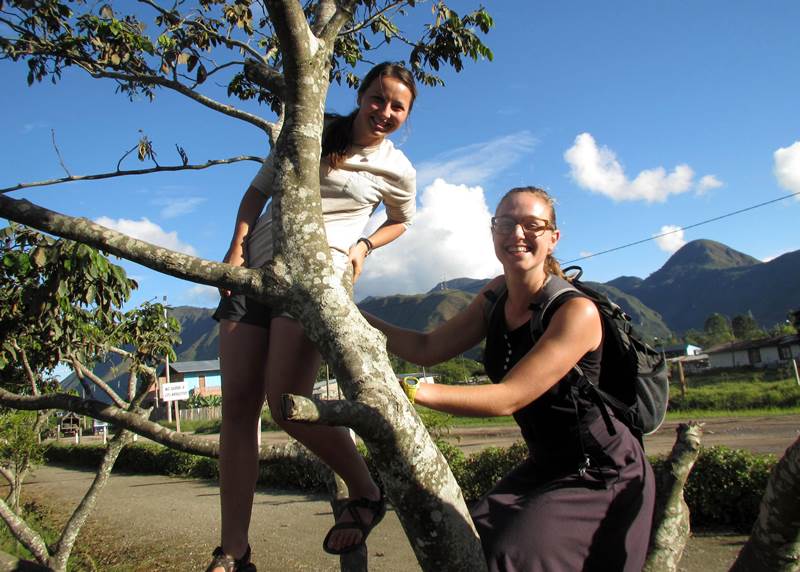 By Karen and Duane Sherer Stoltzfus
Peru SST Co-Directors, 2014-2015
One way to teach English words to a child who speaks Spanish is simply to say a word in Spanish (sapo) and then have students repeat the word in English (frog).
Or you might draw a picture of a frog with an accompanying set of clues: "Es verde, muy verde. Le gusta saltar. Vive en la laguna. Dice: croac, croac, croac. Que es?"
Anna has found that a series of posters like this one are more fun for everyone. She teaches at a private kindergarten, Los Tres Reyes (Three Kings), a primary school that features art and music in its instruction. She helps in a class of a dozen 4- and 5-year-olds.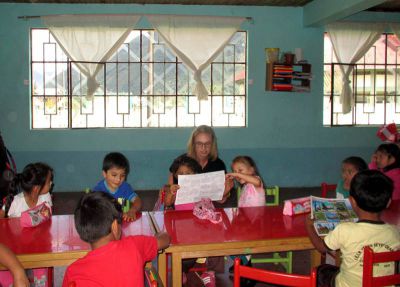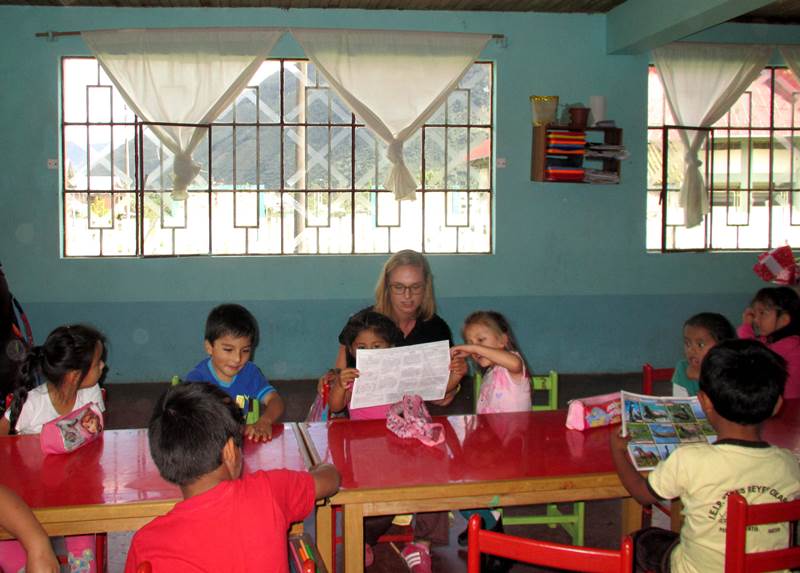 Teaching can be a challenge, especially when put in charge of a class of 3-year-olds, as happened the day we arrived. Just when Anna thought she might be losing control of the rambunctious ones, she came up with the idea of playing "Get on the Train." She lined up chairs and soon the children were on an imaginary ride, pointing out all kinds of animals and scenes as they passed by.
The experience at Tres Reyes opened up new career possibilities. Though Anna does not see herself as a teacher, she came to appreciate spending time with children in a new way. From Oxapampa she applied for a job in Chicago that involved organizing events and activities for children at an arboretum (Anna graduated in May with a degree in environmental science).
Claire is working at the nearby Jardín de Ninos Los Jazmines preschool and kindergarten. She rotates among three classes, for 3-year-olds, 4-year-olds and 5-year-olds, each with about 25 students. On the day we visited, the students were outside, in red, white and blue uniforms, marching.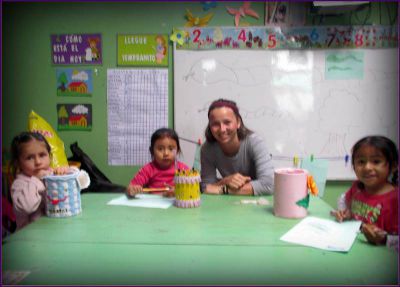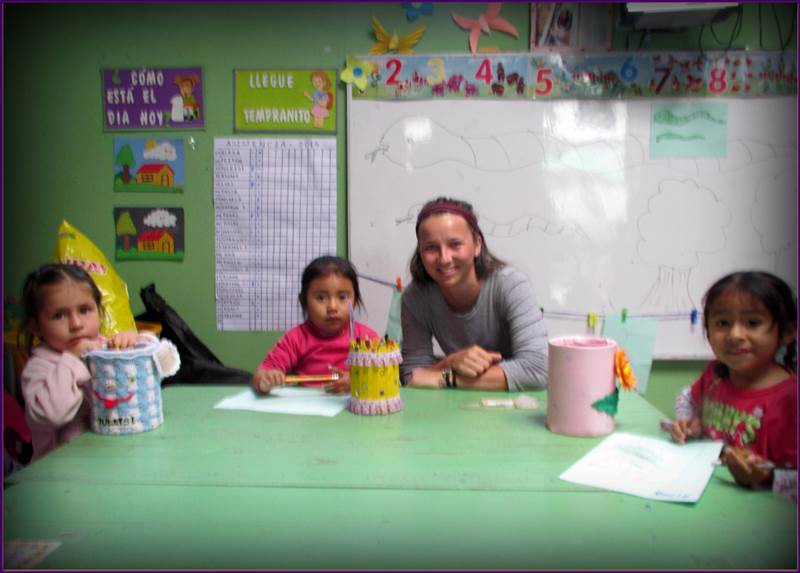 It was tiring work for the young ones, and Claire was doing her best to keep the stragglers in line and in step. The children will be participating in regional parades.
She assists teachers in the three classrooms and pitches in as needed. She helps children with their homework, serves snacks and meals, plays with them during breaks and even helps clean classrooms.
Claire and Anna arrived in Oxapampa just as the city was about to host Peru's biggest music and arts festival: Selvámonos. They said thousands of people were there, staying up well past midnight, listening to a rich mix of Latin rhythms and modern beats, played by bands with colorful names from Peru and all over the world (for example, the Oxa Cowboys from Oxapampa, the Texas Hammer from Brazil, and Rebecca Caldera and the Crazy Riders from Argentina).
Goshen students doing service elsewhere in the jungle came to Oxapampa to spend the weekend with Anna and Claire. They managed to get front-row seats. For a while, several of the students, including Joshua and Zach, were appearing on national TV, courtesy of their great seats. They also ran into Josh's host brother from Lima who came to the festival to promote his personal line of clothing.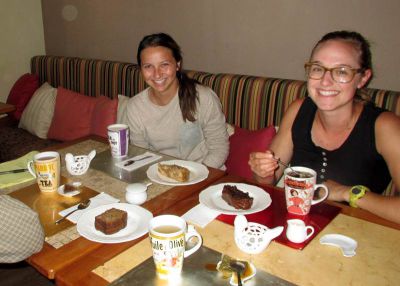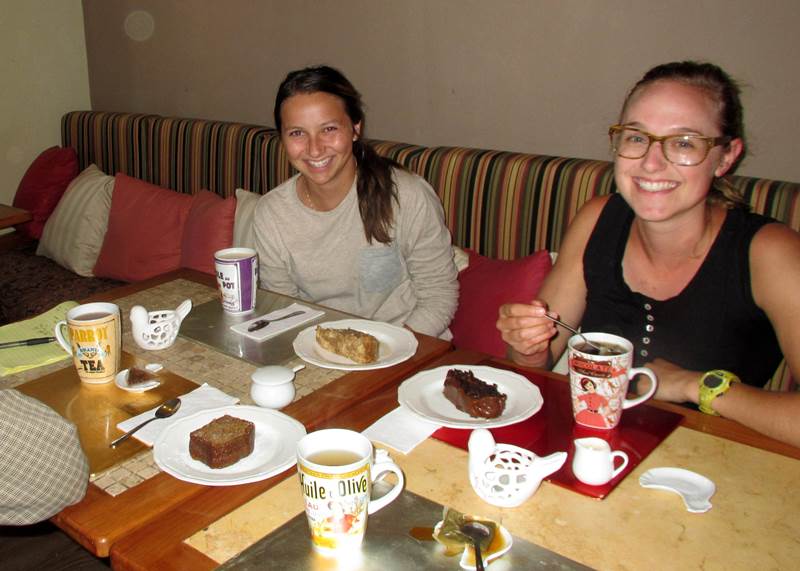 Oxapampa is a lovely city of 10,000 residents located in a verdant valley of the Andes, about 5,905 feet above sea level. Settled in 1891 by a group of colonists from Austria's Tirolean Alps and Germany, the city in central Peru features a rich blend of European, indigenous and Peruvian cultures that is reflected in languages, architecture and food.
The city has attracted migrants from the surrounding towns who have come for education and employment or simply want to live in a quiet and well-maintained community.
Sometimes called "Little Switzerland," Oxapampa is located in the Pasco province in an area known as the selva alta (high jungle) and features a moderate climate; this time of year, the days are warm and the nights cool.
Claire and Anna introduced us to "el campo," the name for the airport park in town. Years earlier the airport shut down and the town created a linear park that could serve as a model for other municipalities with airports. Why maintain an airport with all that noise and traffic when you can have a park?
Anna and Claire are next-door neighbors. Anna lives with her host mother, Teofila Espinoza Nieves, and Teofila's daughter Jenny Navarro Espinoza. Claire lives with another of Teofila's daughters, Noemi Navarro Espinoza, and her husband, Julio Hector Natienzo Quispe, and their children: Ivan and Andres. Leslie, a daughter, lives in Tarma.
Anna and Alma Claire thought it would be fun to give their families a taste of U.S. American tradition on July 4. They made brats and hotdogs and prepared potato salad. Meanwhile, the families surprised them with a decorated cake that read: "Feliz cumpleaños Anita y Alma."
Two afternoons a week, Anna and Claire volunteer at an after-school program supported by Compassion International.
The families will be reminded of their stay in Oxapampa long after they have left. Anna made two floral paintings that already hang on either side of the sofa in Teofila's living room.