Culture for Service in Cusco: Teacher, Translator, Trout Farmer, Nurse
By Karen and Duane Sherer Stoltzfus
Peru SST Co-Directors, 2014-2015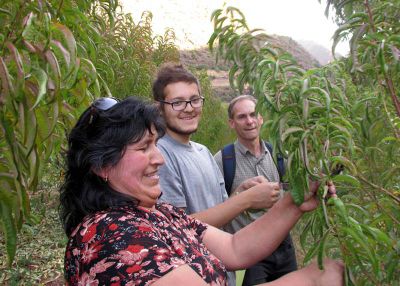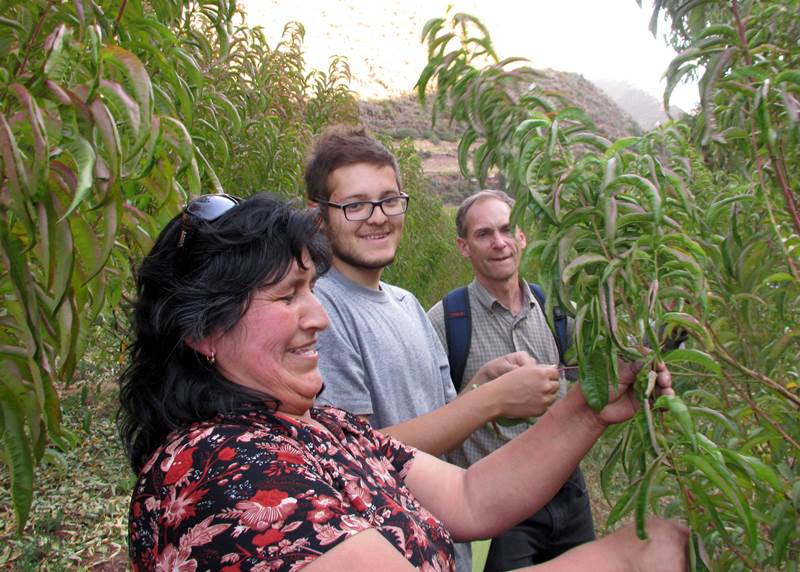 When Margarita Ayma Carlos finished her work day at the La Fuente medical clinic in Cusco, we joined her for the 30-minute bus ride and 10-minute cab ride to her home in Lucre. The setting appears idyllic: small hamlet surrounded by mountains with a river running through it.
This time of year, the days are sunny and warm, and the nights are cold — as in three-blanket or four-blanket cold.
Each of the towns between Cusco and Lucre promotes its specialty: Oropesa, the bread capital, is known for pan chuta; Tipón, for cuy; and Saylla, for chicharones, or fried pork strips.
Lucre is the destination of choice for trucha, or trout, courtesy of the Lucre River. Every time we visit, it seems, there is another trout farm open for dinner. In March, we saw Micah helping Margarita and her family channel water from the stream to their newly installed trout pools.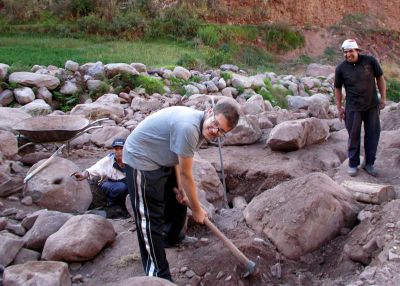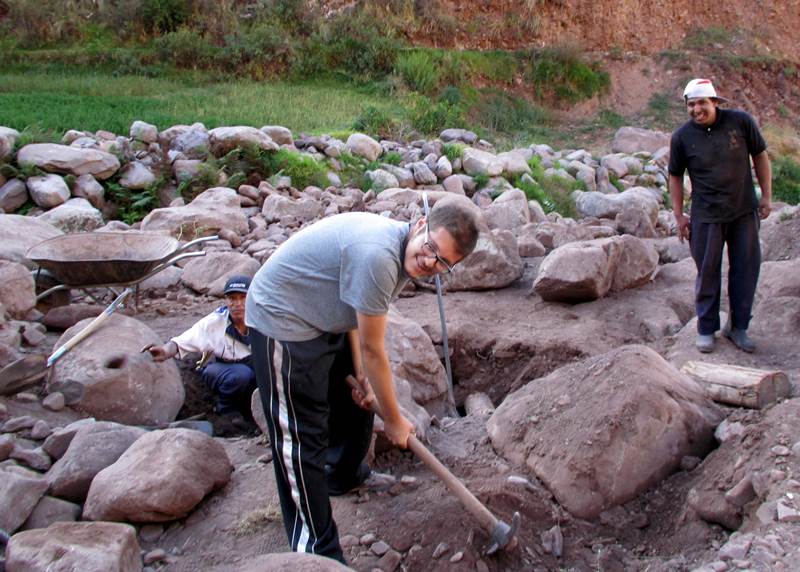 When we visited this month, we found the pools full of trout and Alberto helping with landscaping — which, in this part of the country, more often than not means moving rocks. Other days may find him moving some of the 10,000 trout into different pools, according to size. He's also tending peach trees in Margarita's nearby orchard.
Two weeks into service, Alberto estimated that he had eaten six or seven tout. He can count one more. We enjoyed a supper of fried trout strips with Alberto and Margarita, there by the river, shaded by a ridge that Alberto had climbed earlier with his host brother, Jared, 10. The family served 25 or so people at their restaurant the Sunday before.
Alberto and Jared are close companions. They traveled together into Cusco for Inti Raymi, or the "Festival of the Sun." Jared is giving Alberto an introduction to Quechua, and Alberto is returning the favor with English.  At First Mennonite Church of Lucre, which the family attends, much of the service is in Quechua.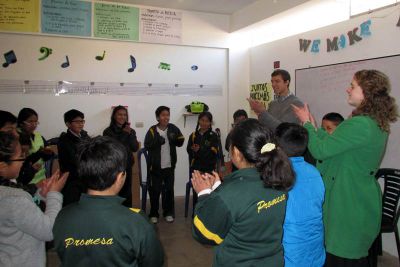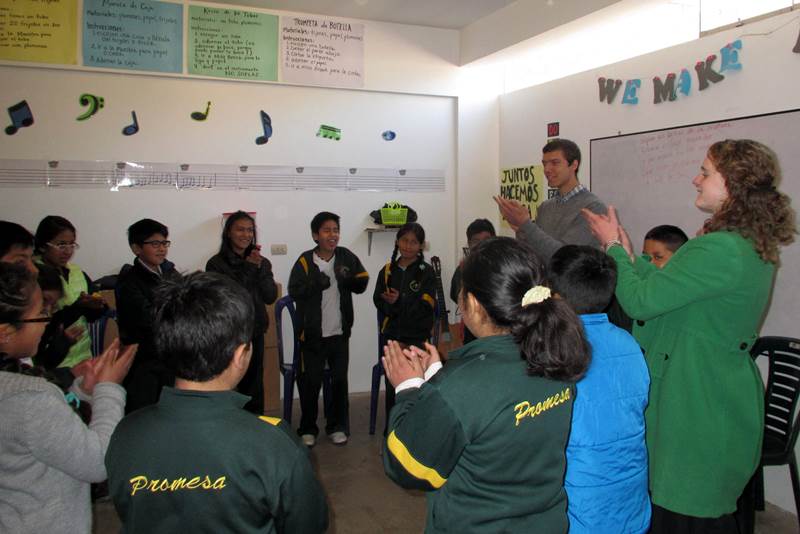 Headed back toward Cusco, in the suburban town of San Jeronimo, we visited Peter at Promesa, a private Mennonite elementary and high school that serves about 350 students. Peter is assisting in both English and music classes.
On this day, he was helping in Brook Hostetter's music class (Brook, a recent Goshen College graduate, is working full time at Promesa). On several vocal exercises, "Miss Brook"  sang an opening line, and "Mr. Peter" would lead the students in singing the response. The class also included some challenging hand rhythms and a stand-up piece called "Danza de Pollo," or the "Chicken Dance."
We had a chance to meet with all four students on our first day in Cusco. For dessert we each ordered a piece of cake and sang in celebration of Peter's 20th birthday.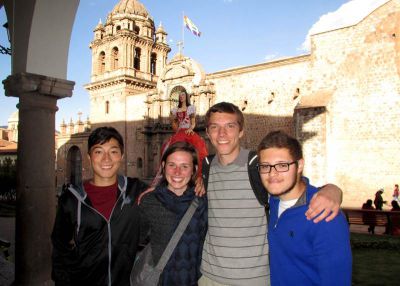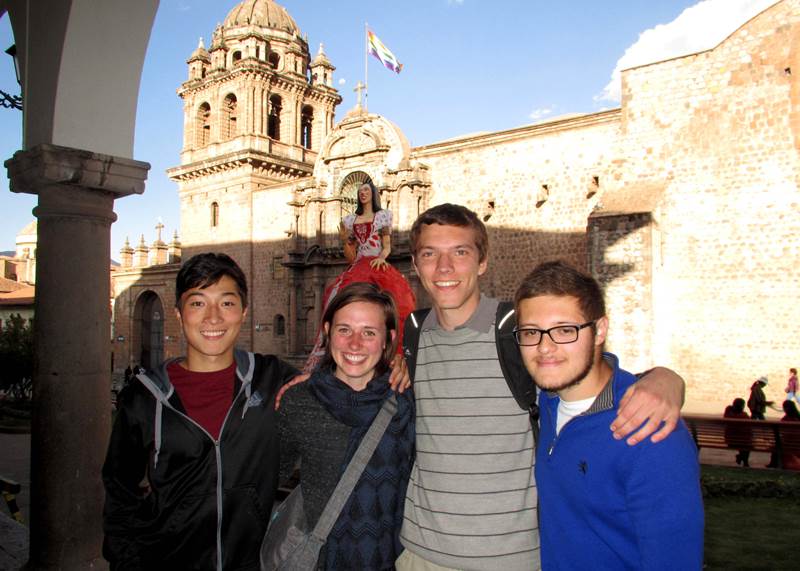 We joined Peter and his host mother, Francisca Tipa Flores, for a visit in their home, admiring the wood furniture made by his host father, Rolando de la Cruz, a carpenter who was working downstairs in his shop. As we were waiting for our bus across the street, we caught a last glimpse of Peter: he was in his upstairs bedroom, playing a violin.
(Quick side story: Peter is a violinist who left behind his instrument in Goshen. But just before service started, Celia found a young man in Lima who was selling his violin at a good price. We all met in front of a Wong supermarket and walked to a nearby underground garage. Peter played to the parked cars for less than a minute and reached into his wallet for soles.)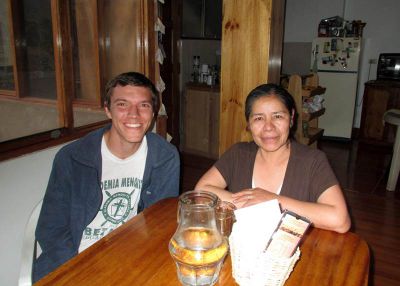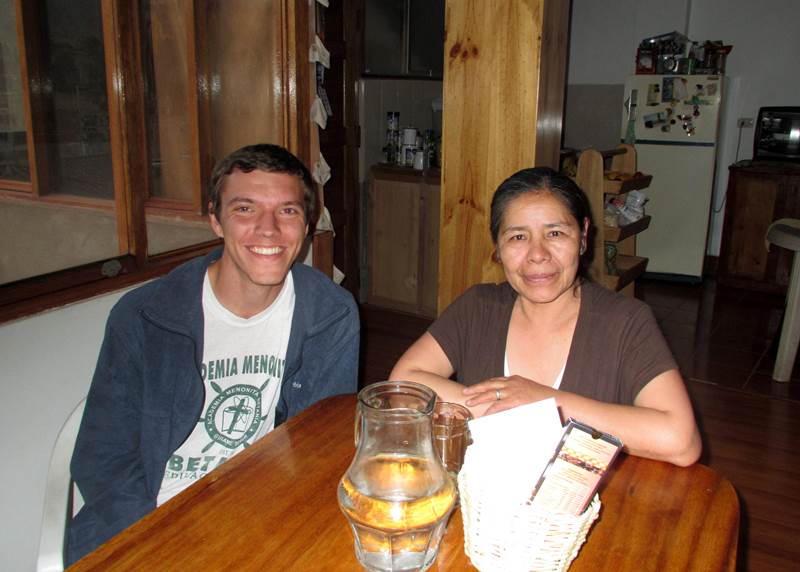 In Cusco, near the monument to Pachacuti, the Incan ruler credited with assembling the empire, we met James in the office where he is working at World Vision, an international organization that focuses on the health and well-being of children and the communities that support them. World Vision links sponsors from the U.S., Australia and other countries with children in the Cusco region.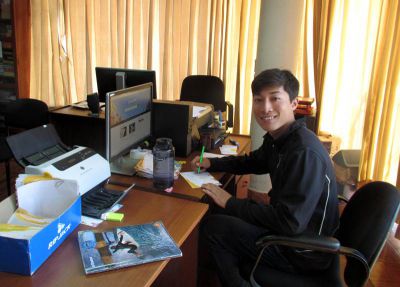 James, who is fluent in Spanish and Japanese, helps to translate cards and track correspondence that is sent back and forth. For example, in response to the prompt  "what I liked about my vacation," a child wrote to a sponsor: "A mi me gustaba pasear en los tardes despues jugar futbol  banarse en el rio." Below, James provided the translation: "I enjoyed walking around in the afternoon. Afterwards, I played soccer and bathed in the river."
Noemi Callasi, the donor supervisor, and Maria Gamarra and Nelly Flores, other staff members, said James was a godsend, as they were struggling to translate materials on time. He also had a chance to make several visits to mountain communities. In one case he was asked to help translate when about 20 girls from a boarding school in Australia went to visit Peruvian children they were sponsoring.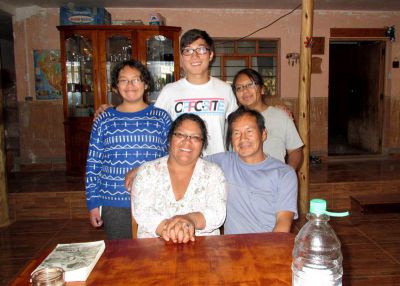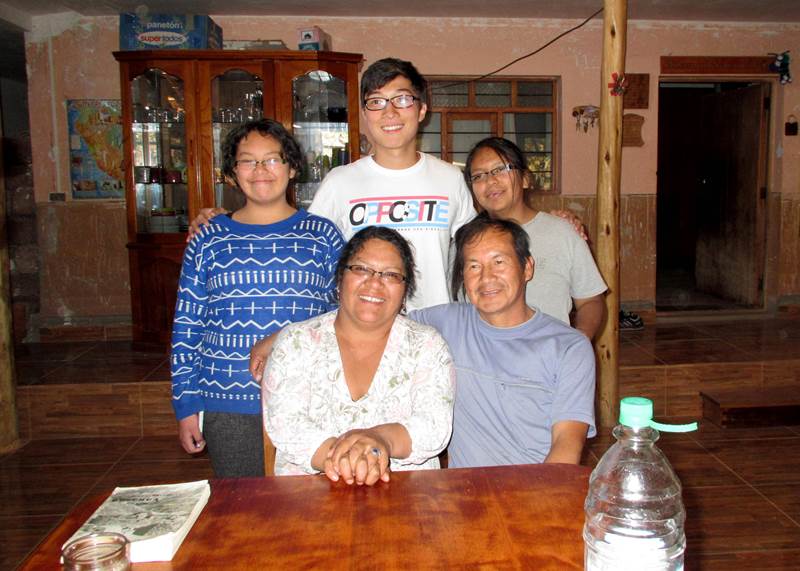 On the Saturday we wrote this blog, James happened to call to let us know that he was helping World Vision's official translator close the communication gap between a team of doctors from the U.S. and families from the region. The doctors were offering free cleft palate and cleft lip surgery to families whose children qualified. Saturday was for screenings. He was expecting to help with translation during the actual surgeries in the following week.
James lives fairly close to Peter, along the road that runs from Cusco to Lucre. We visited one afternoon with his host family, Frida and Saturnino Gomez, and his sisters, Dirsia and Alison.
Our final family visit came on the hilltop overlooking the city of Cusco, where Irene is living with Gloria Mamani Nina and her husband, Mauricio, and their children Madeli, Johan "Benji" and Jhonatn.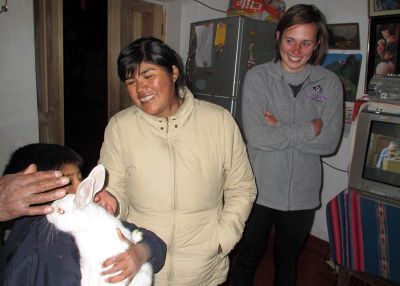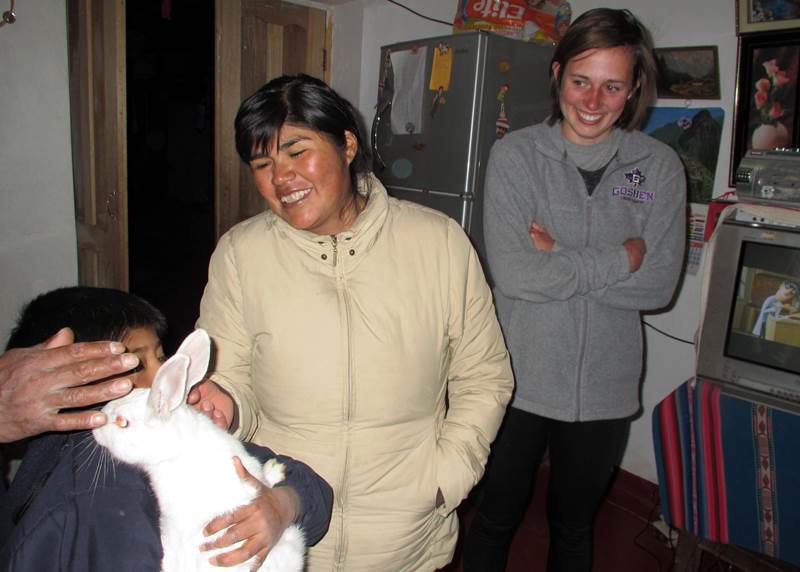 Irene was the first student in our group to report for service. Our study term ended with a despedida party at around 10 p.m. on a Thursday. The next morning she and Alberto were at the airport at 6 a.m. to fly to Cusco. By 3 p.m. that Friday she and her host mother were traveling by van over dirt roads to a remote mountain town for a mission trip. Before the weekend was over, a half dozen people were baptized.
During our visit, Irene changed assignments. She had been working at San Juan de Dios, a Catholic hospital. Through the good graces of a friend of Goshen College, Chris Raber, she found an opportunity to join the medical team at La Fuente, a Presbyterian clinic (where Alberto's mother works). Chris is a Mennonite missionary who works at the clinic part time as a physical therapist.
La Fuente aims to heal the body and also minister to the spirit. Doctors and other staff members regularly pray with patients and share their testimonies.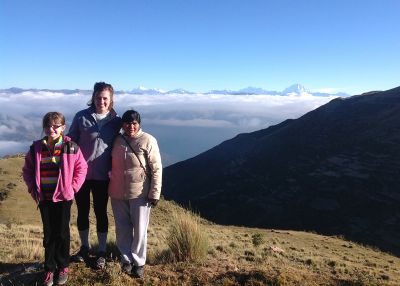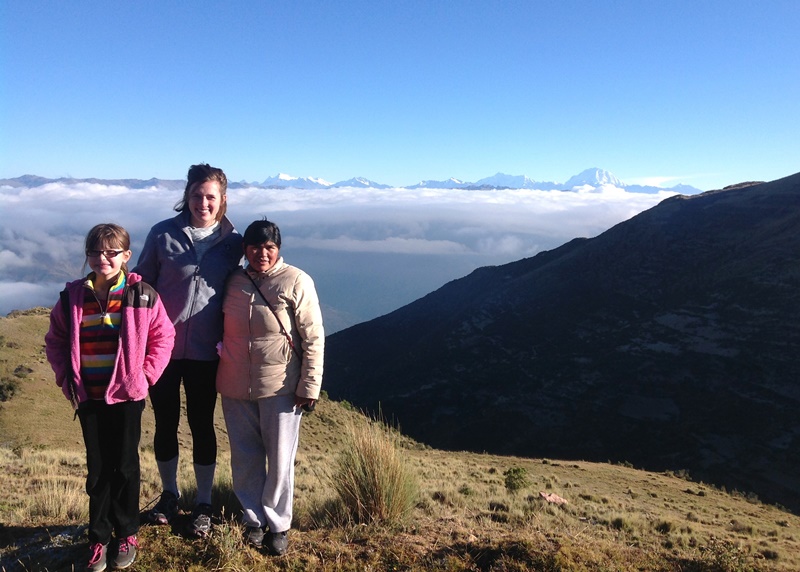 We happened to sit in on an interview session Dr. Nathan Wilson, the clinic director. He asked Irene a series of questions, including how she would share her faith with patients and what she would say to give hope to a patient suffering from diabetes. Irene responded with poise, talking about her formative church years in Ohio.
In a closing indication of how the interview was going, Dr. Wilson asked Irene whether she could be at the clinic at 8 a.m. sharp for Bible study on Galations the next morning (each work day begins this way). And she was.