Ammon, Ike and Joanna: Serving in Ayacucho
By Karen and Duane Sherer Stoltzfus
Peru SST Co-Directors, 2014-2015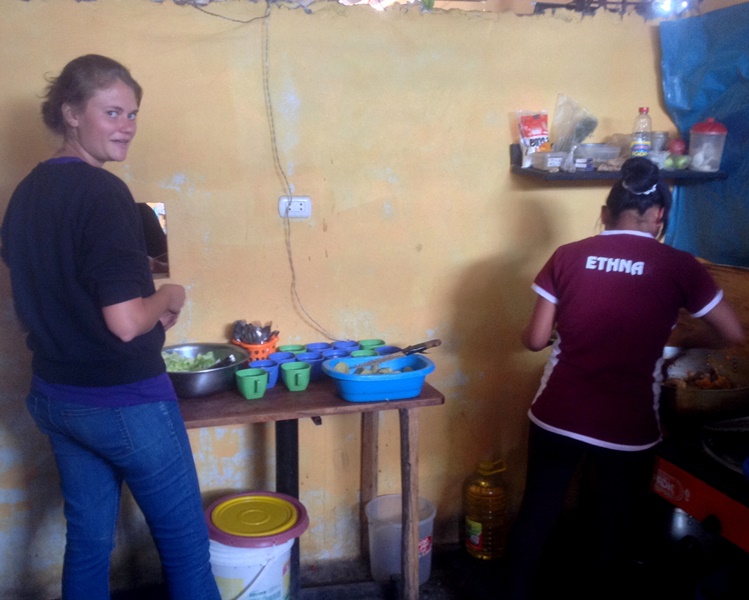 After dropping off suitcases at our hostel in Ayacucho, we went to Comedor Luz y Vida, a place where children from impoverished homes can enjoy a healthy lunch after school and receive help with homework.
We found Joanna in the kitchen, peeling potatoes. She helps to prepare meals there each day and also joins in the market shopping first thing in the morning (picture hauling 10 kilos of potatoes along with bags of carrots and peas).
The day that we visited they served more than 30 children, filling plates with chicken, rice and salad. During the meal, Mabel, who manages the comedor, read from the Bible, as the children quietly ate and listened.
In the afternoon Mabel invited us to visit the home of Señora Aurea Yanasupo Carbajal, who takes two of her five children, Sulema, 11, and Diana, 7, to the comedor each day. We took a bus to a hill overlooking the city and followed a dirt path to a small compound of separate adobe rooms, each with a tin roof.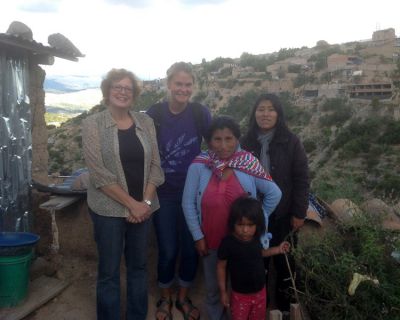 The view could be beautiful from up there, but not more than 100 yards away was a steep bank where the city dumps garbage. Aurea said the family has no electricity, running water, or bathroom. To wash clothes, she goes to a river, an hour bus ride away, unless there is overflow from a rain pipe.
Luz y Vida is part of an independent ministry of Mabel and her family. Her father, pastor Romulo Santiago Leiva, preaches each week in their home church, on the ground floor below the comedor, and at satellite church sites.
Joanna lives with Ercilia Gonzales Pincos, a school teacher who is retiring this month. Along with choclo and queso (Peruvian corn and fresh Andean cheese), they served us tea and two breads for which Ayacucho is famous: a flatbread called chapla that puffs up in the middle and wawa, a sweetbread often coated with sesame seeds.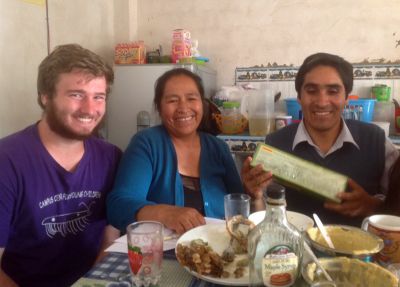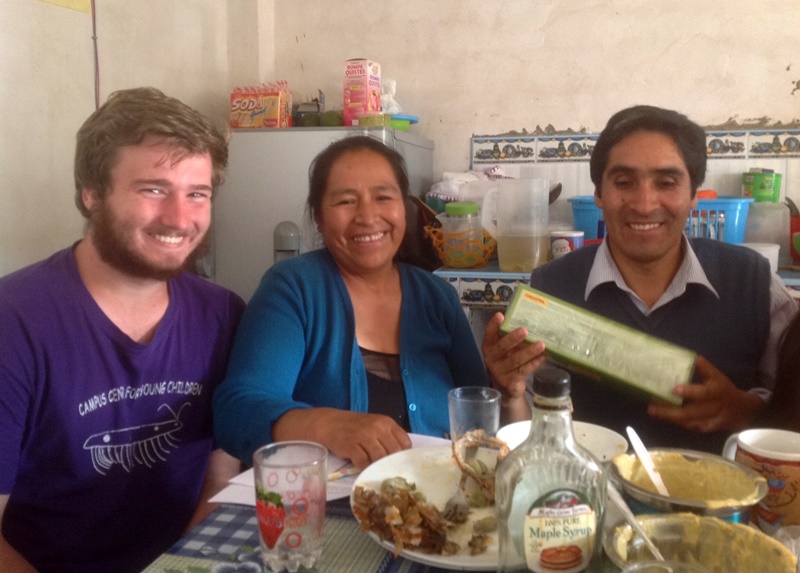 Not far away, Ike and Ammon are members of the busy Bautista family. Ammon lives with Pastor Dionicio Bautista Gomez and Elizabeth Huarcaya Yarasca and their five children: Luis, Herbert, Diego, Wendy and Wanda. Ike lives next door with Nieves Bautista Gomez, who is Dionicio's sister, and her son, Javier.
We heard about a recent trip that Ammon and Ike took to Nieves and Dionicio's family home  in the country, where they had a chance to drink warm milk straight from the cow and harvest potatoes by hand. Ammon took some good-natured ribbing for reminding his family that he is a city boy from Connecticut, not one for milking cows.
"No soy para la chacra," Ammon's mother, Elizabeth, said several times with a smile, reminding him of how he had made clear that he is not one for the chacra, or farm.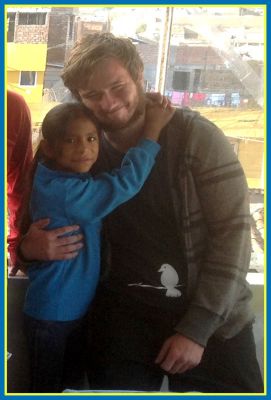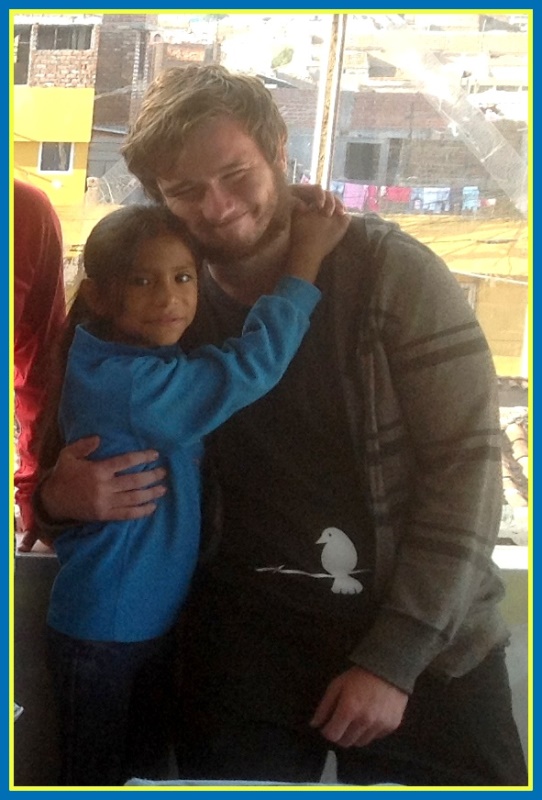 We visited Ammon at the Hogar Casa Luz orphanage, a joint project of several churches, where 21 children live. He has been helping children with homework during the afternoons. While we were there, a special request came to have him help with toddlers and babies in the mornings as well.
Dionicio and Elizabeth are the founders and administrators of several schools, including the Institución Educativa Privada William Thomson, a private Christian primary school where Ike teaches.
We sat in on one of Ike's English classes (he teaches several classes a day). Drilling on numbers transitioned to a game in which the four children in class could choose a category and then answer related questions, chalking up points for correct answers. For example, one student chose the category food. Ike asked: "In English, what is your favorite food?"
One of Ike's independent jobs is serving as personal trainer for his brother Luis, whose diet includes eating raw eggs, a la Rocky, and whose workout includes doing push-ups with books on his back.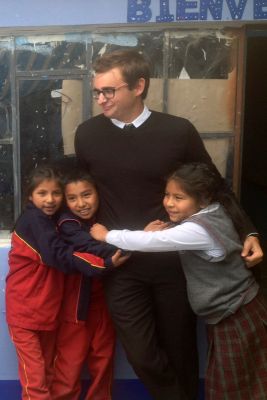 The main square, or plaza de armas, draws a crowd by day and by night in Ayacucho. We sat there for a while during our final evening in town, sampling the popcorn for which the park is well known and waiting to catch our overnight bus.
The Spanish conquistador Francisco Pizarro founded the city in 1540 as San Juan de la Frontera de Huamanga and intended it to be a bulwark against a possible Inca rebellion. The city is celebrated throughout South America because of the critical battle for independence that was fought in 1824 in the nearby highlands of Quinua.
General Antonio José de Sucre, who had been appointed by South American liberator Simón Bolivar, commanded troops that defeated Royalist forces, setting the stage for the independence of Peru and the rest of South America. In honor of the victory, Bolivar changed the city's name to Ayacucho. A statue of Sucre in Ayacucho's main plaza commemorates the battle and its significance for the Americas.
Bloodshed and conflict returned to Ayacucho 156 years later with the advent of the violent revolutionary movement known as the Sendero Luminoso (Shining Path). Abimael Guzmán Reynoso, a philosophy professor at the San Cristóbal of Huamanga National University in Ayacucho, founded the Shining Path and launched a conflict that spread throughout the country.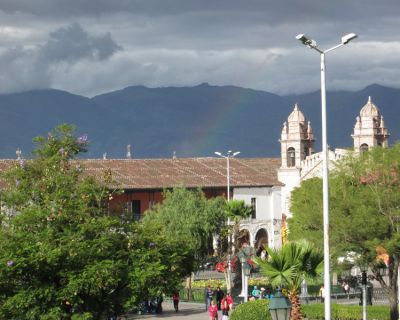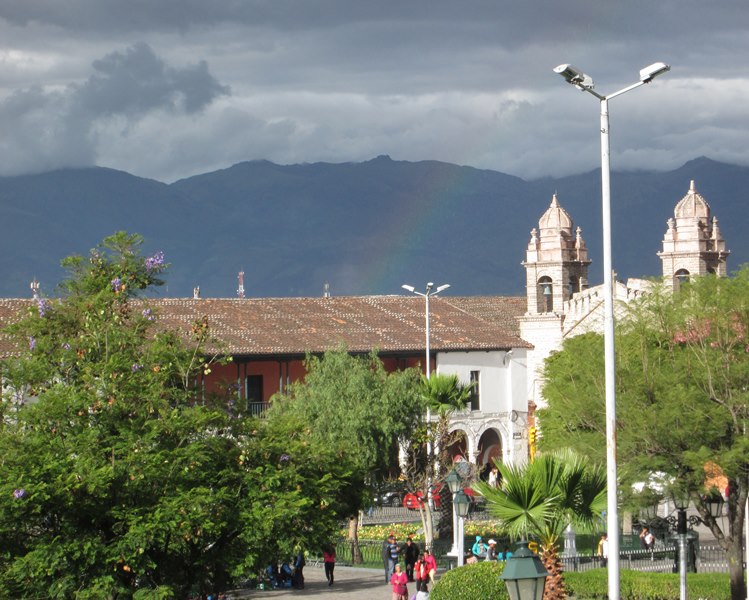 More than 70,000 Peruvians died in the 1980s and 1990s. Ayacucho was the departamento (state) that suffered the greatest number of killings – by the Shining Path as well as the military and police. That sorrowful era is remembered locally at the Museo de la Memoria, which relates the stories of the victims and the survivors, "so this never happens again."