Brody and Sierra: Serving in Oxapampa
Brody and Sierra are living and working in Oxapampa, a lovely city of 10,000 residents located in a verdant valley of the Andes, about 5,905 feet above sea level. Settled in 1891 by a group of colonists from Austria's Tirolean Alps and Germany, the city in central Peru features a rich blend of European, indigenous and Peruvian cultures that is reflected in languages, architecture and food. The city has attracted migrants from the surrounding towns who have come for education and employment or simply want to live in a quiet and well-maintained community.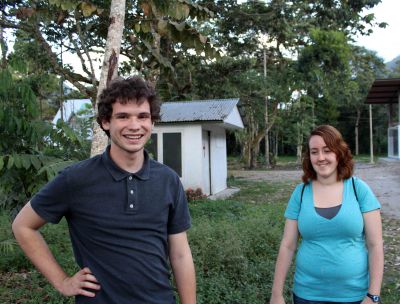 Sometimes called "Little Switzerland," Oxapampa is located in the Pasco province in an area known as the selva alta (high jungle) and features a moderate climate; this time of year, the days are warm and the nights cool. Oxapampa also draws international visitors every June for Selvámonos, Peru's biggest music and arts festival.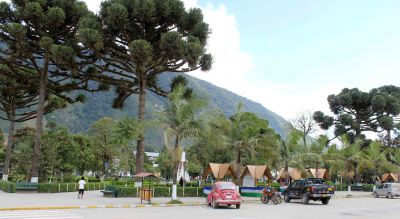 Brody and Sierra are living with related families who live next to each other in spacious wood-frame homes with pitched roofs that would not draw a second look in many U.S. neighborhoods, but are distinct from the usual flat-roofed brick and concrete homes in Lima. Sierra lives with her host mother, Teofila Espinoza Nieves and Teofila's daughter, Jenny Navarro Espinoza. Brody's host parents are Julio Hector Natienzo Quispe and Noemi Navarro Espinoza, another daughter of Teofila Espinoza Nieves. Brody also has three host siblings: Leslie, Ivan and Andres.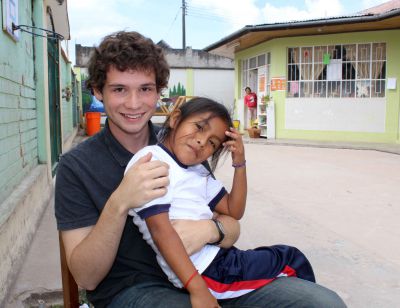 Brody is working at Jardín de Ninos Los Jazmines (Jasmine) preschool and kindergarten. The school features a play-based curriculum, an innovative approach that is new to most of the children's parents. Brody said he has been designated as the school's "profesor de música, deportes e inglés (teacher of music, sports and English)." He has taught the children how to sing "Itsy, Bitsy Spider." Brody assists teachers in three classrooms and pitches in as needed. He helps children with their homework, serves snacks and meals, plays with the children during breaks and even helps clean classrooms.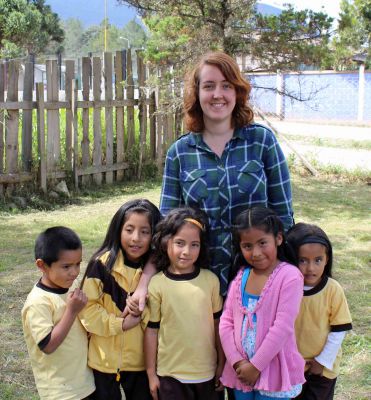 Sierra works at Los Tres Reyes (Three Kings), a primary school that features art and music in its instruction. Sierra is well suited to the assignment because of her love of art and desire to help young children. Sierra helps teachers in two classrooms and has taught English. Sometimes, however, Sierra's main duties involve keeping easily distracted young children on task and at their desks. Besides her regular duties, Sierra has helped with special events and was asked to paint a mural at the school.
Two afternoons a week, Brody and Sierra volunteer at an after-school program supported by Compassion International. They assist a teacher with kindergarten-aged children. They help students complete their homework and play games with them and teach them music and English. Two evenings a week, Brody (a music major) also has been teaching music to children who attend his host family's Catholic church.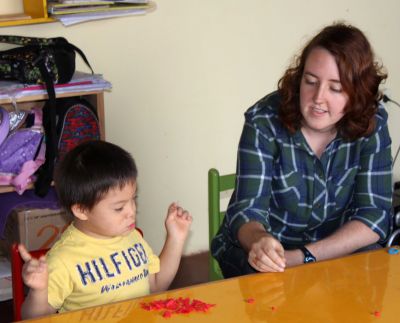 Sierra said her assignment has been satisfying and that she has enjoyed working with children. When asked to describe the highlights and takeaways of service, Sierra wrote, "Unexpected surprises were the week that we had to take care of the kids at Compassion International pretty much by ourselves. The biggest takeaway would be to help however you are needed."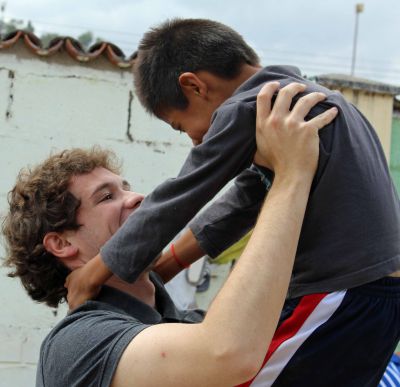 Brody also has found service to be fulfilling. "The highlights for service are many, but for me, I really am surprised how much I have grown in my Spanish. I still stumble often, but when talking I am able to communicate more effectively with others. In the kindergarten, I have made a point to memorize each student's name. While I haven't gotten them all down yet, another highlight for me is knowing each kid individually as a really unique person with their own quirks. It's great. The biggest takeaway for me is thinking about how I have made an impact, no matter how small it actually is, in another country. I have taught kids songs and very basic English words that they may remember forever, and it makes me proud to say that I have had some role in that."