Headed home to Goshen College
Goshen College students returned from their closing retreat at the beach south of Lima on Sunday afternoon and arrived back at Casa Goshen for a frenzy of last-minute activity. They had less than two hours to pack up their belongings, make sure their suitcases weighed less than 50 pounds and to discard unneeded items.
For all that work they got a reward – a delicious Peruvian meal of causa (a potato stuffed with shredded chicken), lomo saltado (a beef stir fry served with rice) and a fresh juice blend of mango and passion fruit prepared by Alicia Taipe Tello, our invaluable program assistant. The mood was joyous as students spoke excitedly about their homecoming and the family members and friends they would soon see. To acknowledge her contributions, students gave Alicia a framed photograph taken with her during a visit to Caral – an archeological site – in September.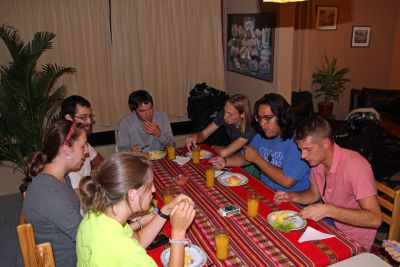 At 8:10 p.m., the students carried their suitcases and backpacks down from the fourth floor apartment to the courtyard below and took them over to the waiting bus, which soon departed. Along the way to Lima's Jorge Chavez International Airport, the driver stopped the bus to pick up SST Peru Study Coordinator Celia Vasquez. Traffic was relatively light so the trip to the airport took less than an hour.
After arriving at the busy airport, the students got in line to check in for the flight. They got new boarding passes and checked their luggage; all made the weight limit. The students then walked upstairs to their departure gate and posed for one last group photo. We quickly hugged and said our goodbyes and the students disappeared into the security screening area, about 9:40 p.m.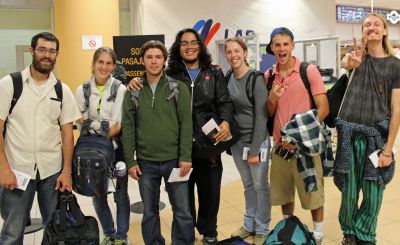 Because of the late arrival of their aircraft, a Boeing 767-300 jet, the student's flight didn't leave Lima until 1:47 a.m. Monday – 47 minutes later than the scheduled departure. However, the flight arrived at George Bush Intercontinental Airport in Houston with about two hours for the students to get through customs and make their connecting flight to O'Hare International Airport in Chicago. If the connecting flight lands on time and the weather and traffic are reasonable, the students are expected to arrive in Goshen, by bus, about 3:30 p.m.
While they have left us, this group of students – whom we dubbed the Magnificent Seven – will remain dear to us. We will miss Alan, Becca, Jacob, Joshua, Landon, Lauren and Rudy. And we wish them the best as their return to campus and then on to their homes for the holidays. And from Richard R. Aguirre and Judy Weaver, we wish the students, their family members and friends a Merry Christmas and a wonderful new year!