Jacob and Landon are volunteering in Tarma, a delightful city of about 60,000 residents located in a fertile valley about 3,053 meters, or 10,016 feet, above sea level in the Andes mountain range. Jacob and Landon are enjoying their rewarding service assignments and warm host families. They also have taken time to get to know Tarma, which was founded in 1538 in the departamento (state) of Junín, between the central coast and the central Amazon rain forest.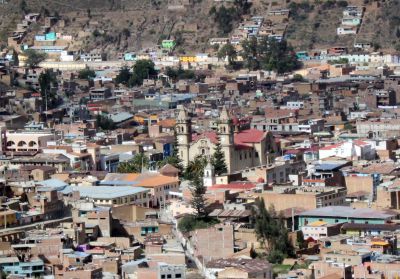 Because of its spring-like weather and natural beauty, Tarma was nicknamed the "Pearl of the Andes" by Antonio Raimondi, an Italian-born scientist and university professor, who traveled widely through Peru from 1850 to 1875 studying the nation's geography, geology, botany, zoology, ethnography, and archaeology. Indeed, Tarma has beautiful scenery and charming, narrow streets along with year-round sunshine and rich soil ideal for agriculture.
Tarma also is referred to as the City of Flowers; flowers grown here are shipped to Lima and elsewhere and also are used during huge religious observances. For example, during Holy Week, residents make elaborate designs from flower petals on the streets, carpeting parts of the city with color. They also shower flower petals down on the images of Jesus Christ and Mary, which are carried through the streets on illuminated litters.
Jacob and Landon are doing volunteer work at the Fe y Alegría (Faith and Joy) school #67. The school, part of a network of more than 2,000 such schools across Central and South America, provides quality education for students from poor families. Fe y Alegria schools are established and run by members of Catholic orders and partially funded by the government. Tarma's well-run school is fairly new and situated on a hillside overlooking the city.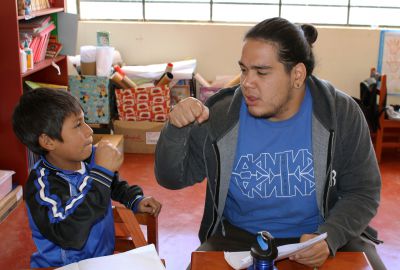 Jacob assists in classes of English, computer skills and physical education. He helps the teachers with grading and preparing study materials. He works with second-graders and gives extra attention to three children who need one-on-one support. The teacher, Lila, says that Jacob has made a huge difference for one little boy who lagged behind his grade level. Jacob has taught him to recognize letters and he has begun to learn to read.
Landon is assisting in the third and fourth grade classroom with teacher Janet and is helping fifth-graders learn English. Landon is an education major who plans to teach math, so he is often involved with preparation and teaching of math lessons. When Janet was hospitalized recently following a car crash, Landon took the lead in math classes (with support from another teacher).
Jacob and Landon report to Sister Patricia Day, the school's sub-director (vice principal). They've enjoyed her energy, positive attitude and Australian-accented Spanish. Sister Patricia and Sister Charo Zurita, the school's director (or principal), belong to the Sisters of Saint Joseph. Their order raised the funds for repairs after a mudslide crashed into one of the school's buildings last spring.
Jacob's host parents, Deyadira (or Yadira) and Abraham Bañon are a nurse and municipal official, respectively, who have hosted a number of Goshen students. They live with their two children and Yadira's mother in a small, second-floor apartment. They are a warm and welcoming family who enjoy conversation and watching sports and game shows with Jacob.
Landon is the first Goshen student to be hosted by Carmen Bañon, one of the Fe y Alegría teachers, and her husband, Juan Baldoseda Roca, who is a teacher at Colegio Stephen Hawking. Landon's host family includes two young host brothers and a grandma. Landon's host dad particularly enjoys conversation and cultural exchange, and his youngest brother enjoys wandering into his room and pulling things to the floor! Landon handles it all with good humor.