Why would an octogenarian continue to work 10- or 12-hour days when he has earned a comfortable retirement as a successful, internationally-acclaimed artist? "For me it isn't work," explained Peruvian artist Victor Delfin, when we visited his studio and home in the artistic seaside district of Barranco. There, his joy in creating art was evident.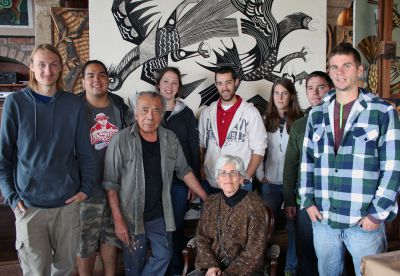 His home was filled with sculptures and paintings. In his back yard, we could examine and touch huge metal horses and lions. A sitting room held a great, metal firebox with elaborate designs and chairs of wood and leather made by Delfin. Even the bathroom in his studio was a work of art, covered in a mosaic of original tiles. Wide windows in his studio overlooked a great expanse of the Pacific Ocean, beautiful even on a grey Lima afternoon. Assistants were busy with a various projects – a clay sculpture of a man, a sketch of birds rolled out over the entire surface of a work table. Delfin told us that the best art is a team effort.
Delfin is one of Peru's most accomplished and prolific artists. His best-known piece locally is "El Beso" (The Kiss). The giant sculpture of a couple locked in an embrace is in Lima's Parque del Amor, where couples like to pose for photos on Valentine's Day.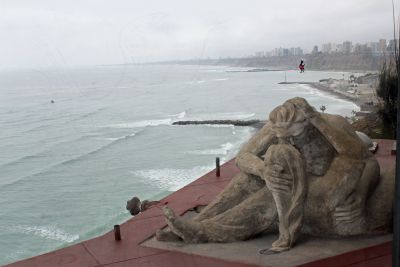 We wondered what drove Delfin's joy in creating and his fearless political messages. He is outspoken about his political beliefs and has been injured twice during protests.
One painting that really impressed our group showed the crowded structures of a typical Lima shanty town, or invasión, in browns and greys. The wall of one building has a "graffiti" message against former president Alberto Fujimori, who ended the war with the Shining Path guerillas through a brutal crackdown in which many non-combatants suffered greatly. The students asked Delfin about that painting.
Delfin told us that he had painted a series of brightly-colored shanty towns, reflecting his warm memories of growing up poor but happy in a similar neighborhood. Then Delfin read about an invasión in which nearly 90 percent of the residents suffered from tuberculosis. Heartbroken about his government's inability to protect its citizens, he painted the dark painting. After that, he discovered that he could not paint any more shanty towns. "You must take all of life – the good and the bad – and create with it," he told us.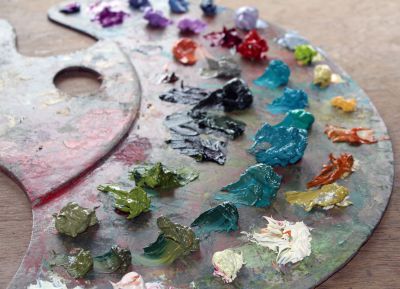 The studio visit and conversation with Victor Delfin was one of the highlights of our time in Lima, and we went home inspired by his words and images.