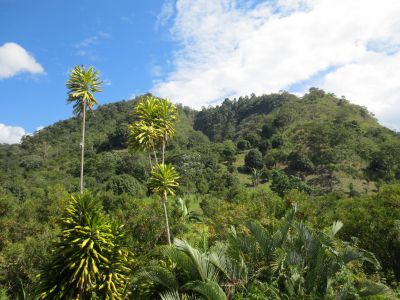 Philip, Elizabeth and Jenna are serving in the province of Chanchamayo.  This is the gateway to the selva central, Peru's central rain forest.  It is the dry season in the jungle, but there is still enough rain to keep the surrounding hillsides lush and green.  The city where the students volunteer, San Ramon, is situated on the eastern flank of the Andes mountains.  At 770 meters (2,526 feet) above sea level, the temperatures are warm, sometimes hot, during the day.  The evenings are cool and pleasant.  The natural world resembles a paradise in this part of Peru, but life in the city of San Ramon can be difficult, especially for families struggling to get by with little income or a poor education.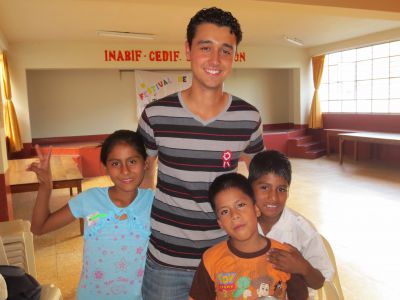 Philip spends his days at INABIF, a government-funded program that assists low-income families.  He works with children who come to the center before or after school to eat a hot meal, take part in activities and programs and get some help with their homework.  Philip helps the children finish their plates, which they are required to do before they leave the table.  He assists the staff with workshops and other learning activities.  And he is particularly helpful when it comes to mathematics — Philip has ample opportunity to share his expertise with kids who get stuck on a problem and need a little help.  Philip's sharp mind and caring attitude have made him a great role model for the children he works with each day.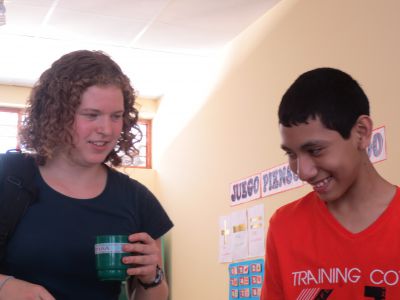 Elizabeth spends her mornings several blocks away at a public school for special needs children called San Manuelito.  She begins her day assisting Senora Manuela in a class of older primary-school children.  The students are diagnosed with physical disabilities such as cerebral palsy and hearing impairment.  But they learn nonetheless, developing skills and capacities that will help them function and contribute to the lives of their family members and community.  During the break the children take each morning, Elizabeth helps to keep order and runs with those who need to burn off some energy.  Afterwards she assists the physical therapist.  When the children go home each afternoon, Elizabeth heads over to INABIF to eat lunch with another group of children and spend time tutoring.  Her commitment to the children and the individual attention she can offer them are highly valued.  Elizabeth is a hard worker, conscientious and eager to be of service, traits that are appreciated by the people she works with.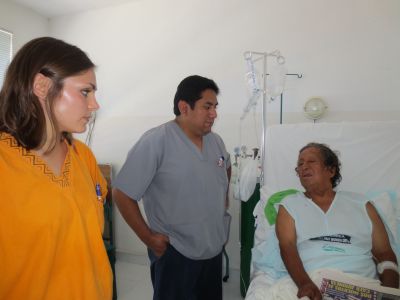 Jenna spends long days, sometimes even evenings, serving at Elera Clinic a short distance away.  She assists the founder, Dr. Elera, and his staff of medical professionals in a variety of ways.  Jenna accompanies the doctors on consultations with their patients.  She assists with treatments when asked and generally tries to be supportive of the patients who come in the door as well as the staff charged with mending their wounds or healing their ailments.  The cases encountered here reflect the life that people lead out here in this rain forest, from wounds suffered while farming to tropical diseases that are unknown in more arid parts of the world.  Jenna is bright and eager to learn as much as she can about medicine while in Peru.  Her respectful bedside manner, inquisitive nature and tireless presence are assets to the clinic and a blessing to the patients she encounters each day.