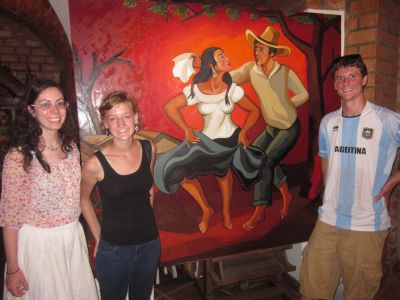 Peru is known in equestrian circles around the world for its caballos de paso, or riding horses.  These creatures are bred and trained for an extremely smooth ride.  We visited a ranch in Lurin for barbecued chicken and a chance to meet these animals up close.  Actually, "ranch" is an understatement.
The Instituto de Educación Superior Tecnológico Privado (INTAP) trains people from all over the country in the art and science of horse rearing (www.intaplurin.edu.pe).  Our tour included a variety of animals, some familiar and others foreign.  At day's end we had the pleasure of witnessing a riding demonstration by two young and accomplished horsemen.
Our study time in Lima was brought to a close with a focus on art.  We learned how to make bracelets and necklaces from rain forest seeds and other natural materials with Eliana and Ricardo Mauriola Carrasco.  Then we visited the home and studio of Victor Delfin, a master of many media who shared a bit of his life philosophy as well as his recent work during our visit.