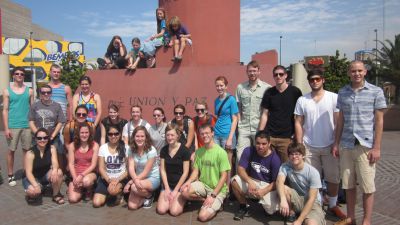 Blue skies, white clouds, expectant smiles.  We began the day with a walk from the hostel at Home Peru to the director's home, Casa Goshen.  Along the way we passed a pre-inca archaeological site — Huaca Pucllana — a cluster of decidedly post-inca institutions — McDonalds, TGI Fridays, Starbucks — and a statue in the middle of Gutierrez Circle that proclaims "Union and Peace".
When we arrived at Casa Goshen we introduced ourselves, had a brief time for check-ins and began orienting the group to life in this South American context.
For lunch, we picnicked along the malecon overlooking the Pacific Ocean.  The students had a chance to walk down the hundreds of steps that wind to the ocean.  Then we played group games to stretch our legs and get to know each other a little better.  Lots of laughter.
In the evening we took our first bus ride, the red-and-white Santa Cruz from the very beginning of its route to busy Lince.  We hopped off after 20 minutes and walked several blocks to RETO Community Mennonite Brethren Church, where we enjoyed a delicious meal of chicken, rice, salad and fruit.  The day ended with singing — How Can We Be Silent?