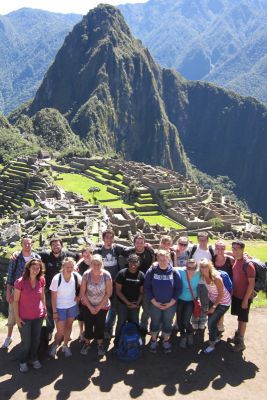 Our plan was to arrive at Machu Picchu in time to see the sunrise, so we met for breakfast at 4 a.m. and were on our way to the bus stop by 4:30, armed with cameras, water bottles, and peanut butter and jelly sandwiches. We weren't the first in line (nor even on the first bus), but we did arrive at the park entrance just as the dark sky started to brighten.
What we found when we walked through the gates was hardly unexpected—images of Machu Picchu are everywhere in Peru, from billboards to keychains—but somehow, it still managed to surprise us. It felt as if we were discovering this lost city for ourselves, just as Hiram Bingham did nearly a century ago. (July 24th is the centenary of Bingham's first visit, and today Machu Picchu is recognized as a UNESCO World Heritage Site and as one of the New 7 Wonders of the World.)
When sunlight finally streamed over a nearby peak, it ushered in a spectacularly clear day for us to explore and enjoy this 15th-century Incan city built on a jungle mountaintop. Most of the SSTers climbed Wayna Picchu ("Young Mountain"), the steep mountain in the photo on the right, and just one managed to climb Machu Picchu, or "Old Mountain," a taller peak that looms over the city. During our tour we admired the fountains and temples, the seamless connection between architecture and nature, the fantastic surrounding landscape, and the free-range llamas.
It was a thrilling final day of our travels in Cusco.