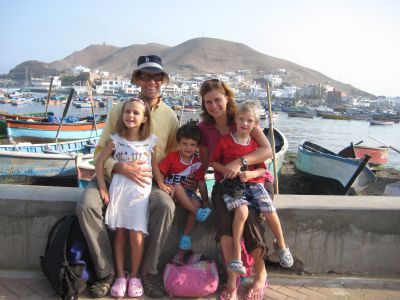 Fall is in full swing here in the southern hemisphere—for Lima so far, that has meant mostly warm, sunny days, but cooler evenings. Limeños are starting to bundle up in sweaters and jackets in anticipation of the upcoming wet, cool, overcast months. (Hearty Goshenites are not likely to blink an eye at Lima's winter clime after making it through the recent Midwestern cold).
The Gary family is looking forward to welcoming 16 new SSTers for the May term. Kevin, an associate professor in Goshen's education department, and Heather, a writer, have enjoyed getting to know Lima and the rest of Peru during the last two semesters. Their children, Evie, Lucas, and Gabe, love being here and are excited to meet the new students. (Students: You've been forewarned!)
This group of SSTers will be in Peru at an interesting time. Two dates are especially significant: June 5 points to the future of Peru, while July 7 points to its past.
On June 5, Peruvians will be voting in the presidential runoff election. The leading candidate is Ollanta Humala, a left-wing retired army officer who's been likened to Venezuelan President Hugo Chavez. His opponent is Keiko Fujimori, a congresswoman whose popular ex-president father is credited with ending Peru's nearly two decades of terrorism (and is currently in prison for human rights violations). Both candidates stir up hopes, concerns, and plenty of controversy. Read more about the race here.
July 7 is the inauguration of an exhibit in Cusco of archeological artifacts from Machu Picchu that have been returned by Yale University after being taken nearly 100 years ago by American explorer and Yale professor Hiram Bingham. This exhibit marks the resolution of a long conflict between Peru and Yale over the artifacts—and July 24 marks the centenial of Bingham's discovery of Machu Picchu, now Peru's most popular tourist attraction. (This group can look forward to discovering Machu Picchu for themselves the last week in May.)
¡Buen viaje, SSTers! We'll see you soon!