A Day in the Life…Vicente Padilla Farm
DAVID PAULS is spending his service term at the Vicente Padilla family coffee farm outside of Matagalpa.  The Padilla family is committed to organic and sustainable practices throughout their farm.  They live and work by the principles of permaculture.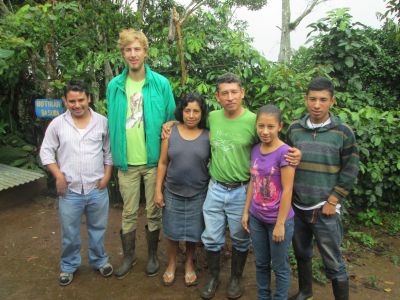 JOURNAL EXCERPTS BY DAVID PAULS:
"Days start for me at 5:30am when the radio turns on to wake people up.  I sleep for 15 more minutes then get up for coffee and see what work I will be doing in the morning.  It always starts with helping Levi cut grass and haul it over to the cows, then after that we start a new task or continue work from the day before.  Some of the jobs have been weeding, hoeing a field, collecting fire wood and mixing the compost.  Mostly though the work has been surrounded by hoeing and preparing a field to be planted for grass feed for the cows-long and repetitive work.  We usually work till 8-9am at which time we take a break for breakfast.  Then we head back to work for four-ish hours till noon when we have lunch.  Then I have a break till I'm supposed to help a few high-schoolers with English but that has only happened once as of yet. I don't really mind not having it since I'm pretty tired from the previous six hours of work…After 4pm I take the cows out on the road to graze at another pasture, always with one of the family members.  This takes up another 2 hours and by the time we return to the house it's near 6:30 in the evening.  We have dinner, then time to relax.  I usually read till 8:30 or 9pm, then hit the hay."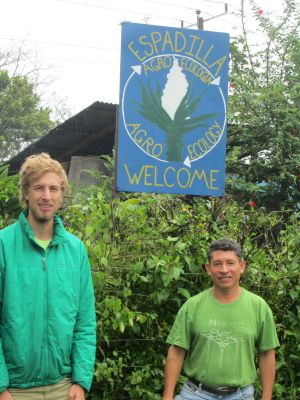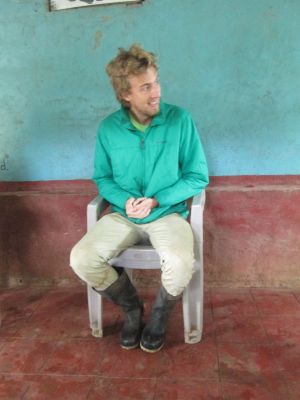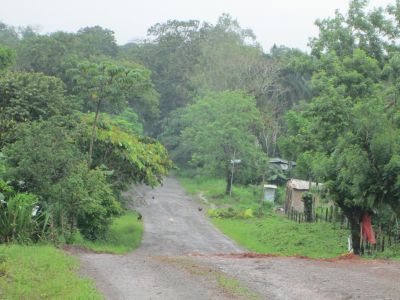 "The ecology around here is beautiful, definitely more lush and green and mountainous than the Carazo area, also way more quiet which has been extremely nice and relaxing.  The area looks pretty rainforesty but I'm not sure that's the exact name for this type of ecological region.
Most of the area closest around me is coffee plantations that break up the small amounts of forest around the area.  Since coffee needs a lot of shade it is hard to tell from a distance if that's forest or coffee farms because of all the
trees and vegetation.  The areas of pure forest are incredibly dense and green with many, many different species of plants and insects within.
As far as animals are concerned, I've seen a few sloths, some big guinea pig type of animal that hops like a rabbit, squirrels and rabbits.  In many ways it feels kind of like a tropical version of where I live in Oregon.  Ecological issues that face the community are global warming and the mass usage of chemicals on the big scale coffee farms.  Global warming has been creating droughts and making the rainy season shorter and shorter and thus reducing crop yields. Chemical usage in the area helps to pollute the watershed within the region and chemicals have been seen to cause cancer in the farmers that use them.  Deforestation is also seen which helps further ruin the soil and increase the damage done by droughts."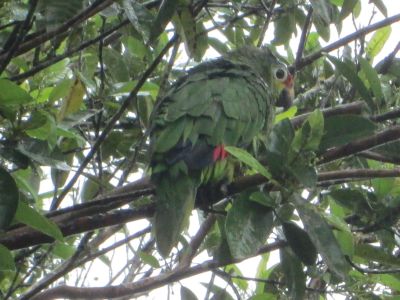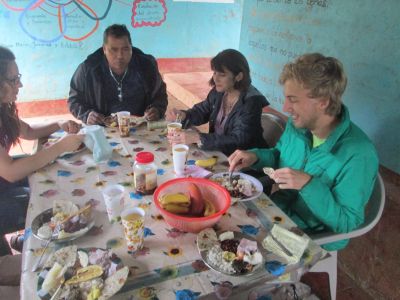 "I've really enjoyed the nature/ecology/learning about sustainable techniques he uses and the fruit.  I'm gonna miss all the fresh fruit.  Being in the mountains have been refreshing not only because the rain and cooler temperatures but the quiet and more relaxed feel out here.  The most interesting times are working with Vicente and learning from the methods he uses.  Seeing and getting hands on with techniques that I have read about is cool.  I've also learned quite a lot about farm work as well.  My grandpa had a farm that I grew up running around on but barely did much of any of the work myself.  Here I have helped plant fields, feed cows, fix fences, dig out ants, and much, much more.  It can be somewhat monotonous after a while but also kind of enjoyable to see what your work has helped do.
The only job that gets really tiring is herding the cows in another part of the land where there is forest area and areas of coffee that I have to keep them away from.  Cows do and go where they want.  It's a lot of running around and trying to find them.  The insects here have also been very interesting and sometimes hard to deal with-like at night when your light is on and the amount of cockroaches.  The variety of butterflies has been cool and the ants.  If I kill at cockroach in my room at night, when I wake up the ants have taken it away.  They clear my floor pretty well."