Week 3 in Review: Part 1 – Gender, Pottery, and Volcano Lake
The first part of Week 3 consisted of students attending morning Spanish classes, as well as our Monday afternoon Reunion gathering.  On Tuesday, Violeta Delgado, an economist who has worked with women's rights issues for the past 20 years in Nicaragua, shared with us many important events, insights, and happenings on this topic. In some ways, Nicaragua has come a long way, but as in many of our own contexts, the journey is not complete and there is more that can be done.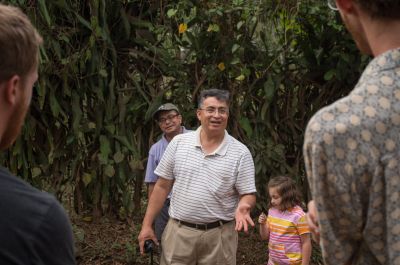 Following that time, most of us took in an optional tour of Armando Ruiz's coffee farm that he and his brother own.  Armando has lived in the U.S. for the past 37 years and works with Brianne's dad, but he is originally from Jinotepe. He happened to be in town the past couple of weeks and graciously invited us to experience their newly developing farm that is also filled with many various fruit trees, bamboo, armadillos, possums, all kinds of flowers, birds, and other critters.
On Wednesday, we had lunch at the top of Laguna de Apoyo, a crater lake formed from a volcano a long time ago that is 6 km in diamater. There is an abundance of various flora and flauna in the Nature Reserve. After lunch and some time to hike in the Reserve or do some shopping, we headed to San Juan de Oriente, a nearby small town that is known for its pottery making. Our group divided into 3 smaller group, with each group visiting an artist in their home studio.