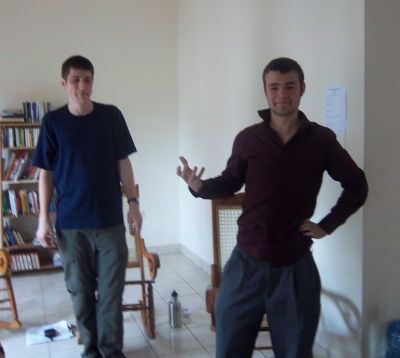 Midway through our first week of classes and lectures in Jinotepe, we had our first reunión, which means "meeting." We also like the literal translation of the word, reunion: a time when we come together and get reacquainted with each other and with ourselves. This will be a weekly event at the unit house, during which we'll have guided discussion, getting-to-know-you exercises, group processing of events and issues, and devotionals/worship.
This first reunion got off to a rousing start with a game called "Two truths and a lie," wherein each person had to tell two true things about him/herself plus one untrue thing, and everyone else guessed which one of the three was the lie. We had some very interesting lies, some even more interesting truths, and a lot of laughter. The group then elected Kaleb and Jacy as student leaders for the semester.
Our guided discussion focused on the mini-service project in Managua last weekend. We used the "4 Gs" to facilitate reflection: What grabbed your attention? What did you get from the experience? What did you give? What are you going to do differently as a result of the experience? While everyone acknowledged that the two days were very challenging physically and emotionally, the consensus was that it was well worth the time and effort. We will not soon forget the children we played with, the Nicaraguans who worked alongside us, and the families who will live in the houses we helped build.
To close we did some small group role-playing related to cultural stereotypes and the values they suggest. After demonstrating our acting skills (or not), we talked about perceptions that people from other countries have of people from the U.S. and vice versa. Where do we think these perceptions originated? Do we agree or disagree with them? What do our observations so far suggest about Nicaraguan national identity and cultural values?
It was a fun afternoon, marred only slightly perhaps by the brief quiz on readings and lectures at the end of the session — although no one seemed overly taxed by it, thankfully! We're looking forward to future reuniones in which students take on leadership roles as well. Already one person has signed up to lead worship next time, and he tells us it's going to be along the lines of  "Christmas in July [May]." We can't wait!
Hasta pronto,
Co-leaders Lisa & Jen