Angkor What? Yep, Angkor Wat.
This was a very busy and inspiring week. We started it off with three days of class and a short visit from Tom Meyers, GC's Director of International Education. On Thursday morning, Tom flew out of PP and the rest of us arrived early at RUPP to board a bus along with our assistant Maria (and seven of her family members!), heading north to Siem Reap. We were all so excited for the opportunity to visit Angkor Wat — a true wonder of the world! After a long trip north, along which we stopped for a taste of tarantula (for the brave ones, at least) and a roadside treat of sweet sticky rice cooked in bamboo, we arrived in Siem Reap in time to get settled in and head out for dinner on our own.
The following morning all of the students rented a tuk-tuk for the day and headed out to Angkor Wat before sunrise. You can see below how beautiful that sunrise was. Most of the group met at 9 am for a group picture and then the students spent the remainder of the morning and the early afternoon exploring the many temples in the area.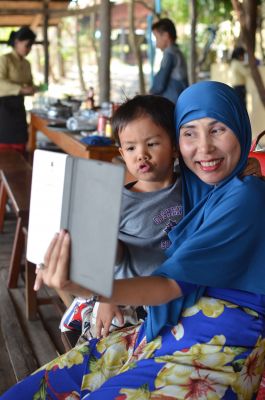 On Saturday we had a later start, loading the bus at 9 am to go for a visit to the Rajana ceramics studio. The studio was started by GC alum Tom Unizicker, who now owns and operates Unzicker Bros. Pottery in Newton, Kansas with his brother, Jeff. Rajana partners with Mennonite Central Committee's "Ten Thousand Villages", one of North America's original fair trade organizations (originally known as "Self Help Crafts"). We were all awed by the artisans' ability to hand throw mugs that were identical. We were able to ask them questions and see them work. The workers were generous with their time, answering many questions kindly and cheerfully.
After our visit to Rajana, we loaded the bus and headed out of Siem Reap to Kampong Phluk, a village that is flooded each year during the rainy season when the Tonle Sap Lake floods. For this reason, the houses and all other buildings in the village are all built high up on stilts or they are made to float. This year, because of a very meager rainy season last year, there is much less water in the area than usual. So, instead of the usual boat ride into the village, we drove the bus right into town. From there we were able to take a boat onto the lake for a lunch at a floating restaurant. We had a relaxing time there and had a delicious meal of fresh fish, prawn fritters, rice, noodles and vegetables. After lunch we headed back into Kampong Phluk where we were able to look around town, meet our local contact there, Mr. Serei, and greet the village chief's wife. After that we went to see the village school where two of our students will be doing their service in only a few short weeks.
Saturday night we went to see Phare, a Cambodian Circus that weaves acrobatics and juggling into an engaging tale. We saw a delightful show about school boys learning to overcome their fear of ghosts. It truly was spectacular. Want to get a glimpes into what we saw? Check this out. Everyone was tired after several very full days, and we headed back to the hotel.  The next day, after a leisurely morning of shopping, swimming and sleeping in for some (and an early morning run for at least two of our more ambitious students), we loaded the bus for the trip to Phnom Penh. Along the way, we stopped and the students had the opportunity to interact with some live tarantulas.  Then, it was home to our host families with tired and grateful hearts.
This week we are taking an afternoon and a day off to recover from three very busy, non-stop weeks and in anticipation of busy weeks to come. Highlights in the coming week include a visit to a local mosque and a weekend trip to Kep on the Cambodian coast.
This week's photo credits go to Berke Beidler, Hannah Barg and most of the Koop Liechtys.