After four days full of many goodbyes, sharing stories, experiencing "lasts", presenting final projects, carefully packing bags, and loading onto a bus for a final drive through the drowsy nighttime city, 14 students boarded a flight from Phnom Penh to Seoul Korea on April 5th. They will have a layover there and then fly 13 hours to Chicago where, through the awesomeness of modern technology (and with the additional help of the international dateline), will officially arrive in Chicago at a time before they left! That makes for one very long day! The remaining six students are off to points around Asia and beyond.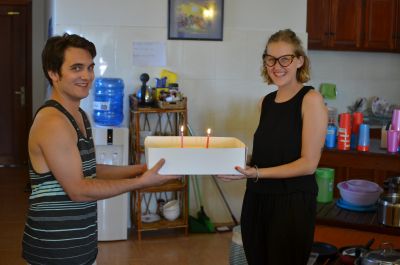 The last days in Phnom Penh were spent in the following activities: a Khmer language final, reporting to each other about their time on service, spending final nights with their Phnom Penh families, a farewell party with many of their families, an oral report on their service projects and final wrap-up discussions with Dan and Jill.
Reminiscing about their time in Cambodia gave them a chance to be affirming and supportive of one another.  Students were also encouraged to think about and prepare emotionally for their return home, and what they will do upon their return.  For some, graduation is around the corner, and for others it's time with families, May term, summer work, or travel.
We are grateful for the deep intercultural experiences that happened this semester. We believe more strongly than ever that SST is an incredible experience with an amazing potential to transform lives. We are also convinced that Cambodia is a wonderful place to have this experience. It is a country full of historical and cultural richness, wonderful sights, sounds, and food, and people who are welcoming, generous, friendly and loving.