Today was the first of a number of days in which we will focus on the reign of terror of the Khmer Rouge in Cambodia. The Khmer Rouge ruled the country from 1975 to 1979, and were responsible for one of the largest genocides of the 20th Century. One of our speakers, Henri Locard, called it a "politicide" because the murders were largely perpetrated for political, rather than racial or ethnic, reasons.
We started our morning at the Documentation Center of Cambodia (DC-CAM). The DC-CAM has the express purpose of "helping Cambodians heal from the wounds of the past by documenting, researching, and sharing the history of the Khmer Rouge period." We were able to watch their amazing new documentary about Cambodian popular musicians before the Khmer Rouge period, and how many were then targeted by the Khmer Rouge . We then had the privilege of meeting with the Chairman of the Sleuk Rith Institute of DC-CAM, Youk Chhang. He answered our questions and talked about his personal experience during these years.  He said he was 14 years old and was sent by the Khmer Rouge to the countryside, away from his family. He said he survived because he remained hopeful and believed he would live. He noted powerfully, "hope is resistance."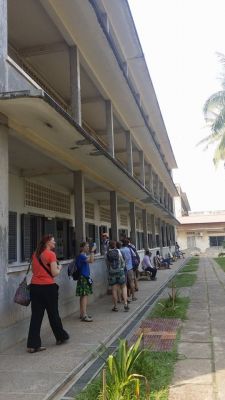 After an already serious morning, we spent part of the afternoon touring Tuol Sleng (or S-21), the former high school that the Khmer Rouge turned into an interrogation, torture and murder site. Only seven adults and four children of the more than 20,000 prisoners who entered Tuol Sleng survived. It was sobering to learn what happened in this school compound that is only a stone's throw from our afternoon class building. We all found this to be a very challenging visit.
Tonight we met as a group for dinner and a time of devotion and reflection at the unit home. Jill read Psalm 139:1-18, noting that God knows each one of us intimately, and will be holding us through the ups and downs of SST – we are each under God's guiding care.  Each student shared something that they are happy about, or something that has gone well, and something that has been a challenge. It was good for us all to hear each others' stories as well as our common feelings of joy, satisfaction, frustration and sometimes loneliness. Several students noted feeling upset or even angry that they knew so little about the Khmer Rouge, especially considering the complicated US involvement in Southeast Asia during this time. They wondered how the Cambodian people can be so friendly to us when the US bombed Cambodia, killing many people and supported various repressive Cambodian regimes over the years. We'll continue to grapple with and pray about these hard questions and support each other as we are also assured of  God's presence and guiding hand over our experiences here.
Tomorrow we will have the amazing opportunity to go to the Khmer Rouge Tribunal where the top leadership of the Khmer Rouge have previously been or are currently on trial. It is possible that we will be able to see a court session, and we will for sure get to meet with the Communications Director of the Tribunal, and learn about what is going on there. On Friday, we will take a trip to the Killing Fields, where many of the prisoners from Tuol Sleng were taken and murdered. Finally, on Saturday we will venture outside of Phnom Penh for the first time as a group, where we will spend time in a rural community and attend a local Christian worship service. It will be great to experience the Cambodian countryside and to breathe in the fresh country air!
As we begin to have more student journal assignments to read and take more field trips throughout Cambodia, it will become more challenging for us to blog on a regular basis. However, we will do our best to keep you informed, and share pictures.  Please continue to support our students through your prayers and notes of encouragement!