Posted by Kristopher Schmidt
Pictures by David Lehman-Miller and Kristopher Schmidt
While Peru is fairly large (about the size of Alaska), most of its population is found along the coast (~60%) and especially in the coastal capital city of Lima (~10 million).   Lima is so dense because it has always been the place to come in Peru if you want what ALL people want: work, education, and access to healthcare.  Lima's population has increased by 5x since 1960 from about 1.8 million to what it is today (by comparison, NYC currently has a similar population size as Lima but was already about 7.7 million in the 1960s).  It is obvious that Lima is bursting at the seams, and that many of the public systems can't meet the population demands (Read: No arrojar papeles al inodoro por favor; Cultura combi).   SST students living in the highly populated but well-settled districtos of San Borja, San Miguel, Pueblo Libre and others are being stretched, forced to experience big-city life in South America.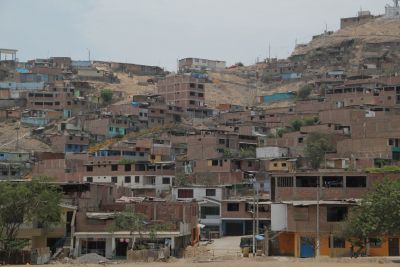 While our students are living with Peruvian families, and they aren't tourists in the classic sense, only 20% of Limans live in residential Lima where our students live.  The other 80% lives in more distant regions of the city, with half the population living in the Conos – either Cono Norte or Cono Sur (the Northern and SouthernCones).  What are  the Conos? The Conos are regions with massive populations that were established through an informal mode of urban development where people settled on the land before it was ready for expansion.  These poorly controlled regions have very limited or missing infrastructure and are characterized by limited employment and opportunity.  As we visited a small section of Cono Sur we were exposed to these obvious societal elements.  As we spent time with our friends living in these areas we saw what we always see in our new Peruvian friends – a voracious work ethic, deep familial bonds, and strength in community.
We had a transformative week in our classes discussing the Conos alongside the bigger questions of social justice, poverty and development.  Father Arens, a priest from one of the giant Catholic churches in Lima spoke to us about "The Humor of Jesus" and to Jesus' passion for the poor.  He commented on the reality of Jesus' teaching that the more wealth we have, the bigger our structures, the greater our isolation from each other and God.  People in the Conos literally live on top of each other.  There is a strong sense of community, care and kindness.   A second lecturer, psychologist and social activist Nestor Vergara, shared with us the realities of poverty, abuse, and domestic violence in the Conos.   We were challenged to see that with poverty comes deep struggle and relational fall-out in the form of crime.  These speakers were sandwiched between our Wednesday rest day scripture reading from the Beatitudes.
With an academic understanding of the Conos in mind, we planned a visit to the home Alicia (Peru SST Chef) and her family in the Conos after a morning of working in one of Lima's urban gardens.  It was a great day of work, rest, and reflection.
We began the day with a long bus-ride up to the districto of Villa Maria.  Our ride was about an hour, half what it is for the average Villa Maria resident going to work in the residential areas of Lima as a cook, security guard, or construction worker.  Villa Maria is a desert, and unlike Miraflores, actually feels like one.  The one exception is the urban community garden built by garden director Senora Gregora, master gardener.  Senora Gregora lectured for about 30 minutes while students fielded questions about gardening, and especially how she accesses everything a garden needs: water, abono, compost and the rest.  Senora Gregora solves problems for the families she serves by developing relationship with all levels of goverment and community.  She works miracles and has created very real oasis.  We spent 3 hours clearing out a 100 meter square area to get it ready for planting.  Students worked hard and accomplished a good amount given the short time.  Following our work we had lunch at Alicia's home, a beautiful Menu lunch.  After lunch students went their seperate ways with free time.  A group gathered around a futbol.  We thought we were smart by putting 2 varsity athletes and a child against the rest of the SST unit.  The group of three won 1-0.  Ouch!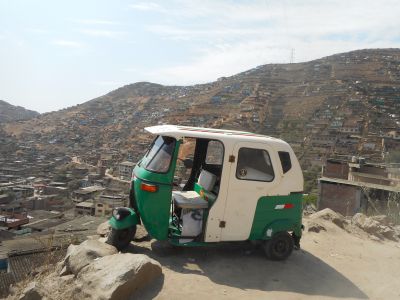 After lunch we took a long bus ride up to a "New Settlement" in Cono Sur, an area that isorganized now (but with only electricity and no other utilities) but has its origins in a small group of people coming together to say 'this is our new home in Lima'.  "Los conos son encima del mundo" (The conos are on top of the world) was the phrase that cameto mind as we climbed up the treacherous hills in bus and mototaxi.  The views were striking and the calm was a gift.  Alicia shared the process of building their home on the hill and how the community works together to solve problems and stake their claims.
We appreciated seeing Alicia in her own home.  She is a great mother, grandmother and care giver.   What a gift to be in this foreign place and to be loved as friends.  We were transformed by this day as every moment was new for us, nothing familiar, every experience shaping our worldview.
We returned back to Lima in the evening after another long bus ride home.  Students remarked that it is only a few short weeks until they all go on service and that 'we need to make sure we find time to do stuff together'.  Our optional trip to the Museo de Arte de Lima tomorrow has most of the group coming!  It is so good to see people happy to be together.
Hasta Pronto.