Service in San Juan Bautista
Stephen, Michael and Anna are teaching in schools in a humble sector of the capital of the Departamento de Ayacucho (Ayacucho state).  The district of San Juan Bautista, named after John the Baptist, is situated on the southeast side of the city and is home to over 38,000 people.  At 2,734 meters (8,969 feet) above sea level, there is a large daily variation in temperature.  At night the temperature drops to the mid-thirties, but in the afternoon the sun shines brightly and the temperature climbs back up into the 70s.
Most of the residents of San Juan Bautista struggle to make ends meet.  The majority have moved here from the countryside where farming was their way of life — here at the edge of a growing city they work desperately to develop new skills.  Some work as vendors in local markets, others as laborers at construction sites.  Education is a top priority for those parents who want their children to have access to a wider range of opportunities than they do.  Several private Christian schools have been founded in recent years, not only to educate neighborhood children but also teach them the values that school staff hope will someday permeate the culture.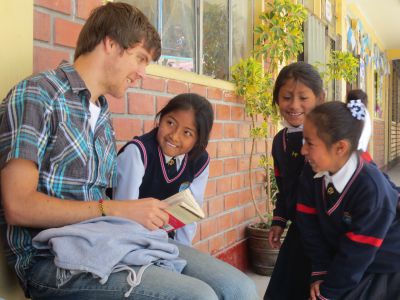 Stephen volunteers at Instituto Educativo Particular Evangelico Apostol Pablo (Apostle Paul Christian School), where he teaches English to eleven classes of primary and secondary school children each week.  Over three-hundred children attend this well-established educational institution.  The school has a hard-working English teacher, Rosalia Quispe Garcia, who has never traveled outside of Peru.  Miss Rosalia's written skills are much stronger than her verbal abilities.  She has asked Stephen to help her and the students learn new vocabulary and practice correct pronunciation.  Stephen is well-organized and has a calming presence in the classroom.  His board work is clear and easy to read — the students are required to copy everything he writes into their notebooks — and Miss Rosalia appreciates the chance to work with a capable native speaker.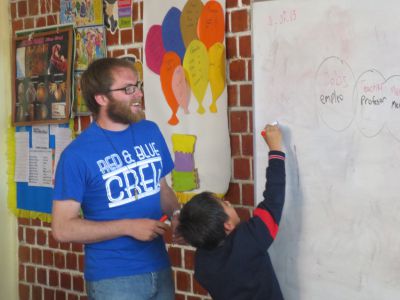 Michael also serves at Apostle Paul School several days each week, teaching English in five different classes.  The rest of his time is spent with elementary school children at a small Christian school named after the British physicist William Thomson.  This primary school was founded several years ago by Michael's host parents, Dionicio and Elizabeth, and over thirty students are currently in attendance.  The school features small class sizes and emphasizes Christian values.  The director, Prisciliano, begins the school day with a reflection on scripture and frequently reminds the students of the importance of education.  Michael teaches English to the children in each class, focusing on basic vocabulary and pronunciation:  jugar = to play, dormir = to sleep, leer = to read, … Michael is a patient and likable person and the children are at ease in his classroom as they ask questions, offer comments and seek his approval of their written work.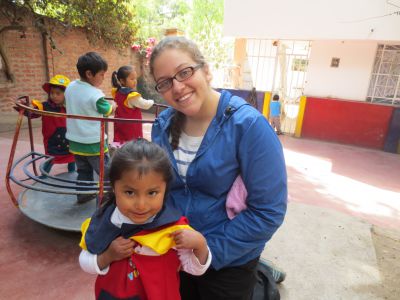 Anna volunteers  at a school that serves much younger children.  Institucion Educative Privada Inicial Vidas (Vidas Kindergarten) provides boys and girls aged 3 to 6 a nurturing environment to learn and grow,  Two teachers, one for the youngest children and the other for the oldest, organize learning activities and give the children time to play each morning.  Anna helps out with basic English instruction, giving the children a head start as they are introduced to simple words and correct pronunciation.  But most of her time is devoted to helping the children learn their numbers and letters, draw pictures, eat and clean up after snack time and play in the playground located on the lower level of the school complex.  Anna is kind and considerate and the children enjoy the chance to relate with a strong but gentle North American.