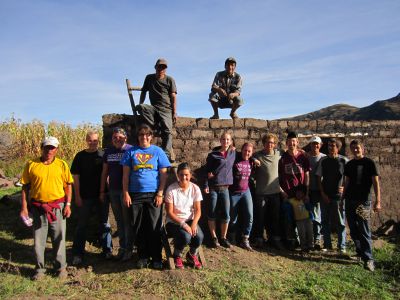 Our theme this semester is, "A Changing World; A Changing Peru".   In order to appreciate where Peru is going, we need to know where it has been.   If we had a time machine we could travel back to the era before the Spanish Conquest to see how Andean people lived, worked and played before the influences of colonialism and globalization.  Absent such a machine, we ventured higher into the Andes for several days to experience life in a village where ancient traditions are still prevalent.
San Juan de Quihares is three hours from Huacarpay via a seldom-used unpaved road.  Our driver, Hugo, carefully negotiated the windy road, reaching an altitude of 4,200 meters (about 13,800 feet above sea level) before we dropped into a hidden valley on the other side of the pass.  We brought along a typical outdoor lunch — whole potatoes, choclo (corn on the cob), aji (spicy sauce), fresh cheese — and soon finished our journey.
Our guide, Pastor Roberto, helped start a Mennonite Church in this village several years ago.  We unloaded our bags and anxiously awaited the arrival of our hosts.  Ten families agreed to open up their homes to the students and, one-by-one, family members arrived at the church, greeted us and led two or three students back to their homes to spend the next two nights.  This was the first time the families have entertained foreign guests.  They seemed as honored by our presence as we were appreciative for this glimpse at their rapidly-disappearing reality.
The villagers of San Juan de Quihares are mostly subsistence farmers who cultivate crops and herd animals.  These foods are produced naturally — Pastor Zaqueo was proud to tell us that no chemical fertilizers or pesticides have found their way into the valley.  Every three months there is a fair in one of the neighboring villages where people can sell their animals to earn income to buy salt, sugar and other goods that are not produced locally.  The villagers are hard-working and deeply-rooted to the land.  They are reserved around strangers — few outsiders, and no tourists, venture this far out.
When it is time to build a new home, or a kitchen for the Mennonite Church, people rely on materials readily at hand:  earth, straw and water.  We learned how to mix the three ingredients to make adobe bricks (no shoes required).  For thousands of years, Andean people have worked together to build homes, roads, bridges or whatever their community needs in an arrangement called fiena.  A North American might compare this to an Amish barn-raising.  Members of the community converge at a particular time and place, working together to benefit the common good in exchange for companionship and a shared meal.  Our group was blessed to participate in a fiena on the second day of our visit.
On our last day in the village, we visited the local high school.   In contrast to the other schools we have visited in Peru, the curriculum here emphasizes practical, applied learning focused on agricultural production and home economics.  Students come from the surrounding countryside for 15 days at a time, living together in dormitories, then go home for the remainder of each month where they work on research projects of practical value to their families — breeding genetically-superior cuys (guinea pigs), increasing milk production for their dairy cows, promoting healthy and sustainable life-styles that are appropriate to this time and place.
The purpose of our visit to the school was to teach the children about health.  Our students performed several original, humorous and informative skits on dental hygiene and then distributed toothbrushes, toothpaste and fluoride treatment to each child.  Afterward we shared songs from around the world — first our women, then their girls, then our men, then their boys.  We finished with a GC favorite, "606," a.k.a. Praise God From Whom All Blessings Flow.  Then we said goodbye and boarded the bus.