Investing in the community, ahead of the curve
BY JOE SPRINGER '80, curator, Mennonite Historical Library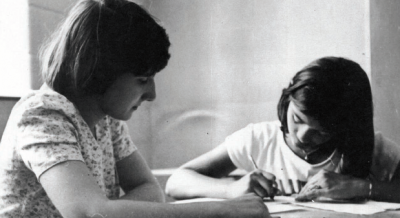 UPON HER COLLEGE graduation and with support from her local congregation Assembly Mennonite Church, Rebecca Yoder Neufeld '74 created a new program to assist a growing number of Goshen Community Schools' K-12 students who were living in households where English was not the primary language.
Collaborations among Rebecca, Chandler Elementary School Principal B.J. Miller '57 and others — first volunteer, then grant-funded — positioned Goshen Community  Schools to be ahead of the curve as it adapted to what would soon become a dramatic enrollment increase of such students. In 1979, the college's Education Department received national recognition for preparing its students to teach in bilingual/ bicultural programs.
Whether volunteer or paid, in school classrooms or church basements, many GC students, faculty and alumni continue to invest skills and time to strengthen English language capacities among newcomers to Elkhart County and elsewhere.