Lasting Ties: The call to Christian service
BY JOE SPRINGER '80, curator, Mennonite Historical Library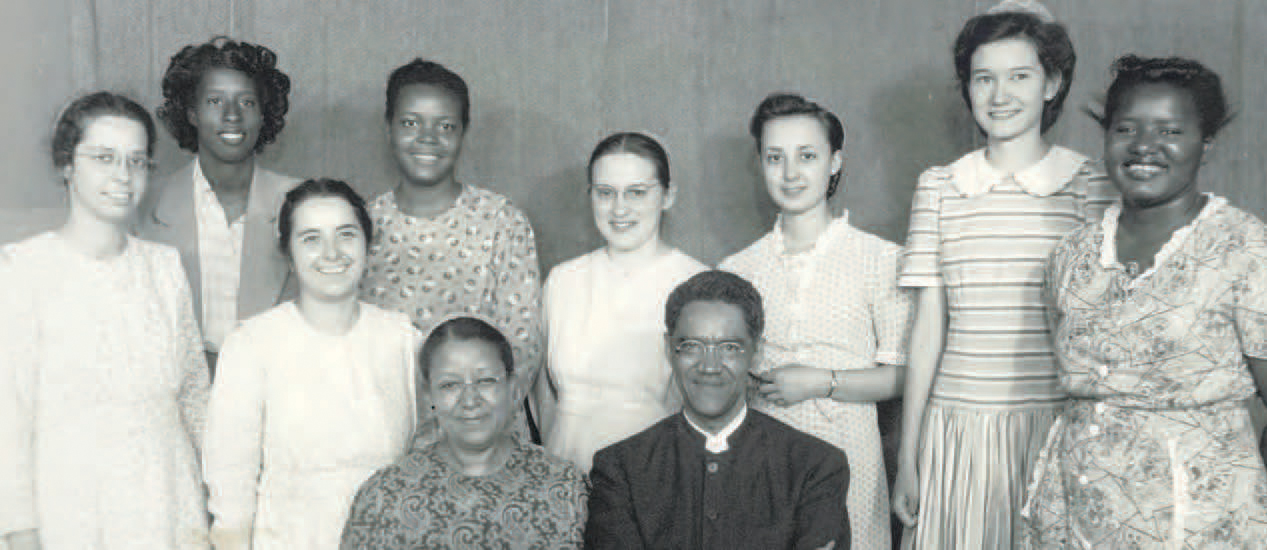 ELIZABETH HERSHBERGER (BAUMAN) '46 welcomed Goshen College students to the 1945-46 academic year with this challenge: "Use your talents, your ambitions and your power, combined with the training you receive here … in Christian service." Together, she and her future husband Harold Bauman '46 presided over the female and male sections of the Young People's Christian Association (YPCA) — the largest, most active student group on campus.
Incoming first-year student Florence Baynard (Grimes) '49 hailed from Lancaster County, Pennsylvania, expressing interest in preparing for "Christian work." Unlike any other earlier GC student from Lancaster County, Florence was African- American. After a year of coursework, literary society and YPCA activity, and singing in choir, Florence agreed to spend the summer assisting at Bethel Mennonite Church led by James and Rowena Lark in an African- American neighborhood in Chicago. James was the first African-American Mennonite minister, and the couple's daughter Juanita Lark '43 was the first African-American graduate from Goshen College.
Two summers earlier, four Goshen YPCA students had canvassed the Chicago neighborhood to determine a good place for the Larks to begin outreach efforts there. Many other Goshen YPCA students in those years spent summers in other "extension" work — Bible schools in varying socioeconomic areas of Elkhart County, Spanish-language services for Mexican railroad workers in Elkhart, day camps and other activities from Michigan to Arkansas. The call to Christian service propelled others to work in state mental hospitals or cross the ocean for post-war relief work. GC students traveled to Chicago to preach six sermons at Bethel Mennonite Church in May and June 1946. Then in July, Elizabeth joined Florence and the Larks to help with the 90 children participating in six weeks of summer Bible school.
Neither Florence nor Elizabeth would live long enough though to witness the marriage of their respective grandchildren, Charity Grimes '09 and Matthew Bauman '06, or the birth of their shared great-granddaughter Lena '39.