Goshen College alums, Girl Named Tom, win Season 21 of "The Voice"
Siblings Joshua and Caleb Liechty are no strangers to the stage. Joshua, who graduated from Goshen College in 2019, and Caleb, who graduated in 2018, performed together and on their own on GC stages throughout their college experience.
Now, they have joined their voices with their younger sister, Bekah, as "Girl Named Tom," and WON season 21 of NBC's The Voice with their amazing sibling harmonies during the finale results show on Dec. 14. On the same day, four of their songs were on iTunes Top 10 Songs Chart, including "The Chain" as #1.
The trio from Pettisville, Ohio, whose parents Chris '88 and Holly (Hollenberg) Liechty '88 are also GC alums, were the first act – and the first four-chair turn – of the season, joined Team Kelly (Clarkson), and wowed the judges and voting fans each week since.
---
WATCH: Girl Named Tom's performances on The Voice
---
Watch: President Stoltzfus interviews Girl Named Tom
On The Voice, the trio opened with "Helplessly Hoping" by Crosby, Stills & Nash, showcasing their tight harmonies, which ultimately led to all four judges looking to bring them into their teams.
Following the judges' pleas, they eventually chose to work with Kelly Clarkson.
During the battle round, Girl Named Tom performed "Seven Bridges Road" with fellow contestant Kinsey Rose, and moved on with Clarkson's team. In the knockout round, Girl Named Tom performed Glen Campbell's "Wichita Lineman" against contestant Holly Forbes, and were again chosen to move forward on Team Kelly. In the final 20, their rendition of Radiohead's "Creep" put them through to the next week. Their performance of Kansas' "Dust in the Wind" got them to the final 11 and they moved on to the Top 10 with country singer Ingrid Andress' "More Hearts Than Mine." They made it into the Top 8 semi-finals with Coldplay's "Viva la Vida" and then on to the final Top 5 with Joni Mitchell's "River." On the Finale, they performed Fleetwood Mac's "The Chain" and Alison Krauss and Union Station's "Baby Now The I've Found You."
At GC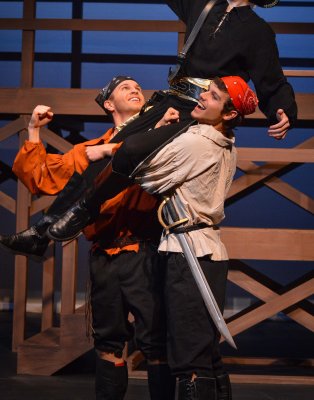 Both Caleb and Joshua were molecular biology/biochemistry majors at Goshen, but split their time equally between the Science Hall and the Music Center. Their resumes boast singing with GC vocal ensembles like Chamber Choir and Vox Profundi, in musicals such as Pirates of Penzance, during Kick-Off talent shows and with Parables Worship Team. They even performed during the inauguration events for GC President Rebecca Stoltzfus.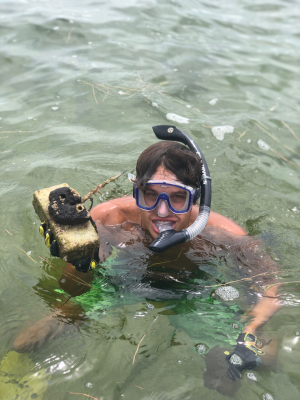 Both dean's list students, Caleb spent a summer internship studying muscular dystrophy in an Amish community, and worked as a health assistant in a hospital in Thies, Senegal during his Study-Service Term (SST) in summer 2016. Joshua spent a summer at the college's Marine Biology Laboratory in the Florida Keys and travelled to Peru for his SST, where he worked in a health clinic and medical lab in the city of Arequipa.
Following graduation, Caleb worked as a medical scribe while also focusing on music. Joshua launched right into Girl Named Tom after the siblings worked together on a song for a wedding and saw their potential.
During the pandemic, the siblings holed up in their parents' home in Pettisville, Ohio, where they grew up, and began writing and recording music.
When they're not touring, Caleb, Joshua and Bekah now live in South Bend, Indiana.
Read more: