Spring Mainstage 'The 25th Annual Putnam County Spelling Bee' spells a wild ride
Mainstage musical: "The 25th Annual Putnam County Spelling Bee"
Dates & Times: March 25, 26 & April 1 at 7:30 p.m., March 27 & April 3 at 2:30 p.m.
Location: Umble Center, Goshen College
Tickets: $12 adults, $7 students K-12/seniors, Free for GC employees and students. For tickets, call or visit the GC Box Office, 574-535-7566, or visit goshen.edu/tickets
**Music Theater International rates this musical PG-13 for a few profanities and a song in which a boy worries that the onset of puberty, a new crush, and an embarrassing anatomical dilemma is wrecking his ability to concentrate.
COVID-19 precautions for this performance: Face masks must be worn at all time while indoors regardless of vaccination status
---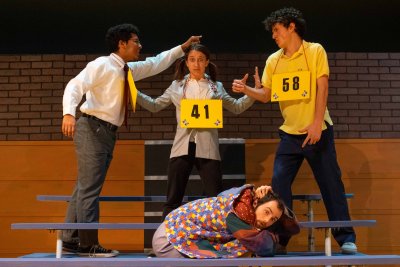 The Goshen College Theater Department will present its spring mainstage musical, "The 25th Annual Putnam County Spelling Bee," on March 25, 26 and April 1 at 7:30 p.m., and March 27 and April 3 at 2:30 p.m. in the Umble Center.
Winner of the Tony and the Drama Desk Awards for Best Book, "The 25th Annual Putnam County Spelling Bee" has charmed audiences across the country with its effortless wit and humor. Based on the fast-paced, funny and touching book by Rachel Sheinkin and a vibrant score by William Finn, this bee is one unforgettable experience.
"This wild comedy is all about the impossible human quest to find order in a chaotic world," said Amy Budd, the play's director and assistant professor of theater, "Most of the kids will lose the bee, but perhaps they'll win the sense of growth, purpose and joy they really need. We hope our audiences leave feeling delighted and refreshed."
In "The 25th Annual Putnam County Spelling Bee," an eclectic group of third-through-seventh graders vie for the spelling championship of a lifetime. Six spellers enter; one will leave. While candidly disclosing hilarious and touching stories from their home lives, the tweens spell their way through a series of (potentially made-up) words, hoping never to hear the soul-crushing, pout-inducing "ding" of the bell that signals a mistake.
A riotous ride, complete with audience participation, "The 25th Annual Putnam County Spelling Bee" is a delightful den of comedy, some of it improvised anew at each performance.
Tickets are $12 adults, $7 students K-12/seniors, and free for GC employees and students. Tickets can be reserved online at goshen.edu/tickets or by calling or visiting the GC Box Office, 574-535-7566. Tickets will also be available at the Umble Center beginning one hour before the show.
CAST 
Chip Tolentino: Jocsan Barahona Rosales
Leaf Coneybear: Ben Reichenbach
Logainne SchwartzandGrubenierre: Willa Beidler
William Barfée: Philip Witmer-Rich
Marcy Park: Cadence Lee
Olive Ostrovsky: Fatima Rhana
Rona Lisa Peretti: Augusta Nafziger
Doug Panch: Dontaye Albert
Mitch Mahoney: Victor Vegas
PRODUCTION TEAM
Director: Amy Budd
Music Director: Scott Hochstetler
Choreographer: Tom Myers
Technical Director: Sarah Kohler
Stage Manager: Gloria Bontrager-Thomas
Audience Volunteer Recruitment and Support: Sarah Bailey
Scenic Designer: Sarah Kohler
Lighting Designer: Jacob Claassen
Costume Designer: Alex Miller
Props Designer: Tobias Garcia
Hair and Make-up Designer: Irish Cortez
Putnam County Raccoons logo designer: Yujin Kim
Assistant Costume Designers: Erin Peters and Isabella Ruiz
Assistant Technical Director: Benji Wall
Lead Electrician: Jacob Claassen
Lead Carpenter: Dontaye Albert
Wardrobe Manager: Alex Miller
Poster Designer: Yujin Kim