Class of 2021 acknowledged for growth despite struggles during college experience
---
» Commencement photos
» President's speech (text)
» Baccalaureate photos
» Nurses Pinning photos
---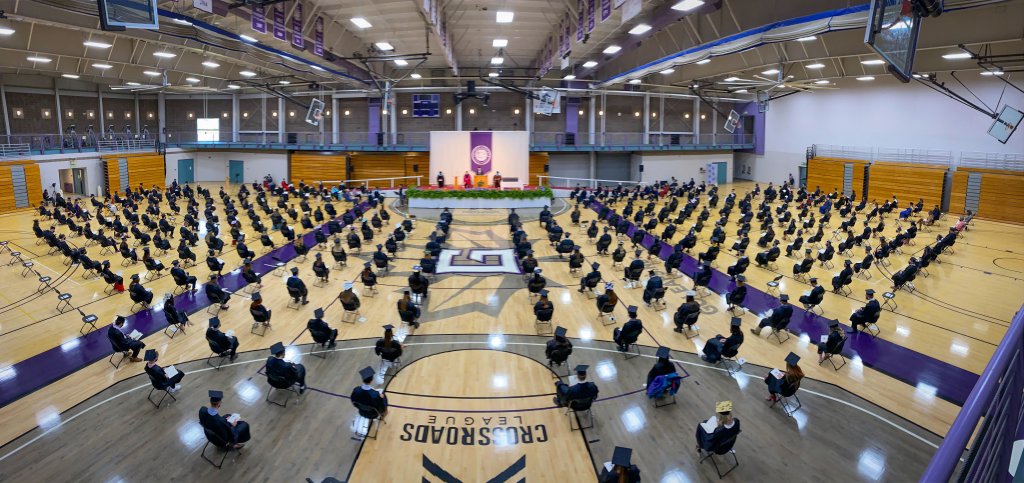 Members of the Goshen College Class of 2021 received undergraduate and graduate degrees during a hybrid in-person and virtual ceremony at the college's 123rd commencement on Sunday, April 25.
The Class of 2021 consists of 223 graduates who were awarded the following degrees: 161 Bachelor of Arts, 34 Bachelor of Science in Nursing, 18 Master of Science in Nursing as family nurse practitioners, four Master of Arts in Environmental Education, two Master of Business Administration and three Doctors of Nurse Practice.
In her commencement address "Marked and Blessed," President Rebecca Stoltzfus noted that for most graduates, 2017 was not just their first year, but also her first year as president at Goshen College. Graduates processed across campus into Roman Gingerich Recreation-Fitness Center's Gunden Gymnasium for the ceremony, where they met current and retired faculty and staff. No other friends and family were present in-person, instead joining virtually.
"Yours is the first class of baccalaureate students that I learned to know as first-years," she said. "Truly, I will miss you."
Drawing on the Biblical story of Jacob and Esau, she talked about systems of domination that thread their way through society even today, and noted that there is another way.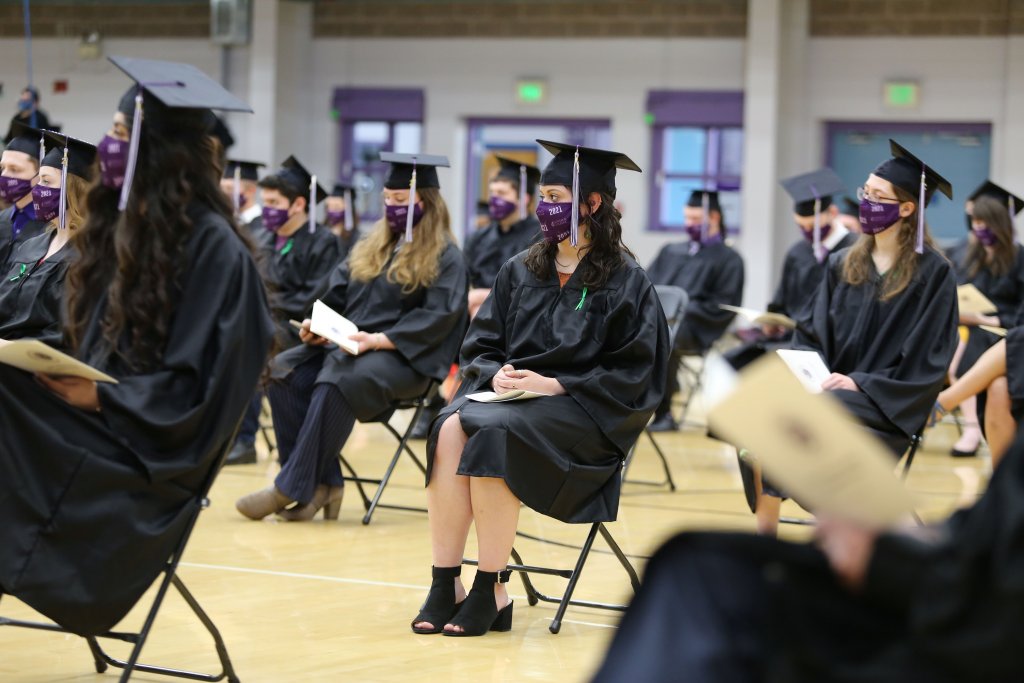 "A way characterized by love, joy, peace, patience, kindness, generosity, faithfulness, gentleness, and self-control," she said. "Alongside all of the knowledge and skills that you have gained in your years at Goshen College, our mission has been to educate you in a community that is rooted in the way of Jesus. This is what we strive toward. We do it imperfectly, but these gifts of the Spirit and this way of Jesus are also present, here and now, in the midst of systemic injustices."
Stoltzfus highlighted the struggles that this year's graduates have needed to overcome in their college journey, including the pandemic, political unrest, economic and environmental crises, systemic racism, and all of the individual challenges students have faced this year.
"I honor all of this, because in the struggle is our growth. We are learning, and not only in the classroom. We have all learned way more than we thought we could or wanted to this year."
Stoltzfus noted that along with struggles usually comes growth.
"We have all been marked by our struggles; we may be limping," she said. "But let us claim our blessing, let us work for the gifts and new possibilities that are arising out of our struggles."
Following the conferral of degrees, a senior octet performed the Alma Mater. The Octet consisted of Nithya Abraham, Harrison Gingerich, Stephen Lowe, Ian Martin, Kailey Rice, Lisa Rosado Rivera, Xan Seymour and Bek Zehr.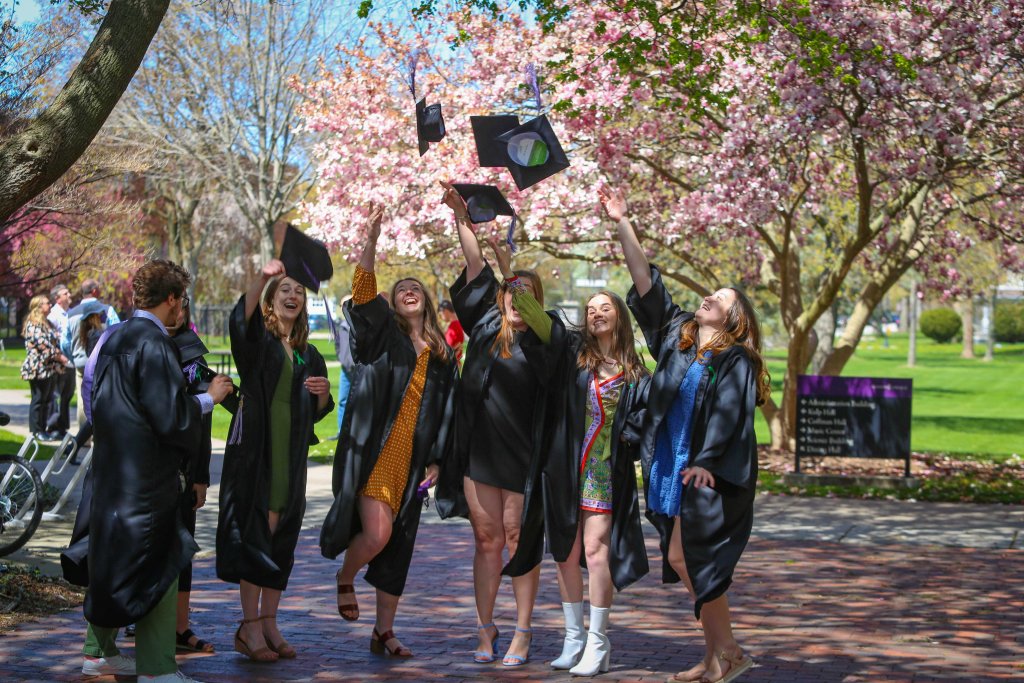 After the benediction by Dr. Gilberto Perez, Jr., vice president for student life and father of Ariana Perez Diener, a 2021 graduate, the faculty lined up physically distanced in the main corridor of the Recreation-Fitness Center and applauded the departing seniors. The "applause tunnel" tradition also takes place at the beginning of each academic year to welcome students back to campus.
Baccalaureate (see photos)
At the baccalaureate worship service in the morning before commencement, Rev. Dr. LaKendra Hardware, director of diversity, equity and inclusion, delivered a message titled "God's Got You" based on 2 Corinthians 12:9-10, Romans 8:37-39, Isaiah 61 and Psalm 121, and the morning's theme of "Resiliency through adversity, in faith, by living boldly."
"There are times in our lives we will find ourselves contemplating the mountains or monumental before us" she said. "When such occurs, we must rest in the presence, provision and promises of God."
Other senior participants included Nithya Abraham, Eden George, Stephen Lowe, Laura Miller, Katja Norton, Madeline Smith Kauffman, and Shelbey Younts, as well as student musicians Abraham, Nathan Berkey, Abigail Greaser, Simon Hurst, Lucia Keim Hernandez, Gogo Liegise, Mackenzie Miller, Norton, Janelle Preheim, Lisa Rosado Rivera, Emmalene Rupp, Xan Seymour, Bek Zehr, Ainslee Zou and the Goshen College choirs.
Goshen College Campus Pastor Joanne Gallardo gave a call to worship and a blessing, and President Rebecca Stoltzfus brought the benediction.
Other events during the busy weekend at Goshen College included a Graduate Celebration, which showcased the talent of the Class of 2021, a senior art exhibit, academic department receptions for graduates and their families, and nurses pinning ceremonies for undergraduates and graduate students.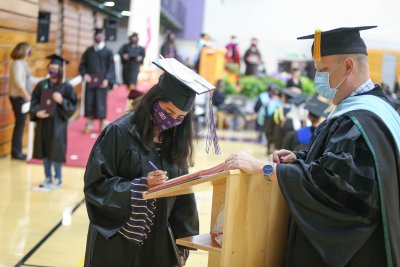 Class of 2021 by the numbers
Total graduates: 223
Students graduating with honors: 70
Countries Represented: 11
States represented: 23
Graduates from Indiana: 117