Fall mainstage goes interactive with Cymbeline: Interrupted
Fall Mainstage: Cymbeline: Interrupted
Interactive Online Experience: Nov. 6 - Dec. 6, 2020
Radio Broadcast: Nov. 8, 3 p.m. EST
Location: goshen.edu/livestream, Cymbeline.goshen.edu, 91.1 FM WGCS
Cost: Donations encouraged
Read more: 'Cymbeline Interrupted' prepares for virtual state
---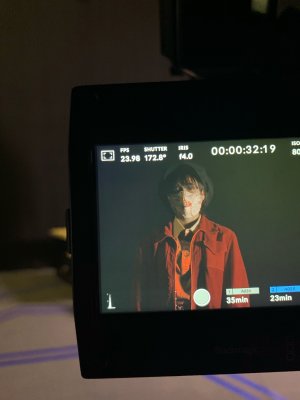 The Goshen College Theater Department has produced an interactive web adventure or their fall mainstage, titled "Cymbeline: Interrupted," based on Shakespeare's "Cymbeline," which was originally slated for the stage last March, but was postponed due to COVID-19.
The online experience will be available from Nov. 6 through Dec. 6 at cymbeline.goshen.edu, and a radio broadcast will take place on 91.1 FM (WGCS) The Globe (globeradio.org) on Sunday, Nov. 8 at 3 p.m. EST.
"I had several goals as we modified our production: to honor the amazing work that had already happened in the spring; to maintain the interactive element of theatre that primarily happens when events are live; to reach as wide an audience as possible; and to acknowledge the world we are living in now," said Michelle Milne, Cymebline's director. "Each audience member can have a unique experience, choosing their own adventure as they find their way through the interactive website. I hope people have fun with it."
A romantic and humorous tale of love, betrayal and mistaken identity, Shakespeare pulls from a stockpile of his famous tropes and devices in Cymbeline. The play follows loyal Imogen as she takes fate into her own hands to reunite with the man who betrayed her. Other characters include a scheming queen, a devoted servant, a hotheaded fool, a jealous husband, a demanding King, a lying lecher, a kidnapper, two ghosts and the almighty Jupiter, to name a few.
"The creativity displayed by Michelle and our students during this time has been very impressive, as well as their ability to shift gears, problem solve and adapt to daily changing circumstances," said Anna Kurtz Kuk, associate professor of theater. "Although we've drawn on principles of the theater discipline, this process has incorporated a lot of new elements and challenges as we've worked with audio and video."
The unique nature of this production has resulted in collaboration between the theater, broadcasting, film production and computer science students.
"We were proud of the work that was done in the spring," Kurtz Kuk said. "I think that would have been a compelling production. However, we've been able to create something this fall we never would have dreamed of before Covid."
Cast:
Imogen: Willa Beidler
Cloten: Ben Reichenbach
Queen: Laura Miller
Posthumus Leonatus: Bek Zehr
Pisanio: Dali Rodriguez
Cloten Lords: Shianne Harrison, Alex Miller
Cornelius: Alex Miller
Philario: Tobias Garcia
Laurent: Alex Miller
Iachimo: Abigail Greaser
Guiderius: Cara Wilson
Caius Lucius: Tobias Garcia
Captains: Shianne Harrison, Ben Reichenbach
Ghost Father: Bek Zehr
Ghost Mother: Willa Beidler
Jailer: Ben Reichenbach
Jupiter: Tobias Garcia, Abigail Greaser, Shianne Harrison
Jupiter's Augurs: Cristina Jantz, Lauren Myers, Olivia Smucker
Lamp Lighters: Gloria Bontrager-Thomas, Jonah Yoder
Woodsman: Jerry Peters
Production Team
Producer: Anna Kurtz Kuk
Director: Michelle Milne
Assistant Director: Lindsay Nance
Director of Photography/Video Editor: Shianne Harrison
Composer/Sound Designer: Lukas Thompson
Foley Designer/Audio Editor: Jacob Claassen
Costume Designers: Lauren Myers, Alex Miller
Props Designer: Tobias Garcia
Lighting Designer: Andrea Peters
Hair and Make-Up Designer : Shianne Harrison
Assistant Foley Designer: Riley Borntreger
Foley Assistant: Bek Zehr
Assistant Hair and Make-up Designer: Krislynn Lancaster
Video Assistants: Ash Caldera, Madison Swartzendruber, Cara Wilson
Technical Director: Jerry Peters
Stage Manager: Gloria Bontrager-Thomas
Assistant Stage Managers: Adam Hinegardner, Madison Swartzendruber
Web Development Team: Aaron George, Jehan Wagenaar, Salvador Escamilla, Jeanette Shown, David King
Stage Manager Spring 2020: Jonah Yoder
Set Designers Spring 2020: Nathan Berkey, Katy Thornthwaite
Build Manager Spring 2020: Jerry Peters
Assistant Stage Manager Spring 2020: Nithya Abraham
Assistant Costume Designer Spring 2020: Debbie Richards
Assistant Technical Director Spring 2020: Jacob Claassen
Master Carpenter Spring 2020: Levi Glick
Production Assistant: Danielle Pagoria