Voices of the Earth choir to tour Puerto Rico Feb. 22-29
Concert: Goshen College's Voices of the Earth Home Concert
Date/Time: Sunday, March 1, 2020, 7:30 p.m.
Location: Sauder Concert Hall, Goshen College Music Center
Tickets: $8 adults, $6 seniors/students. Available online at goshen.edu/tickets, or (574) 535-7566.
---
The Goshen College Voices of the Earth choir will spend their spring break touring and performing in churches and schools in Puerto Rico from Feb. 22-29 with a home concert on Sunday, March 1 at 7:30 p.m. in the Goshen College Music Center's Sauder Concert Hall.
The choir will visit and perform in churches in schools in San Juan, Aibonito, Bayamon and Ponce, and will take part in a post-hurricane restoration service project as well as visit a rainforest and beaches.
The tour will focus on the theme "All Together We Are Love," with music that originates in places such as West Africa, Estonia, Ecuador, South Africa and from African American spirituals. The choir is directed by Marcia Yost, director of the arts: engagement & outreach.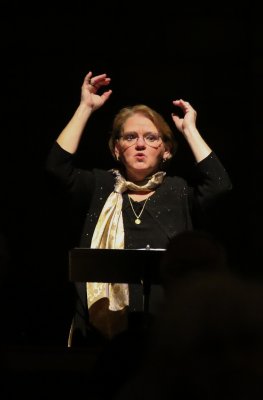 "We are so thrilled to be in Puerto Rico and share in the beauty of the island," Yost said. "We know the past few years have been difficult as they have faced hurricanes and earthquakes, and we hope to share together in the healing and reassuring power of music. We celebrate music and the people who have faithfully sung songs that empower our lives and praise our Creator."
Voices of the Earth, a treble choir established at Goshen College 15 years ago by the late Dr. Debra Detwiler, is open to Goshen College student treble voices of all years and majors by audition. Originally named the Women's World Music Choir, its focus continues to be the authentic performance of the music from many cultures and countries. Voices of the Earth performs in numerous on-campus and off-campus concerts each year and tour routinely. This choir also combines with other GC choirs to perform standard choral and orchestral works.
Follow along with the choir on their tour by going to their blog.
Goshen College Voices of the Earth Choir
Soprano 1
Nithya Abraham (Bangalore, Karnataka, India), Katie Baer (Villa Ridge, Missouri), Eden George (Bangalore, India), Emily Hilton-Nickel (San Francisco, California), Alexa Kennel (Souderton, Pennsylvania), Mackenzie Miller (Lancaster, Pennsylvania), Augusta Nafziger (Weyers Cave, Virginia), Lisa Nalliah (Huntington, Indiana), Nasim Rasoulipour (Tehran, Iran), Kailey Rice (Frisco, Texas), Lisa Rosado Rivera (San Juan, Puerto Rico), Haley Willis (Chicago, Illinois), Ainslee Zou (Bristol, Indiana), Emma Zuercher (Apple Creek, Ohio)
Soprano 2
Elizabeth Breckbill (Kidron, Ohio), Caroline Brunk Greaser (Goshen, Indiana), Claire Franz (Denver, Colorado), Haley Kirkton (Goshen, Indiana), Elsie Koop Liechty (Goshen, Indiana), Anna McVay (Geneseo, Illinios), Laura Miller (Arlington, Kansas), Lauren Myers (North Manchester, Indiana), April Pollock (Goshen, Indiana), Willa Smucker Beidler (Lancaster, Pennsylvania), Angela Ticen (Chalmers, Indiana), Clara Unzicker (Benson, Illinois), Sharada Weaver (Hyattsville, Maryland), Bek Zehr (Carthage, New York)
Alto 1
Abigail Brunk Greaser (Goshen, Indiana), Megan Graber (Stryker, Ohio), Natalie Graber (Wellman, Iowa), Greta Klassen (Goshen, Indiana), Corrie Osborne (North Manchester, Indiana), Janell Preheim (Lancaster, Pennsylvania), Caroline Robling-Griest (Chicago, Illinois), Dali Rodriguez (Aibonito, Puerto Rico), Savannah Roth Walter (Lancaster, Pennsylvania), Samantha Shank (New Paris, Indiana), Anna Smucker (Goshen, Indiana), Marieke van Bergeijk, (Hesston, Kansas), Kaci Yoder (Goshen, Indiana), Emma Bontrager, (Goshen, Indiana), Olivia Ewry, (Wapakoneta, Ohio), Yejin Kim (Seoul, South Korea)
Alto 2
Cadence Lee (Elkhart, Indiana), Elena Meyer Reimer (Goshen Indiana), Emmalene Rupp (Wooster, Ohio), Mary Schmauss (Albuquerque, New Mexico), Olivia Smucker (Harrisonburg, Virginia), Brooke Stutzman (Walnut Creek, Ohio), Priscilla Tanujaya (Jakarta, Indonesia), Katy Thornthwaite (Black River, New York), Annelise Wiebe (Goshen, Indiana)