23rd Annual Academic Symposium
Friday, April 8, 2022 in the Church Chapel
10:00 AM to 4:00 PM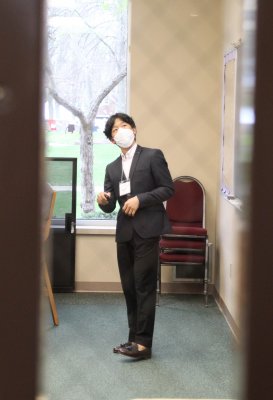 Goshen College's annual academic symposium takes one day to highlight the amazing research that faculty and students have done in the past year. Whether you have a research assignment from a class, a Maple Scholars project, a senior thesis, a publication or faculty research project, this is an opportunity for you to share your work and knowledge with the entire campus.
The Goshen College campus is invited to attend one or all sessions. Sessions are also open to the public. According to GC COVID protocol, masking is optional according to individual choice and health needs.
The Academic Symposium begins on Friday, April 8, 2022. The day will start with a 10 a.m. session in the sanctuary,  in which Academic Dean Ann Vendrely, Ph.D., will recognize faculty promotions and tenure, as well as recent publications. Faculty publications will be available to review in the Church lobby.
Professor Regina Shands Stoltzfus will give a presentation on her new book, "The Why and How of Been in the Struggle: Pursuing an Anti-Racist Spirituality." Professor Duane Stoltzfus will share a response. A reception recognizing faculty promotions and publications will follow.
Hourly sessions start at 11 a.m. and end at 4 p.m. in the Church chapel. Please plan to stay for an entire session out of respect for presenters.
Recordings of individual sessions will be available after the symposium but will not be available for remote access via Zoom.
Guidelines for Presenters are available by request. → See more information and frequently asked questions
---
Photos from the 2021 Academic Symposium
---
We invite you to share your feedback by email (bethmb@goshen.edu) or an evaluation form. If you want to give feedback for multiple sessions, please complete a separate form for each one.
View past years' programs and research abstracts in the archive. Note: The 2020 Academic Symposium was cancelled due to COVID-19.
The mission of the annual Academic Symposium is to
acknowledge original undergraduate, graduate, and faculty research and creative works that play an essential role in our academic programs
encourage students and faculty to contribute to the larger conversation about knowing and knowledge that sustains the academy
provide a professional development opportunity for students to practice their presentation, research, and performance skills in the context of a liberal arts academic environment
share with the Goshen College and local community a broad range of academic research and creative works
---
"Research is to see what everybody else has seen, and think what nobody has thought."
Albert Szent-Györgyi
---
Talk with your adviser today and submit a proposal. Faculty can also submit their own proposal for their own research or a session panel.
The process is simple: Send in your name, project title and description to Associate Academic Dean Beth Martin Birky or fill out this short proposal application before March 1, 2022.