Changing the world
one conflict at a time
By Melanie Histand '06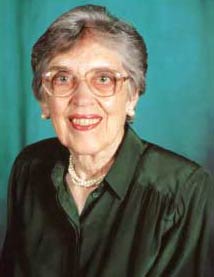 After a lifetime of mentoring school children as a teacher and a guidance counselor, Pearl Hartz '59 found a new calling and a new crowd to counsel – some of whom are more familiar with correctional institutions and courtrooms.
In 1993, following 30 years of work in schools, Hartz began her second career, establishing and directing a victim/offender reconciliation program (VORP) in San Diego, Calif.
"Often, in evaluating what I would do in retirement, I reflected on Jesus' concern for the poor, the prisoners, the blind and the oppressed," said Hartz. "I knew I wanted to do something to help some of those disempowered persons in our world."
Concern for what Hartz saw as an ineffective justice system contributed to her vision for a community mediation program. "The United States has the highest per capita incarceration rate in the world," she said. "Something needs to be done."
Victim/offender reconciliation programs bring wrongdoers face-to-face with those who have suffered because of their crimes, with the assistance of a trained mediator, usually a community volunteer. Crime is personalized as offenders learn the human consequences of their actions, and victims have the opportunity to speak their minds and their feelings to the one who most ought to hear them, contributing to the healing process. And for the offender, "this process puts a human face on the crime," said Hartz.
The volunteers, mediators and employees of VORP "see crime as a violation of people and a breakdown of relationships," said Hartz. "We believe the criminal justice system, although they can address the legal side of it, are not able to bring healing and reconciliation because they're not designed for it. The community needs to play that part."
Hartz continued, "In today's world, there is a really short supply of empathy. People need to be led in mediation experiences that enable them to be sympathetic. They have to learn how to communicate."
Hartz and members of her small group from Mennonite Fellowship of San Diego laid the groundwork for the victim/offender reconciliation program, modeled after an already existing Fresno organization. Ron Claassen, director of the Fresno Pacific University Center for Peacemaking and Conflict Studies, provided guidance and support.
The program, which may receive as many as 145 referrals in one year, sets up individual and joint meetings with the victim, the offender and a mediator, facilitates a written contract between the parties and monitors the relationship to ensure the contract is fulfilled.
Unfortunately, not all cases are suited for mediation. If the offender denies any guilt, there isn't much VORP can do. But more often than not, both parties are willing to come together to "make it right," said Hartz.
Day by day, Hartz sees lives torn by anger, conflict and pain knitted back together once again through mediation. A bitter conflict between two girls, ages 17 and 18, initially did not give Hartz much hope for a resolution; she had hardly expected them to be able to come together for a mediation meeting. But they did, and the result was incredible.
"After the meeting, I saw them going down the hall arm in arm," said Hartz.
A couple weeks later, she received a phone call from the victim, expressing gratitude and relief. "Those were the kinds of things that fed me," she said.
Hartz recalled that another encouraging experience began, as always, with a phone call. This time it wasn't a referral officer on the other end of the line, but a descendant of the Assiniboine Indian tribe. The woman calling was seeking help from a restorative justice agency for a family situation. "She wanted an out-of-court resolution. She wanted to use the kind of practice that her forbearers had used," said Hartz.
"That was a high point because I saw these two streams of restorative justice coming together – the one that we've arisen from, which is Mennonite-initiated, and this other from a primitive tribe," she continued.
Hartz's life of service jump-started with four years as a Mennonite Central Committee and Mennonite Board of Missions volunteer soon after her graduation from Goshen College. She lived in Gulfport, Miss., teaching vacation Bible school and assisting at churches, and also spent time in the community of St. Anne, Ill., helping to start a kindergarten.
"Service, for me, had always been part of being a Mennonite," said Hartz. "But the time had come to expand my horizons a little farther. Now, with greater understanding of life beyond my home community, more doors for service in the world have opened."
After 10 years of serving as director of VORP in San Diego, later renamed the Restorative Justice Mediation Project (RJMP), Hartz is now retired. She continues to act as a consultant and enjoys "doing things that I couldn't do as an administrator because I didn't have time," such as working towards more involvement from faith communities. With its small beginning in the Mennonite Fellowship of San Diego, the organization has since expanded to include participation from numerous other denominations, including Church of the Brethren, United Methodist, Episcopalian and United Church of Christ.
While Hartz rejoices in each situation where mediation proves successful, she realizes the stream of victims and offenders walking through the RJMP doors will be never-ending.
"Conflict resolution and reconciliation are so thoroughly needed always," she said. "They are skills that are basic to life in families, life in churches, the workplace, and are not automatic. I believe that some people learn them in their families, but many people don't have that nurturing.
Leading this program has probably been the hardest things I've ever done, but it's also brought me great satisfaction," said Hartz, recalling that a police officer once told her, "What you do could change our world!"
In the 50 years since Hartz's college graduation, she moved across the country, changed careers and has yet to show signs of slowing down. She still, however, remembers fondly her humble roots at Goshen College, "a place where my values were honed through opportunities I had to learn from people.
" You just always feel like you're part of a special community," she said.
< 1 |
2
|
3
>