Residence Hall Renovations & Merry Lea construction
Photos by Jodi H. Beyeler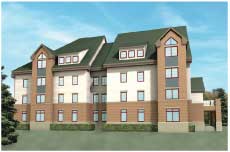 Construction of a new $3.28 million, four-story apartment-style building on campus, to house seniors in 16 apartments began in June, with the intention of being completed by the fall of 2005. The building will house 64 seniors, and each apartment will have four single rooms (though sharing will be an option for students who want to save money), two baths, living space and a kitchen.
According to Vice President for Student Life Bill Born, the 25,000-square foot apartment-style building will be "very residential in feel," with distinctive architecture, that is at the same time visually related to campus in design.
The building's design incorporates a number of unique features, making it both aesthetically attractive and environmentally friendly. The building's design resembles that of Kulp Hall, the college's first permanent residence hall built in 1906, with its roof lines, windows, finish and front balcony. Another unique feature of the building is that the attic space is also used efficiently as apartments with spiral staircases and a loft overlooking the living space. Some of the "green" aspects of the building include metal roofing, an environmentally sensitive climate control system and plenty of natural lighting.
Over the past three years, the number of seniors who chose to live on campus has increased. In the fall of 2001, 19 percent of seniors chose to live on campus. In the fall of 2003, the percentage rose to 39 percent of seniors.
Related to the building of apartments for seniors is a change in residency criteria for students to live off-campus, with the goal of having more seniors living on campus. The off-campus living eligibility will change from those who have 90-plus credit hours earned to those with 112-plus credit hours earned; from age 22 at the outset of the semester to age 23 during a semester; from living only with parents to living with immediate family members. The change will first affect the eligibility to live off campus of the class of 2008. Current students will have the choices currently in place for housing, along with the additional housing option of apartments.
Merry Lea construction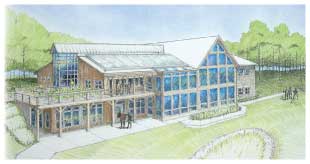 Merry Lea Environmental Learning Center is beginning construction of phase one of a new environmentally-friendly collegiate facility in September, with four cottages being constructed during 2004-05, and phase two will include a 20,000 square feet academic building and three cottages all designed for maximum sustainability and conservation. When the collegiate facility is fully functional, Merry Lea will be the site of two 10-week tracks of courses during the summer growing season: a natural history track focused on wetlands and a track in agroecology, which uses the study of ecology as the starting point for developing sustainable methods of growing food. The facility will also be home to graduate students pursuing fieldwork in environmental education.
Each cottage will provide space for eight students. In addition, semester-long programs will be designed for interdisciplinary studies in this new learning community.
Also see:
New student coffee bar