Reflections on the leadership journey
An interview with Shirley H. Showalter
by Rachel Lapp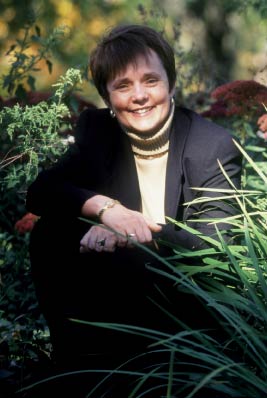 Q: After eight years, you are stepping down as president of Goshen College –moving on to Fetzer Institute in Kalamazoo, Mich. Are people asking why you are leaving, now, an institution that you love?
A: I was not expecting a new calling so soon, but when it came, I was ready. While the decision was a surprise to many, I feel it's better to leave a little too soon than too late.
When I accepted the invitation to become president in 1996, my prayer and meditation life was rich. I was using a book called Disciplines for the Inner Life. On the date that the decision was due, the topic for the day was "guidance" and the reading was Samuel 16:1-13 – the story of how David the shepherd boy was selected by Samuel as the unlikeliest of Jesse's sons to be ruler. The end of the story moved me; it described the Spirit of God entering David like a mighty wind. This Spirit empowered him for the rest of his life. It was the presence of this Spirit that made David a great king, not his own strength.
These words moved me deeply because I was aware of the need for divine help, and I too felt the presence of the Spirit. Later, in talking about the passage with the chair of the presidential search committee, I learned that the committee had selected that same passage as a theme for its work.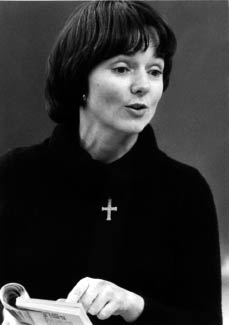 Q: You came to Goshen College directly from graduate school at the University of Texas at Austin. Like other faculty members and former presidents, both you and Stuart had other options in academia. What was, and is, distinctive and appealing about Goshen?
A: Goshen has unique character, and a newcomer can feel it almost immediately. People care deeply about ideas, and talk about Christian faith as integral to everything that we apply ourselves to do. The standards for teaching, service and scholarship are high and are internally reinforced; excellence is simply expected. Global awareness, a passion for social justice and peace permeate the curriculum and campus-wide events, and because these are essential aspects of our understanding of the word of God, we are focused on sharing these with the world. This is consistent with faithfulness to the Mennonite Church.
Goshen has developed a high quality faculty and staff, and quality begets quality. There is a "village" atmosphere that includes both social and spiritual dimensions: we study and work together, play together, volunteer together, sing together and pray together. Multiple generations meet here, grow here, share here. These are some reasons that Stuart and I have stayed at Goshen College.
Loyalty cannot be taken for granted, however. That is why building the Mininger Center fund for faculty development has been a priority in the last two years. The Center will be one entity responsible for keeping Goshen's character strong, in the tradition of foundational leaders like past president Paul Mininger. Of course each program also carries that responsibility.
And clearly articulating this institution's core values has influenced and will continue to influence the direction for Goshen College increased our ability to define excellence and focus our efforts.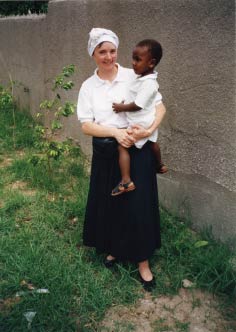 Q: You were the first woman to be called as president of Goshen College. What significance does that hold for you?
A: When you are the first, you bear a special responsibility. You are accountable to those who follow after you as well as for those who went before you who did not have the same opportunities.
There's a lovely quote in Zora Neal Hurston's Their Eyes Were Watching God, which I have often thought about when approaching a podium. In the book, the character Janie's grandmother tells Janie that she herself could have been a preacher but wasn't able to and tells Janie it is now up to her.
Julia Kasdorf wrote a poem at the time of my inauguration, "The First Bird," in which there is the line that says "the way notes, once forced into her tiny throat, come out this dawn as song." I have certainly thought about those "notes" and I am grateful for all the other women and men, past and present, who have made it possible for me to sing.
I have always felt honored to be called as a woman into leadership. It has always been my goal that my example would not foreclose the possibility of other women being called in this way, but would stimulate other women to develop their leadership gifts and encourage the college and the church to look at 100 percent of the possibilities. I expect women to appear on the list of possible presidents from this time forward!
Q: What role have mentors played throughout your life and career?
A: Mentors have been extremely important to me from the time I was a child. I have to give my family credit for placing a lot of emphasis on seeking wisdom. My parents pointed out to me people in our congregation whom they considered wise. Their respect for those people set the example that the youth should seek out wisdom, which of course is also a lesson from the biblical Proverbs.
Whenever I have been in a new role, my natural instinct was to look for the best practices and practitioners. It hasn't been hard for me to say, "I don't know and I need help," and that is how I have learned a lot. You have to develop good judgment about whether someone is a worthy mentor. God has provided me with worthy mentors.
Q: How has your leadership style been shaped by Mennonite values?
A: There is a lot of guidance about leadership on the Sermon on the Mount, which has permeated all of Mennonite theology. We don't think about the Sermon on the Mount as a leadership statement, but it is.
When you are in a leadership position, the balance you need to achieve is in using your gifts to persuade, leading through words and actions, and also recognizing the ways you must encourage others to do the same thing – to contribute their gifts to the larger whole. Some people call this servant leadership, which is where bottom-up and top-down leadership meet. Leaders must be actively involved in listening, shaping, goading, prodding, developing and articulating vision that is community-based and comes out of relationships with people who are energetic and active followers who are ready to speak the truth.
That is what feels so good about Goshen College's core values: we used a process that involved many voices. There are times when you have to modify your course because of your relationships in the community. I think I learned those things from my Mennonite upbringing and various Mennonite communities of which I have been a part. I think these ideas are congruent with the latest and best work on leadership in books like Good to Great by Jim Collins. And in all of Max DePree's writing on leadership. Or an article in Harvard Business Review about the "Level Five Leader." So I would credit what I have learned about leadership to my faith community as well as secular sources.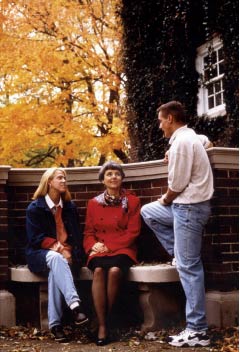 Q: Why did you wish to continue to teach during your presidency?
A: Teaching has kept me in touch with what faculty members are doing every day and the entire reason for our existence. I taught four courses within the Honors program over eight years. I can't know a thousand students intimately, but I can know well a few – out of the more than 2,000 who were at Goshen College during the time I have served as president – and I can engage with them in the joy and challenges of learning. And I'm very glad I did it.
Q: What are some highlights from your presidency?
A: There have been so many highlights, often in the form of meeting alumni and Goshen College supporters or talking about the Mennonite philosophy of higher education,
or meeting the first-year students receiving the President's Leadership Award each fall. Receiving the Knight Foundation Presidential Leadership Award, which came to us as a complete surprise, was a wonderful opportunity. Goshen College has benefitted from Lilly Foundation Inc. grants that, building on our strengths and addressing community and statewide issues, are funding very good programs, like the Plowshares Peace Studies Collaborative.
Certainly one of the most significant projects of the past nearly eight years was envisioning a new Music Center and engaging in significant fund raising to make it a reality. That project was a textbook case for excellence from beginning to end. We took two simple words from Evelyn Kreider – "simple elegance" and built an edifice around them. Hundreds of people contributed their gifts and special talents to turn a dream into a reality exceeding all of our expectations. I will always enter the Music Center with gratitude and praise to God.
I have always wanted to focus on our potential – realizing our potential for good, for unity, for excellence. Part of the work of strategic planning has also been articulating our core values to describe who we are – our unique culture as a Christian institution rooted in the Mennonite tradition – and the significance of the beliefs we share on our programs and campus life. People internally and externally feel that this is Goshen at its best. It is creating a hope for fulfilling our potential as a unified community confident of our own identity, joined together by a spirit of love. There is an interwovenness of these values in this community, which will serve Goshen College well into accomplishing future goals. The Board has claimed the core values to the extent that this will vitally inform the kind of leader that will be attracted to lead this kind of place.
Q: What do you see on the horizon for Goshen College?
A: Goshen College is in a very strong position for growth. There were a few steps backward in enrollment before we rebounded in 2003. This fall's numbers show we are on solid ground. [Vice President for Institutional Advancement] Andrea Cook and the directors that report to her have been improving our communication to prospective students and their families and becoming more efficient. Our quality has always been high – excellent students are attracted to Goshen (SAT scores and GPA averages have increased) And we have invested in campus infrastructure in ways that should serve future students and faculty very well. We are working hard on issues of student satisfaction and retention, which is so important.
One of our strengths is an $88 million endowment, which allows us to offer a lot of scholarships without having to take all the resources for them out of the operating budget; this is good stewardship, in addition to sound fiscal planning. Provost John Yordy has led excellent processes to help us gather, understand, assess and use institutional data to make decisions.
Clearly, our people are an asset. We have high quality faculty and administrators who are not only excellent scholars and teachers in their fields, but are very committed to this institution and its goal of preparing students as Christ-centered passionate learners, global citizens, compassionate peacemakers and servant leaders. We must, and we will, continue to attract such professors and administrators.
The campus has also become much more beautiful. From my office window, for example, I see an emerald carpet of grass on the north lawn and well-manicured flower beds. Students also enjoy this scene from newly renovated spaces in Kulp Hall or as they dine on the outdoor patio of our upgraded dining hall. The residence halls have air conditioning now, so summer programming has picked up. We have the "connector" addition to the three largest residence halls, with the campus coffee bar that just opened. Ground has been broken for a new residence hall to provide apartment-style housing for seniors. Our Student Life staff has worked hard to make these wonderful plans to provide living, studying and meeting places that both foster community and provide opportunities for students to learn and grow as young adults.
We also enjoy quality facilities that are well maintained by an outstanding physical plant staff and some additional help from Volunteer Ambassadors.
The process that is most exciting with regard to the future is the Advancing Goshen College process. We have had three sessions – attracting alumni and friends from the two coasts and everywhere in between – of highly focused conversations about how to achieve the next level of excellence in areas such as enrollment, alumni relations, faculty development, curriculum, local community, facilities, church relations, technology and Merry Lea. The nearly 100 people who have offered their time to serve on these task forces are very serious about encouraging constructive change. The good news is that the 45 on-campus people who looked at the recommendations offered so far were not only complimentary about the work but excited about the possibilities that the highest priorities can be accomplished relatively soon. The process should result in an excellent base with which to launch a comprehensive capital campaign which gives a new president a great opportunity to share new dreams with all the constituencies of the college.
The North Central Association review that will be completed next spring will be an important part of new planning. I expect that the visiting team will take note of the many strengths of the college. I know that Academic Dean Anita Stalter, who has successfully shepherded other significant review processes for accrediting agencies on behalf of the college, and [Professor of Psychology] Duane Kauffmann, who has been our institutional researcher and coordinated material and data collection for the self-study document, are both doing an excellent job of preparation with the contributions of all departments on campus.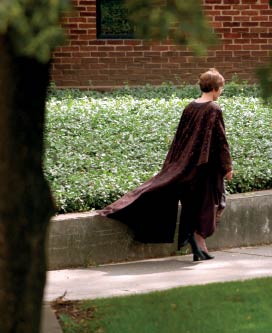 Q: What about Mennonite education as a whole?
A: For the five undergraduate-based institutions in the Mennonite Church USA, the challenge today is to find a way to increase the number of Mennonite students attending Mennonite colleges. Ten percent of the youth of the church, the number we collectively attract, simply will not produce enough pastors and lay leaders for the future. We have the opportunity ahead to look for ways to tackle this issue together, and the Mennonite Education Agency wants to help that happen. We know that attending a denominational college has a major influence on the faith of young people: they tend to stay with their denomination if they attend,
and to join the denomination if they come from other backgrounds. We can help the whole church be missional through education.
That is the ideal scenario for the future.
Q: Regarding your future, what do you look forward to at your new place of work?
A: The Fetzer Institute, an operating foundation funded by an endowment from the John E. Fetzer Estate, will provide a new challenge, one I expect to relish. My job will involve finding the world's leading experts on mission-focused topics and bring them together in settings designed for generating great ideas and projects.
I loved being president of Goshen College – right up to the last minute – but I will relish weekends and relative anonymity also. "For every thing there is a season." I celebrate the season of public leadership at Goshen College and look forward to the next season.
Q: With what blessing do you wish to leave Goshen College?
A: I am full of gratitude for all that has been given to me, to Stuart, to my children and to all of us in the last 28 years at Goshen College. I believe a wonderful new leader is being prepared for a new challenge at Goshen College. She or he will bring new gifts that will be necessary for the future.
Momentum is very important to Goshen College right now. I have faith that the board and vice presidents will create a plan that does not skip a beat as we together work through this transition. My role is to step aside and allow that to happen, to say thanks often and to as many people as possible, and to praise God from whom all blessings flow.