A sip of Incan culture
May term course contrasts traditional
and present-day Peru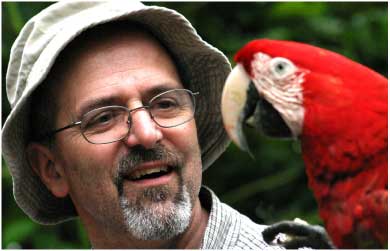 By Rebecca Allen
May term provides opportunities for Goshen College professors to offer concentrated studies in particular subjects – or cultures – of interest, often up close. Dean Rhodes, assistant professor of Spanish, first lived in Perú in the 1970s while serving a term with Mennonite Central Committee.
Rhodes led Goshen College students to Peru during May in a class titled Lost Empires of Perú. Over the course of three weeks, 25 students lived with host families in Lima, explored the jungle of the Amazon basin, wandered the ancient streets of Cuzco and trekked 26 miles to see the Inca ruins of Machu Picchu. Along the way, students – including author and graduated senior Rebecca Allen (Seattle, Wash.) – encountered Peruvians representing the impressive diversity of this South American country: wealthy limeños (persons from Lima), children living in poverty, educated guides and Quechua porters. Every interaction taught the group to be flexible, aware of their surroundings and appreciate the sharp contrasts of Perú.
Inka Cola: Perú's national soft drink is yellow in color and echoes the flavor of cream soda or bubble gum. According to Rhodes, Peruvians loyally consume so much Inka Cola that they shun other soft drinks, like the international marketed Coca-Cola. Peruvians will tell you that Coca-Cola even attempted to advertise that its corporate colors match that of the red-and-white Peruvian flag, but Inka Cola is still the national favorite.
A chilled Inka Cola soothed my parched mouth after four hours under Perú's hot equatorial sun. Trees and buildings in the developed parts of Lima provide relief in la sombra, the shade, but there were no trees and no real buildings, either, in Pamplona, a pueblo joven, or young town, on the outskirts of Lima. Instead, the residents there live in shacks constructed of woven reeds, tin or cardboard that lean into the sand. The capital city of Lima sprawls unchecked in a desert; pueblos jovenes appear literally overnight when a group of mountain people – desperate for work – build temporary homes faster than the government can tear them down. Eventually, the city may agree to extend electricity and water to the people of Pamplona. Until then, Pamplona's children play for hours each day under the harsh sun in sand littered with candy wrappers and dog feces.
Dean arranged for our group to spend a morning in Pamplona where children clamored for our attention, we sang "Siyahamba" for them and they performed an enthusiastic praise song complete with an energetic dance for Jesus. Senior Jill Widmer (Washington, Iowa) said, "Seeing the joy in a kid's face in a place where they basically had nothing is something that I will never forget. I never want it to stop affecting me."
The harsh reality of a childhood in Pamplona became clearer to me after I left, when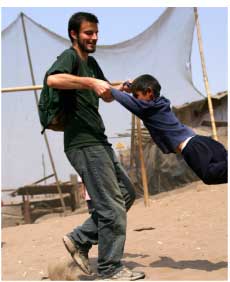 contrasted with the generous and good-natured host family in Lima where senior Jessica Schrock (Sterling, Kan.) and I lived for five days. After our class visit to Pamplona, we reunited with our urban Lima family in a cheerful, clean McDonald's, where our two young host brothers were celebrating the birthday of a friend. The party marked the third birthday of a timid little girl with curled pigtails and a crisp frock. Our host father bought us each an Inka Cola and our host brothers graciously offered us their piece of birthday cake. Before we ate, we had a few quiet moments in the bathroom to wash the dirt of Pamplona from our feet and into the shiny McDonald's sink.
Wild tomato juice: One of several fruit juices we sampled while traveling through the jungle, many in our group didn't care for the wild tomato flavor. Other varieties included passion fruit, green orange and papaya. Each beverage reflected the lush and verdant produce of the rainforest and complimented the fine meals we ate.
It rained every day we spent in the jungle, which, though unfortunate, seemed appropriate in a rainforest. Our four guides apologized repeatedly for the weather and shivered in their layers; I tried to explain about Indiana's snowy and unpredictable winters by way of reassurance. The only truly disappointing consequence of the rain was the decreased likelihood of seeing wildlife. But despite the weather, we encountered black spider monkeys, several species of ants, bamboo rats, raptors, peccaries and caimans. Our boat trips on the Tambopata River frequently came to a halt as we exchanged stares with curious capybara, dog-sized rodents quite common along the riverbank.
One afternoon, some members of the group learned how to safely fish for piranha from a guide; others swam in a stream upriver, unaware of our guide's successful effort to scare away a shy but potentially deadly coral snake from the same stream. In a place so unlike home, we learned quickly to rely on our capable, friendly guides.
We trusted them to show us their jungle, and they did. Twice, we woke up at 4:30 a.m. for visits to a macaw lick. On the first morning, the rain deterred the colorful birds from descending to the brown clay cliff laden with vital minerals. I remember grumbling about the early hour on the second day, but I faithfully rose from my sleeping bag and donned my rubber boots for the outing because the guides hinted that this day might be better. And it was. The brilliant reds, greens, blues and yellows of the macaw pairs contrasted with the muted earth. I watched in awe, surrounded by unexpected beauty.
Senior Erin Sigler (Cuyahoga Falls, Ohio) remarked that her senses feasted on the delights of Perú. She said, "At any given moment I could have gone home and said that it was the most incredible trip of my life, but it just kept getting better."
Surrendering to the sometimes surprising, and always abundant, beauty of the jungle required us to surrender to the leadership of the guides as well. Doing so introduced us to a diverse and wild new world complete with enormous rodents and wild tomato juice.
Inca health tea: This tea, brewed from the coca plant, combats altitude sickness and gastrointestinal ailments, and acts as a harmless, caffeine-free stimulant. Our Western hotel in Cuzco (altitude 11,100 feet) provided this complimentary tea in the lobby around the clock. On the Inca Trail, our guides served the tea with every meal because of its medicinal purposes that helped us acclimate to the high elevation. The indigenous people of the mountains drink this tea with the regularity that many Americans drink coffee.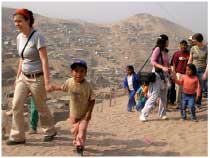 Peru's indigenous people manage to maintain many aspects of their traditional culture: terraced farming, woven ponchos, steep mountain paths for transportation and avenues of communication. This is a unique contrast with the city dwellers who profit from tourists by remembering their Incan ancestry, but who simultaneously dismiss today's mountain people as worthless.
Each morning on the Inca Trail, a porter would stand outside our tents offering hot tea. It was difficult for many of us to be waited on in such a way. Our group was shocked when Cesár, our guide for the Inca Trail, announced that 60 porters would accompany the 28 of us on our 26-mile, four-day trek. Each porter can legally carry 25 kilograms; each of us could turn over eight kilograms of our personal belongings for a porter to haul up and down the steep mountain passes. Along the way, the porters saw the same ruins, climbed up and down the same Dead Woman Pass and slept under the same brilliant Milky Way that we did. But we probably did not eat the same food and neither did we speak the same language, though there were some shared attempts to communicate in broken Spanish. Our soft feet wore heavy hiking boots that rubbed blisters by the second day; the porters literally ran down treacherous rocky paths wearing sandals made from rubber tires. Interacting with the porters was a challenge, though not for lack of interest or will. They seem to accept the role forced upon them by Perú's aching economy, and they perhaps grow weary of small talk with gringos, people from the United States.
We joked that one of our few marketable skills as a group was to sing. The name of the last campsite where we stayed on the trail translates from Quechua to mean "cloud city," and after watching the fog fill the valleys below us, we sing all the hymns we know under the stunning southern sky. Someone murmurs to me that the porters have never heard four-part singing before. We end with "Praise God from Whom," and the next day, we arrive at Inti Punco, the Sun Gate. Machu Picchu perches below us, ancient and serene. Hundreds of years have not destroyed the unyielding beauty of these stones. Like the people of Perú, they contain stories both told and untold, stories of contradiction and paradox and possibility and survival. We stood taking pictures and congratulating ourselves as the porters ran past us, into the valley toward those ancient stones.
>
Postcards from around the world