'New dawn' at WGCS
Radio station launches 91.1 FM "The Globe" with Americana and world music
By Jodi H. Beyeler


When Michiana listeners tune in to 91.1 FM, they may hear the melodies of Mozart, but chances are that banjo virtuoso Bela Fleck is arranging and finger-picking the tunes. The Goshen College radio station, 91.1 FM, is now called "The Globe" and features full play lists of Americana and world music – including the addition of public radio's most popular nationally distributed music program, "World Café," which isn't heard on any other station in the region.

"We started to do a lot of research back in October," said Jason Samuel '92, station general manager, who has a background in commercial radio and was twice named Indiana Sportscaster of the Year. "Out of that research came the recommendation that we change our programming on WGCS. The radio market we are part of has three classical radio stations. We don't want to duplicate, let alone triplicate, programming. And when you are doing two different things – classical and folk music – it creates confusion. By making the transition to one format, when listeners tune in it is consistent. That said, we have a vision for increasing the broadcast exposure of Music Department performances.

"Listeners have access to a brand of music and programs not currently an option in this area. 'The Globe' is a fresh, new, vibrant format. It is informative and contemporary," he said. "It's a new dawn at 91.1."

The station's new identity as "The Globe" connects to the college's emphasis of being global citizens and encouraging international education. "We already had international programming, but we are enhancing that with the increase in Americana and world beat music programming," Samuel said.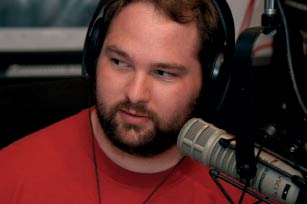 Nick Gingerich (Bristol, Ind.), a senior communication major and current student station manager, said, "We are exposing people to new music. You can't find that on other radio stations that are Top 40. Being small and independent helps us set our own rules, make our own selections on what we air."


The decision to reformat the station's programming and create a new identity was reviewed by a committee of campus and community representatives, including music department faculty and experienced radio broadcasters. The decision is also based on the needs of students and helping to prepare them for future careers in radio, as the station is staffed by Goshen College students and community volunteers.

"Though this is an educational, noncommercial public radio station, we're going to make it as commercial of an experience as possible for students to help them move into the career world of radio," said Samuel.

"We want to energize students and for them to know they can come here and learn on par with large universities and get plugged in right away to gain four years of broadcast industry experience. If we are going to train students to be viable employees, they have to do things here like they will face in their future jobs."

Gingerich said, "We know this music format is not for every radio listener, but we hope our non-music programming, such as GC athletics, will give them a reason to tune in. The college needed this though to provide a better education for students interested in radio and we are getting many new listeners."

"The Globe" offers contemporary music featuring an eclectic blend of Americana, world, folk and bluegrass music, in addition to public affairs and religious broadcasts. "The Globe" is one of a select number of reporting stations to the Americana Music Association Album Chart. Americana is American roots music based on the traditions of country, but also includes influences ranging from folk to bluegrass to blues and beyond.

Beverly Lapp, associate professor of music and department chair, said, "I support the programming change at WGCS, which in no way lessens the Music Department's commitment to the teaching of classical music. Our mission will continue to be the cultivation of excellence in musical performance, pedagogy and scholarship, and we believe that classical music styles are our best tools for reaching that mission. At the same time, I recognize that folk music, Americana, bluegrass and world music also have value, and that a strong college radio station playing the best of these styles can positively impact the musicianship of all Goshen College students as it serves the surrounding community."

Numerous programs on 91.1 FM are continuing in the format. Saturday mornings still air the local Spanish radio program, "Momento de Gozo," and church and worship programming still air on Sunday mornings. The syndicated programming will also continue, and the commitment to Goshen College athletics. And "Crossings" – an original 91.1 FM program offering nightly Americana music – celebrates it's 10th year in January 2005. Listeners around the globe are still be able to access the station's 24-hour broadcasts live via the Internet at www.globeradio.org, in addition to on the radio.