A commitment to concrete acts of Christ's love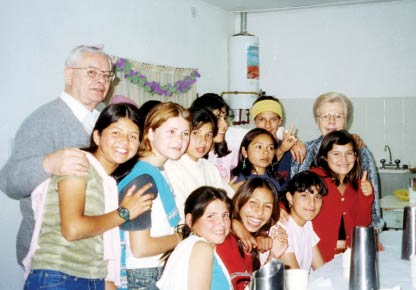 Raúl Oscar Garciá '56 and Anita Swartzentruber Garcia '56 live in Pehuajó, in the province of Buenos Aires of Argentina. Anita, who received a bachelor's degree from Goshen, was a teacher until her retirement. Raúl, has been pastor of the Mennonite Church of Pehuajo since he was 23 until the present and coordinates the Leadership Training Program of the Western Zone of the Argentine Mennonite Church. After retiring as a professor at a teacher's college in 1990, from 1990 to 1997 he served as president of Mennonite World Conference. Raúl authored
I Am A Christian Evangelical Anabaptist
, which was translated to Portuguese. The Garciá's have three sons, Daniel, David and Esteban.
Nominating the couple for the Culture for Service Award, one alumnus stated, "For me, Raúl and Anita are models of faith in action, belief in practice. Both communicate integrity, trust, honesty and respect for the other. In short, they lived out the teachings of the Sermon of the Mount, going the extra mile many times over."
In corresponding with Carla Friesen Weldy, director of alumni, church and parent relations, and in followup e-mail with both of the Garciás, the couple describe their life and service in their impoverished and sometimes politically tumultuous country. "We consider our work to be very humble," she wrote. The rest of her letter follows – vividly and humbly describing a life of service dedicated to God's mission on earth.
My parents were Canadian Mennonite missionaries in this part of the country from 1924 to 1963. I was born here in 1933 and raised in a home where I felt the sincere love of my parents for the Argentine people. At that time their aim was to lead nominal Catholic Christians into a personal relationship with God through Christ, something totally new to these people.
The church was strategically planted just a block away from the very center of the city. Many people were reached and saved by the grace of God, from professionals to very humble laborers and farmers. Many testified, I recall, that they were attracted by the life, love and hospitality shown by these foreigners more than by their words.
I remember going to some very poor places on the outskirts of the city, where my mother taught the women to wash old discarded clothes, hang them to dry on barbed-wire fences and then make "comforters" to cover themselves in their mud huts in the very cold winters. These activities were always followed by the joyful singing of choruses by the children and adults that gathered and a Bible teaching. I even learned to play the accordion to make it all the more lively and attractive!
In a time of great poverty, I remember my mother and other church women cooking a noon meal for a very large number of needy children. I also recall vividly that our home was a refuge for many new Christians who didn't have the support of their families; some were outright opposed to this "new sect" (for some it was simply shameful that a member of their family should leave the Catholic Church).
As a young girl in the Pehuajó church I met a young man, Raúl Garciá. Two Argentine workers used to go from door to door offering to read the Bible to whoever allowed them to; Raúl's mother was a Catholic woman who permitted these strangers to read the Bible to her. Then came the invitation to take her children to Sunday school, then for the whole family to attend – so Raúl became a convert at the age of 14. Our friendship later turned into something deeper, and we both felt the Lord had something for us to do together for our people. But it was the custom that missionary children went to college in North America, so I left for Goshen College with deep sadness. We were certain that if it was the Lord's will, we would meet again.
Going to Goshen College was a real adventure for me. I was born and raised here and knew nobody when I got to Goshen. I truly felt like a "fish out of water" as we say here. I will never forget those first lonely days in Kulp Hall – lonely until I met the four nex-tdoor neighbors who were to become my support and best friends. I was a shy young girl when I got to GC and felt I had many disadvantages: my name was Swartzentruber, and I spoke English, so everybody expected me to act like one of them. I wanted to shout "I'm a foreign student!" so that everyone would treat me as one. I plowed through those first difficult months and decided that if I was going to be there for four years, I'd better make the best of it! I will be forever grateful to my friends, classmates and teachers who helped me.
I actually learned to love Goshen College to the point that my time there was a lifechanging experience. I was challenged by the Christian educational environment provided by teachers who pointed to the servant mind of Christ and opened a new world to me, particularly in those inspiring Bible courses. Every single activity and experience at Goshen provided new skills and insights which have been valuable to my work here. I am made aware of the fact that all my courses and choices strengthened the call to serve I had felt so clearly when I was very young.
Raúl was named assistant pastor to missionary Lawrence Brunk at Pehuajó when he was 24. [He writes,] "I had not considered the possibility of accepting leadership responsibilities, being so young and busy with my studies at the university. God's call to answer the challenge and the encouragement I received from the Board of the Mennonite Argentine Church and my congregation assured me that, in spite of my limitations, I should accept such responsibilities. I have had pastoral responsibilities now for 50 years."
Raúl graduated from the university as a translator and teacher of English in 1955 and a few days later set out in a freight boat for New York, [thanks to a] travel grant by the Williams Foundation of Buenos Aires and a scholarship [from] Goshen College Biblical Seminary! We did meet again after being apart for three years, just before my senior year. After a year we felt certain that the Lord had a plan for our lives. We got married in Goshen on July 28, 1956, and came back to our town, to our church, to our people – where we have served for 48 years.
[Writes Raúl,] "We could have stayed in the U. S. after my time at seminary, serving at some Spanishspeaking congregation. But it was very clear that the Lord was leading us to go back to Argentina – to live and walk with our people, inviting them to a personal relationship with Christ, witnessing of God's incomparable love for everyone."
When we came back to Argentina in 1956 we immediately started teaching English in the different high schools of our city, and set up our own Goshen Academy of English. The Lord has been gracious and we have been able to support ourselves during these 48 years. The Goshen Academy started with two students and grew to about 150 students. Raúl was principal of the National High School for 30 years until we both retired in 1990. The Goshen Academy has been a source of blessing to us, not only enabling us to earn our own support but also in terms of witnessing of our faith. We have come in contact with hundreds of young people, mainly Catholics, and take advantage of every opportunity we have to tell them what "Christian" means to us. But more than talk about it, we try to live our faith every day in practical ways.
Most people around us have been driven to despair: our society is marked by violence, poverty, lack of opportunities and political instability (several years ago, we had five different presidents in two weeks' time). A year ago, Argentina elected a new president. Unemployment is up to l8 percent. Salaries and old age pensions are very low. Half of the population is poverty stricken and 25 percent are considered indigent.
People are trying to learn how to live not only with their loss of security but their loss of jobs and dignity. This demands that we give not only of material goods with which the Lord has blessed us, but of ourselves. It requires that we be willing to listen to people with deep spiritual needs, to people with complex family problems, to people who have been searching for solutions everywhere and anywhere. Our church and country have undergone many changes, but the needs of the people are the same as when I was a child.
We are constantly made aware of the fact that "…the Lord is righteous and loves justice," and that "the upright will see God's face." We must constantly affirm our conviction that God ultimately controls the world and that we can count on Him in times of trial – in fact, that He is our only Hope. It is our task now to help others get through this crisis, get through their despair and grief, and renew their hope in the only One we can really trust: God.
To do this in a practical way, the Pehuajó Church has formed work groups. We are a congregation of about 90 members; every Sunday about 80 children from very poor homes are served breakfast. One group every Sunday is in charge of this task, supported by voluntary donations from church members and people of the community who are interested in this social outreach. Some of the work may seem menial, and is often tiresome, but we try to honor God through our service to others. In times like these, when people keep coming to our door every day, saying they have absolutely nothing to eat, it is useless to tell them that God loves them and will supply their needs: God's love must flow through us to them in concrete acts of love. So we are constantly trying to find jobs for people, even little odd jobs, collecting clothes and remaking them to fit our Sunday school children, feeding the hungry and walking with them through difficult times.
When I arrived at Goshen College and read the motto "Culture for Service," the word "service" sounded familiar to me: I had witnessed my parents and other missionaries serve out of true love for the lost and less privileged. The Lord has truly blessed us and provided not only for our needs but enough to share with others, which is a true joy.
We have responded to God's call for service in our own land and have earned our own support. We feel Goshen College has been instrumental in preparing us and setting a challenge before us through its motto "Culture for Service." Nevertheless, it never crossed our minds that we would be nominated for any kind of an award. The Lord has already rewarded us with material and spiritual blessings for beyond what we deserve. But if our testimony serves to inspire someone, may God receive all the honor and glory.
<
1
|
2
| 3 >