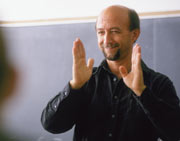 Myron Yoder
assistant professor of American Sign Language Interpreting, 1987-93, 2000-present
By Rachel Lapp
The evolution of Myron Yoder's vocation came not from an opportunity for a new job or a promotion. It came in the form of signs – the American Sign Language he now teaches – when it became clear to him that the church and the world desperately needed skilled ASL interpreters.
After becoming a certified interpreter in 1978, Yoder found that many people had misperceptions about ASL, deaf people and the interpreting profession. He was constantly teaching informally about the language, culture and profession. In addition, he saw unskilled, under-qualified "interpreters," particularly in church and religious settings.
While Yoder says he didn't hear a clear, immediate call, the decision to teach came through a series of events and open doors – opportunities to make choices toward building a strong undergraduate ASL program to serve communities, the church and beyond.
In 1977, Mennonite Board of Missions invited Yoder to interpret at the Mennonite Church assembly in Estes Park, Colo. At the conference, Eli Savanick '71, the denomination's director of church ministries, encouraged him to use his skills in the church.
"It seemed as though education was a primary need in the church, so I was called to teach," Yoder said, "first in workshops, continuing education and eventually, after receiving a master's degree in linguistics, at the college level."
Church interpreters and hearing people wishing to work in the deaf community unfortunately have a negative reputation, Yoder said.
"The errors of these persons are similar to early missionaries who misunderstood the 'native' culture of those to whom they witnessed – approaching the ministry with a paternalistic attitude and negating the importance of learning the 'native' language, which in this case is American Sign Language. My hope is that Goshen College's ASL Interpreting program graduates will change the reputation of religious interpreters and other Christian professionals in the deaf community," said Yoder, who feels that Goshen's emphasis on multicultural dialogue and respect for differences is fertile for achieving his goal. "What better place for an interpreter training program which teaches that an interpreter is a cross-cultural mediator?"
While focusing on educating a new generation of ASL interpreters, he also continues to accept interpreting assignments and to be actively involved in the Registry of Interpreters for the Deaf. That work keeps abreast of issues in the field and the wide range of experiences within the deaf community. He has worked for major corporations, interpreted at government and even star-studded events in the name of providing excellence in communication to bridge the deaf and hearing worlds.
"The old saying, 'If you don't use it, you lose it,' is true," Yoder said. "I must keep interpreting in order to keep my skill."
Yoder has appreciated the opportunity to watch former students along their interpretation journey, some with advanced degrees and others who teach children or interpret locally.
"Naturally I am proud of their accomplishments, but I am also pleased when I hear of former students who are now physicians, social workers, nurses, etc., who use their knowledge about the deaf community at work, in Sunday school class or in public schools," said Yoder. "'Success' doesn't only mean those who have majored in specific fields related to deafness; 'success' is also the student who takes one or two sign language classes and gains a broader understanding of, and respect for, the deaf community and the language of its members."