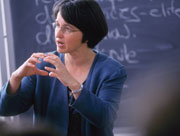 Jan Bender Shetler
assistant professor of history, 1999-present
By Rachel Lapp
Faith is a prime mover in the individual histories of people worldwide. Jan Bender Shetler's experiences in service and scholarship have crossed international and cultural borders and her stories are now part of her classroom.
The daughter of Mennonite Central Committee volunteers in Haiti, Bender Shetler also grew up in Goshen and in Utah. She came to college interested in a biology major, but the stories of other cultures captured her interest.
"I took Western Civilization as a general education course and thought, 'This is really interesting,' and in studying history I became interested in communication across and among different cultures," Bender Shetler recalled. She had a strong conviction about service – making the world a better place. While having gone through stages of doubts about God and "asking the big questions," her faith life took a major turn when returning to Haiti with the eyes of a young adult.
"I had been in Haiti as a child, but seeing the poverty as a college student – well, it just hit me, and it was overwhelming," she said. "I had a 'Damascus Road' sort of conversion experience. I realized that if I was a good person and wanted to bring change and healing in the world that I couldn't do that by pure human effort. I needed to submit to God's grace. I came home really fired up about faith and was baptized."
She married Peter Shetler, a Bluffton College student who went to Africa-influenced Haiti through SST, and the two immediately made plans to serve with MCC. Peter was encouraged to get a degree in agriculture, so they went to Utah for additional schooling.
Jan was assigned to teach and Peter to do development work with the church in Nazareth, Ethiopia. Halfway into their term, the country's socialist government was arresting native leaders of the growing spirit-filled Meserete Kristos (Mennonite) in Addis Ababa – threatened by its popularity. After the government closed church institutions throughout the country, Jan and Pete were without official jobs; they spent the rest of the term supporting the church in whatever way possible, seeking information about and supporting imprisoned Ethiopian Mennonite executive committee members. In 1982, their first son, Daniel, who will attend GC this fall, was born.
Their African experience would total 11 years. After several rescheduled assignments, they landed in the Mara region of Tanzania where more than 200 Mennonite churches had been established. The Shetlers networked churches with projects such as grain mills, sewing and water projects and youth groups. They also made connections over the next six years that became important to Jan when returning to Tanzania in 1995-96 to collect oral histories as part of her doctoral dissertation in African History through the University of Florida, Gainesville.
"It seemed natural to go back to Tanzania. One of our contacts welcomed us – we were brought into the family and they even built us a house," said Bender Shetler, who tape recorded 250 stories, noting issues of changes in social identity.
Bender Shetler was invited to teach at Goshen in 1999 after the family, including second son Paul, lived in Colorado for several years. GC's history department encouraged her to develop courses she wanted to teach; her comparative studies in world history courses are helping students – history majors and those from other disciplines – weave global stories into themes that can inform our understanding of human systems.
"This history department has always sought to recover the histories of people who are marginalized. That is tied to service – caring about the poor and disenfranchised and valuing their experiences," said Bender Shetler. "But we also take people's faith seriously – that is a primary mover in history."
Bender Shetler said students appreciate her stories, and she seeks to integrate them in meaningful ways into the context of her courses.
"It is wonderful to teach world history to students from SST or international students, who are trying to understand what they've experienced," she said. "With comparative courses like Global Poverty, International Women's History or History of Christianity of Africa and the African Diaspora, they can see how ideas used in one culture can take you places in another. It brings students interested in peace and justice, or economics or other areas, into the department, and I love that."