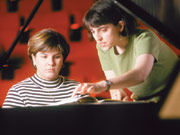 Beverly K. Lapp
associate professor of music, 1995-present
By Rachel Lapp
At the age of 10, two years after her first piano lesson, Beverly Lapp's parents took a service assignment in Kingston, Jamaica, and searched for a teacher to continue her lessons. The instructor they found was terrifying – and energizing.
"She was nearly blind, and did a lot of teaching by listening, but sometimes would use a magnifying glass to see my fingers. I was scared before every lesson, but I came out elated," Lapp said. "She pushed me beyond where I could perform, but the laid back culture in Jamaica allowed me the time to practice enough to meet those high expectations."
When Lapp now sits next to a pupil at the piano, she is listening carefully, too, but not just to the music.
"The whole lesson shouldn't be characterized by me telling them things – launching into my own ideas and suggestions. The more you teach, the more you have to say, but it is important to draw out the students' ideas and ask a fair amount of questions," said Lapp. "I've learned to use a high degree of affirmation with critique; everyone has their own unique traits, and we are always learning how we can be better teachers by responding to different students."
At Christopher Dock High School and Goshen College, Lapp engaged in a variety of musical activity, from private piano study to choral singing and accompanying. During her senior year at GC, music professors Marvin Blickenstaff and Doyle Preheim encouraged her to go on to Westminster Choir College in New Jersey. She pursued a master's degree in piano performance and pedagogy. She taught pre-college students while studying with Frances Clark, known as the mother of modern piano teaching.
"Frances Clark believed in being well trained – in really knowing the music that you were to teach so that you could be most effective in making it accessible to the students," said Lapp. "She is commonly quoted as saying, 'Teaching is not telling.' Teaching piano is so hands-on that it is often what you do with the student, rather that what you say to them, that really matters. She was the best teacher I've ever seen."
After Westminster, Lapp taught at Chicago's William Rainey Harper College's Music Academy for children. Then, when one of Lapp's GC pedagogy teachers, Kathryn Sherer, retired, Lapp returned to Goshen. She instructs college students in how to teach piano and directs the music department's piano preparatory program.
"The variety of students, from elementary school through college, brings a great deal of variety into my teaching day," Lapp said.
With college students, Lapp stresses the importance of productive practice time; some students crave it in the midst of busy schedules.
"My hope is that my students learn in three main ways: first is musical and technical skills, specific to the piano; the second is bigger truths about music in general, with piano as the vehicle; and third is bigger truths about life," said Lapp. "And if they organize their time in the practice room, that discipline can spill over into other areas."
Students also appreciate one-on-one time with an instructor to develop themselves more fully as musicians.
"If a student will play at church, I want to hear it. They need to prepare carefully for that; if it is an offering to God, it should be as thoughtfully prepared as for a classical concert," she said. "In church music for piano we often have a text we can connect to and find meaning in, whereas in classical piano literature we will focus a great deal on different colors and textures found in the sound. We don't have text in art music for the piano, but with careful interpretation we can write our own meaning to come to a fuller understanding of the music and of ourselves."