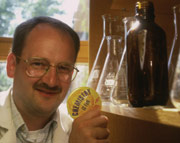 Daniel A. Smith
associate professor of chemistry, 1994-present
By Rachel Lapp
Associate Professor of Chemistry Dan Smith knows an industrial secret that he sometimes shares with visitors: Goshen College holds the world's entire supply of the compound bis (2,6-dimethylphenyl isocyano) tetra-p-tolyl porphyrin Ruthenium (II), not to mention bis (2,6-dimethylphenyl isocyano) tetra-p-tolyl porphyrin Osmium (II).
For those not versed in organometallic chemistry, these are two new porphyrin compounds. The result is efficient catalysts for the synthesis of alkenes and cyclopropanes. Developed in GC's science lab by Smith and student Maple Leaf Scholar Andrea Voth (Sr., Walton, Kan.), developing these compounds took longer at GC than they might have in a university lab with grad student help, but Smith doesn't mind. It is part of his teaching philosophy.
"I'm a synthetic chemist. That doesn't mean I'm plastic; it means I like to make things for the first time," said Smith, describing his field of inorganic chemistry.
Smith consciously chose to join a faculty without the "publish or perish" pressure that often accompanies college and university appointments. "I wanted to be somewhere where teaching was the primary responsibility and research was possible. And I wanted it in a Christian college setting."
Growing up in New Holland, Pa., Smith's physics teacher at Garden Spot High School was his father. His first contact with Anabaptism was at Church of the Brethren-related Elizabethtown College, where he studied chemistry and physics education. He had planned to teach high school, but said "he had so much fun doing research" – including X-ray crystallography – while in graduate school at Bucknell University, where he earned a master's degree in inorganic chemistry, that he decided to work toward a Ph.D., eventually specializing in organometallic chemistry for his doctorate at Iowa State University.
While doing postdoctoral work at the University of Texas at Austin, Smith heard about an open position at Goshen. He had made some Mennonite connections in Iowa and attended a Church of the Brethren/General Conference Mennonite church in Austin. When he visited northern Indiana to interview at GC, he found one of the country's few X-ray crystallography labs, similar demographics to his native county and similar values.
"My faith doesn't leave me when I am in the lab. I think about what implications faith has on where I focus my research," said Smith. "I want to have the opportunity to talk about Christian faith issues with my students as they think about these things as well. ... Expressing faith and living faith is important in all of our roles. Students are starting to synthesize that here."
And the lab and classroom produces more than faith conversations. The results of student lab work have surprised Smith's peers at other institutions.
"One of my mentors at a large university said, 'You can't do this work with undergraduates,' but we are slowly proving him wrong," Smith said. "Undergraduate researchers have an interesting challenge. They have a different sense of what to try. They are very enthusiastic. Lots of what happens is new, and sometimes we make mistakes and sometimes we start over, but sometimes that's really stimulating. It goes more slowly, but that doesn't mean it's any less exciting."
Smith said office time with students, whether arranging class schedules or speaking honestly about religion, is important to the Goshen experience.
"In advising, we can take time to tell students that they might make a good teacher, or that they may want to change career goals and consider medicine," he said. "We have the opportunity to get to know students and help them think about those types of things."