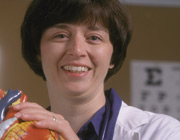 Brenda S. Srof
associate professor of nursing, 1988-present
By Rachel Lapp
Brenda Boehr Srof teaches her nursing protégés to focus on the whole person when providing care – the same way she, mirroring her own mentors, strives to teach her students.
Srof entered nursing because she was interested in serving others, loved science and had worked in a nursing home during high school in Henderson, Neb. Once Srof arrived at Goshen, nursing professor Norma Jean Weldy, along with Anne Hershberger, Ida Gross, Merv Helmuth, Kay Yutzy, Chet Peachey and Evelyn Driver, quickly took the student under her wing. Weldy was an excellent nurse, said Srof – a well-respected instructor who advanced in the field while modeling exceptional teaching.
"Norma Jean was a proponent of 'whole person' healthcare and demonstrated that in teaching, too. She was a great listener, always asking how students were doing," said Srof. "She also modeled having a life of gratitude – she supplied 'thank you' notepads in class and encouraged students to write messages to persons who had been helpful to them, which also showed them about working in a team."
After graduation, and marriage to nursing classmate Jody Srof '82, the Srofs took positions at the newly established Oral Roberts University Hospital. "We appreciated its holistic approach to healthcare, which is what we studied at GC," said Srof. "The idea was that patient care should have continuity. Each nurse was responsible for a module of four to six patients for whom he or she had total care, eliminating the need for multiple people entering the patient's room. The patient had an assigned nurse, physician, prayer partner and hospital chaplain caring for them in partnership. Many of these practices, including no-smoking policies, total computerized documentation systems and total patient care were revolutionary at the time, though many of these concepts are standard now."
She earned a master's degree, but never found complete compatibility with university culture. They formed a house church with other Mennonites to grow as an Anabaptist community.
After graduation, the university invited her to stay and teach, but the Srofs instead accepted an invitation, through ORU, to serve and teach nursing students at a Methodist hospital in Kenya. There, while Srof said they learned more than their students, they often felt tension between the Anabaptist view of mission and their assignment – "That difference between 'living among' and 'doing for,' yet that experience has always been a part of my faith development," she said.
The Srofs eventually returned to Goshen to share a teaching position; Jody is now a clinical nurse specialist at Bristol Street Pediatrics in Elkhart, Ind.
"When I first started teaching, I focused on doing a good job in the classroom. Now I understand more about seeing the whole student. A lot of planning across the curriculum goes into educating students to be nurses who are academically well prepared but who are also creative and interested in the lives of their patients in a holistic way," said Srof. "I would like to continue building community with students here as we launch them into their futures. I hope they see themselves as valuable human beings with gifts to contribute to this campus and to the world."
Srof, too, is contributing to the world. Her doctoral studies at the University of Loyola, Chicago, Ill., include work on a health promotion study focused on asthma self-management in city-dwelling, school-aged children. Chosen to work with the study because of her pediatrics background, she hopes to carry that work into another study with rural children.
The give and take of learning, teaching, mentoring and service hit home last May when Srof prepared to send another class of student nurses into the world.
"While writing a speech for our pinning ceremony [for 2002 graduates], I realized how much faculty learn from students. Many students have a very mature understanding of the human condition. One student went on a service trip to Jubilee Partners in Georgia over spring break. Another witnessed the birth of a child in Mali," Srof said. "You see students who struggle, who hope, who change – and through their growing, I grow, too."