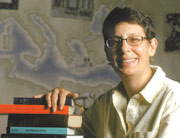 Jo-Ann Brant
professor of Bible, religion and philosophy, 1993-present
When Jo-Ann Brant's students pick up a Bible, she wants them to see layers and depth of meaning like never before. She wants them to be surprised and delighted. She also wants it to change their lives.
Some of Brant's students enter her classroom having delved deeply into their dog-eared Bibles. Others have barely passed "In the beginning…" But no matter their level of familiarity with the text or growth in faith, she sometimes sees unwillingness "to get out of their comfort zone – to uncross their arms and lean forward" when something newly meaningful emerges.
"There is the passage from Ezekiel that echoes in John, 'eat the scroll and taste the sweetness.' We are asked to stand in judgment of our lives, and we often see we have missed the mark, but the taste should still be sweet," Brant said. "We are called out of ourselves into a sense of urgency and transcendence – to realize that God expects more of us than we think. I hope students feel compelled to climb out of their skin because it is so compelling."
Part of her task is to help students see the Bible with new eyes – those of a young adult, not those of a child. For example, kids often learn the Old Testament as "stories," but in her Introduction to Biblical Literature course, students examine deeper theological implications that shed light on modern life choices.
"'God's promise,' as told to an Old Testament community in exile, is in the future. Christian communities today can relate to those messages but can also see God moving through history – and there is no reason to think God isn't moving in the same direction and can be known," Brant said. "We can turn stories for children into powerful messages for adults to take up the challenge to be a light in the nation."
College is a journey into finding yourself, Brant said; some students expect a "mountain top" spiritual experience each day.
"One of my goals is to teach them to find God in the wilderness," she said. "Students are leaving support structures they know, and while we want to find deliverance and sing songs of joy we need to learn also how to lament, to wrestle with God, how to petition and get on our knees and say, 'I need.' I want to give them the awareness that they may feel 'in the wilderness' for a while, but that they can find strength in themselves and in community."
The New Testament can reveal surprises, too, and issue a call that she hopes will resonate with students who look to others to consider "the big questions." However, she also wants to challenge students, to allow them to struggle some as they develop their faith.
In the Biblical Literature course, Brant's second assignment asks students to look at a parable as more than simply an allegory for interpretation. "When Jesus told them, they prompted people to do radical things with their lives or respond vehemently," Brant said. "If faith is trusting in God and letting go of where we tend to put our sense of security – money, power, politics, weapons – then trust in Christ means believing that death has no dominion. If the forces of the world destroy us, there is resurrection. Then we are always called out of our resting points and into the next challenge. We cannot give enough or risk enough. Faith is a constant demand."
Brant brought a longtime interest in Christianity's Old Testament Judaic roots as well as postdoctorate work on Jesus and the New Testament to her teaching post at Goshen College. She had taught at Canadian Mennonite Bible College after graduating from the University of Alberta and earning master's and doctorate degrees at McMaster University. She shares the challenge of faith to the entire campus through the college's Calling Authentic Leaders for Life project, which funds retreats and workshops, chances to discover gifts and promotes Christian service. "We want to call students to leadership within the church in broad ways, focused on community, model of service and active congregational life. There are many ways to be leaders," she said. "That is another radical call."