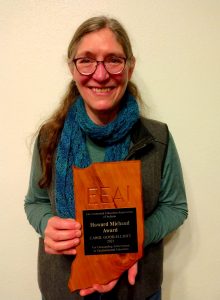 Carol Good-Elliott, longtime environmental educator at Merry Lea Environmental Learning Center of Goshen College was awarded the Howard Michaud Award from the Environmental Education Association of Indiana (EEAI) for her lasting commitment in the field of environmental education.
According to EEAI, this award is given to a nominated individual in recognition of their long-term devotion, dedication and contributions to environmental education in the state of Indiana.
"I was very surprised," said Good-Elliott in response to receiving the award. "I feel there are a lot of other people also deserving of it. And I am grateful."
The award is named for Howard Michaud, who was a founding member of many conservation education organizations, including EEAI. He was an Indiana biology teacher, chief naturalist and professor of conservation at Purdue University.
Good-Elliott joins past recipients in this affirmation of dedicated service, including former Merry Lea Executive Director Luke Gascho, awarded in 2019, former K-12 Education Coordinator Paul Steury, awarded in 2012, and former Executive Director Larry Yoder, awarded in 2001.
"What stands out to me about Carol is her thoughtful and deliberate approach to education," said Marcos Stoltzfus, director of environmental education outreach and assistant executive director at Merry Lea. "This is evident in the patience and care she displays with her audience while teaching, and this also provides a powerful example to graduate and undergraduate students who are actively forming their own approach to teaching."
Good-Elliot expressed how it is easy for her to see so many things yet to be done and improve in programming, making it hard to see all that she has accomplished. "So, it's nice to have someone notice [what I have done] and acknowledge it."
Good-Elliott celebrated 20 years of service at Merry Lea in July 2021 as an environmental educator. Since her start in 2001, she has coordinated and scheduled school programs, and taught and written curriculum for people of all ages. In addition to teaching PreK-12 field trips and public programs, she is a lead educator for Merry Lea's nature preschool in partnership with Central Noble schools and the Cole Center Family YMCA. Good-Elliott also oversees bird banding research at Merry Lea with the help of community volunteers and Goshen College interns.
Good-Elliott was first introduced to the field of environmental education during her undergraduate experience at Goshen College and Au Sable Institute. She graduated from Goshen College with a B.A. in biology in 1989. She received her M.A. in environmental education at Goshen College in 2013.
"It is such an asset to have an educator like Carol at Merry Lea, a place that seeks to train and inspire new educators," said Stoltzfus.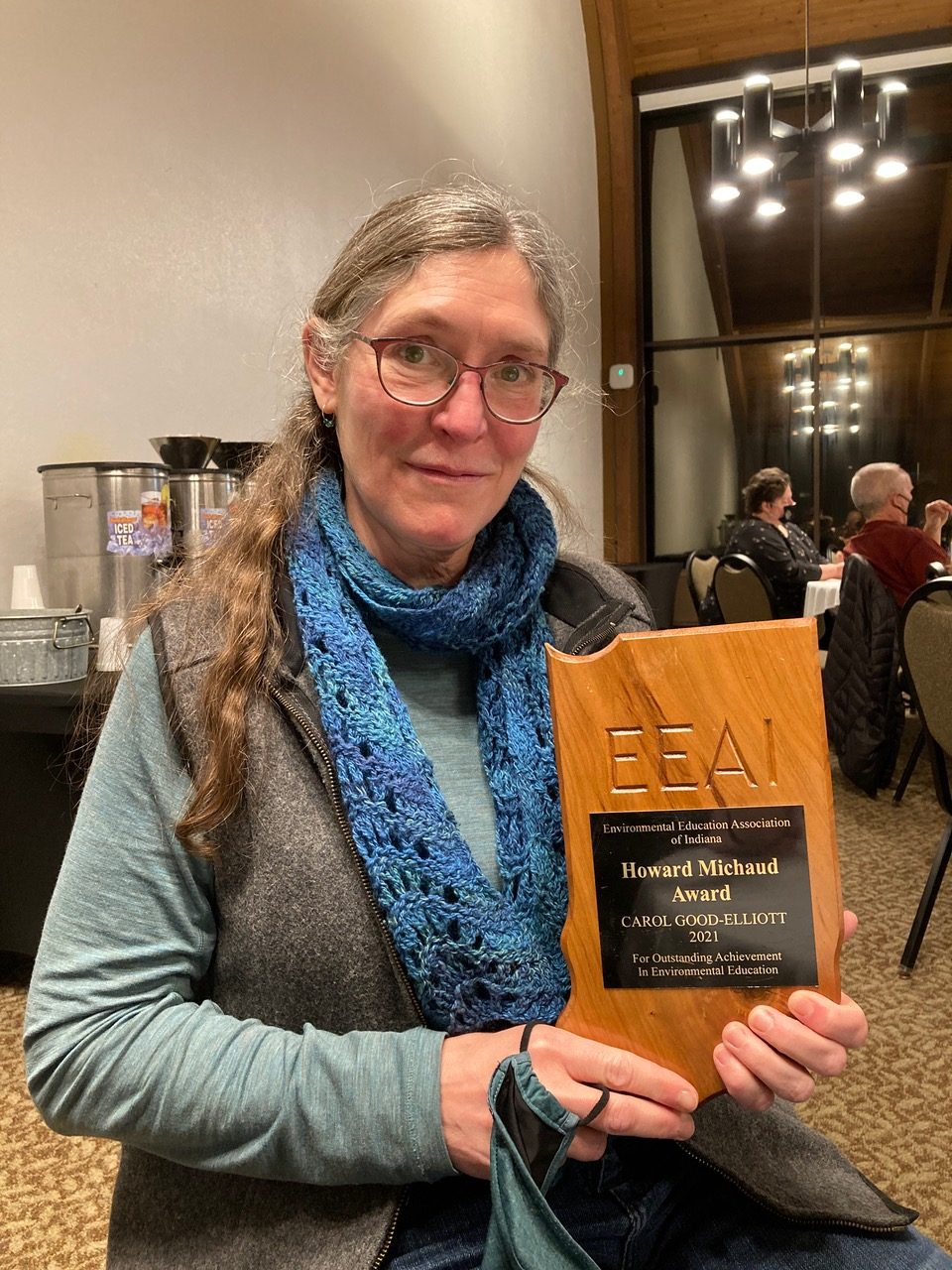 Carol Good-Elliott received the award at EEAI's annual conference on November 13, 2021. Photo by Phil Good-Elliott.