The Merry Lea Teaching Farm is an educational farm that connects people to their food in ways that promote healthy relationships and communities.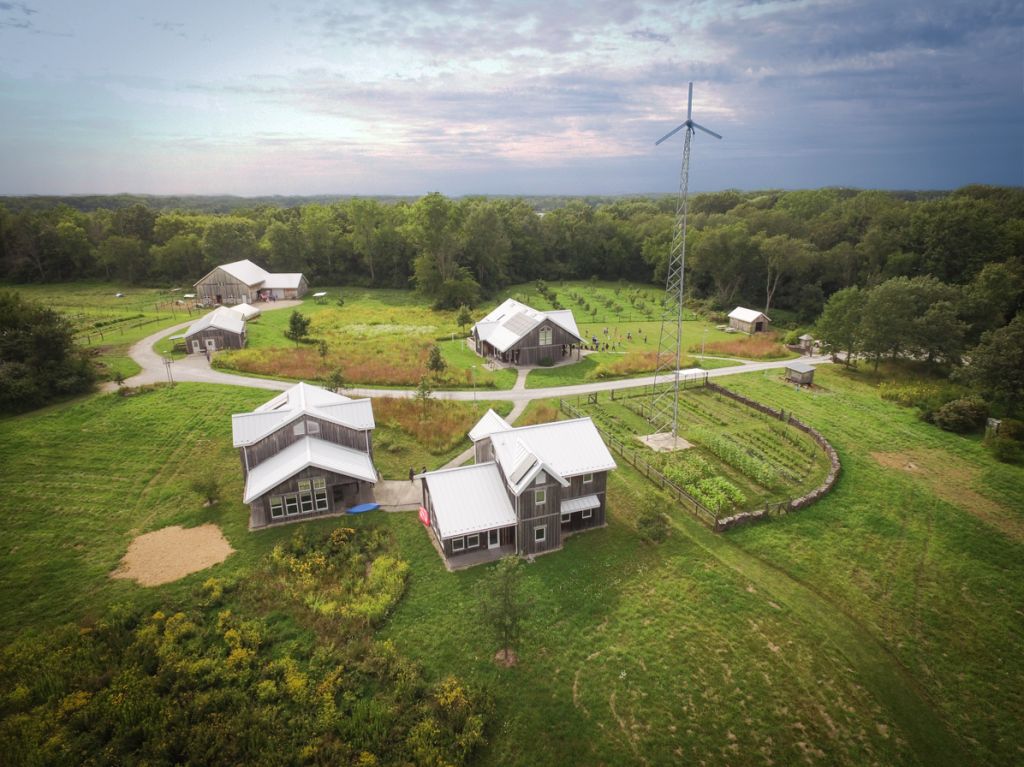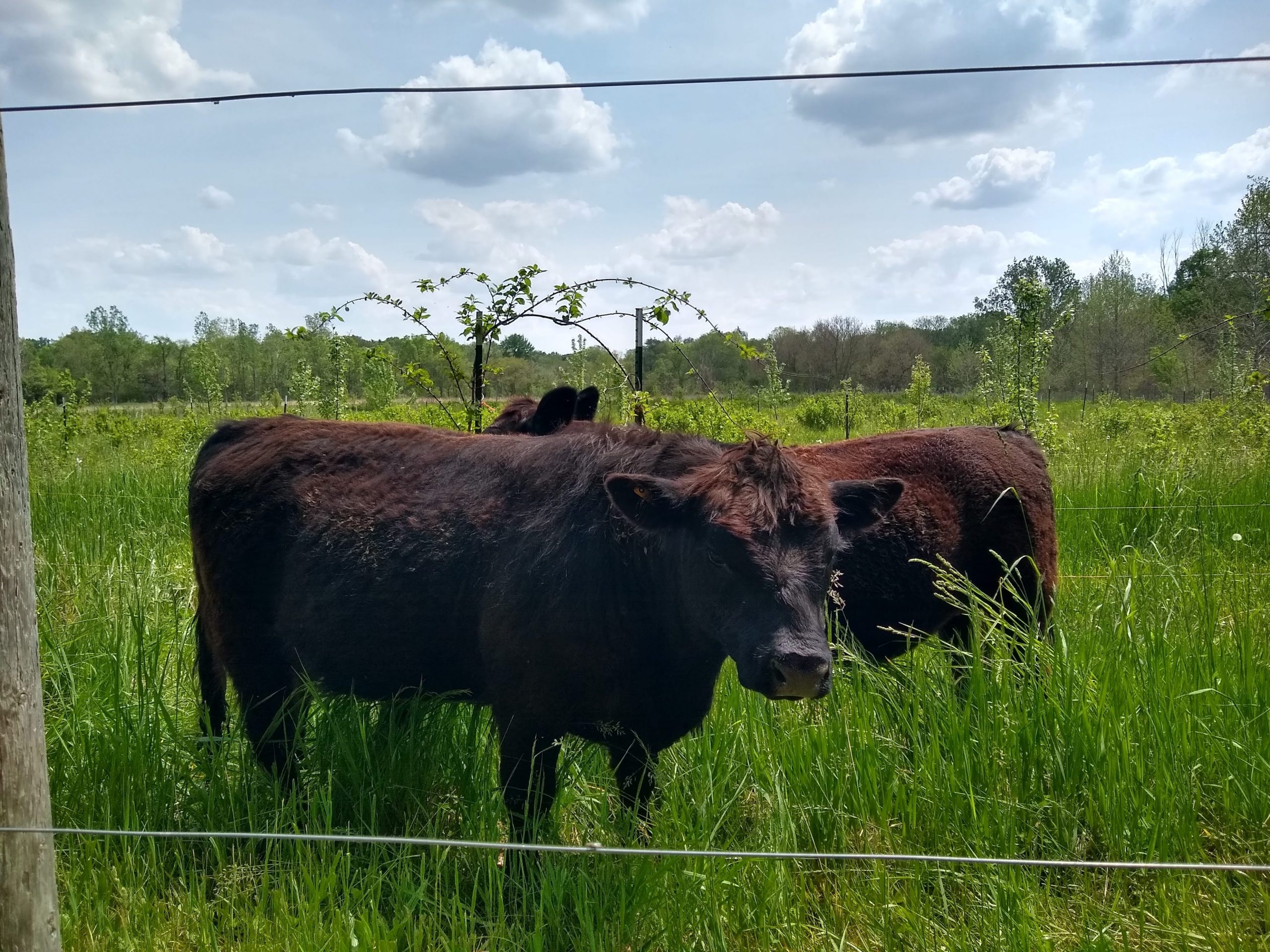 About Merry Lea Teaching Farm
Our #3 nationally-ranked college farm is operated under Goshen College, set within a 100-acre landscape that includes pastures, woods, prairie, wetland, orchards, vegetable gardens and a historic farmstead in Wolf Lake, Indiana.
Merry Lea Teaching Farm strengthens food literacy for students in PreK-12 field trips and collegiate programs, connecting them to food ecosystems as they engage with vegetable gardens, fruit and nut orchards, and livestock. Collegiate students who study, live or work on the farm gain hands-on experience in running a farm while connecting with local stakeholders working in the food system.
The farm is also a resource for the wider community through public programs who want to learn skills in growing and preserving food, and enjoy fun workshops like flower arranging, meeting goats and more.
Visit us at 4415 W 200 S  |  Albion, IN  |  46701
Programs at Merry Lea Teaching Farm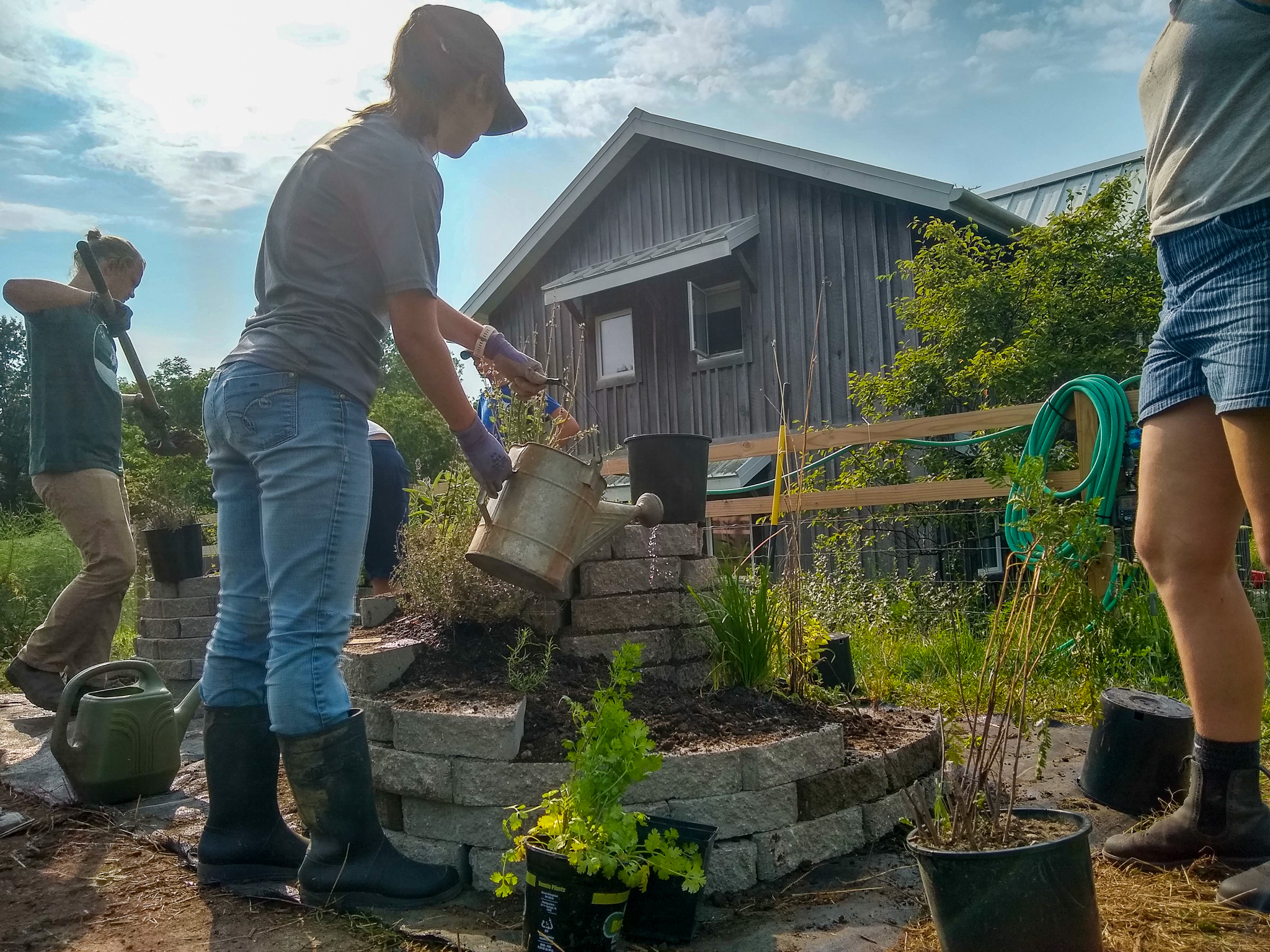 Collegiate Programs
Learn more about our Sustainability Semester for undergraduates or Master of Arts in Environmental Education programs.
Collegiate Programs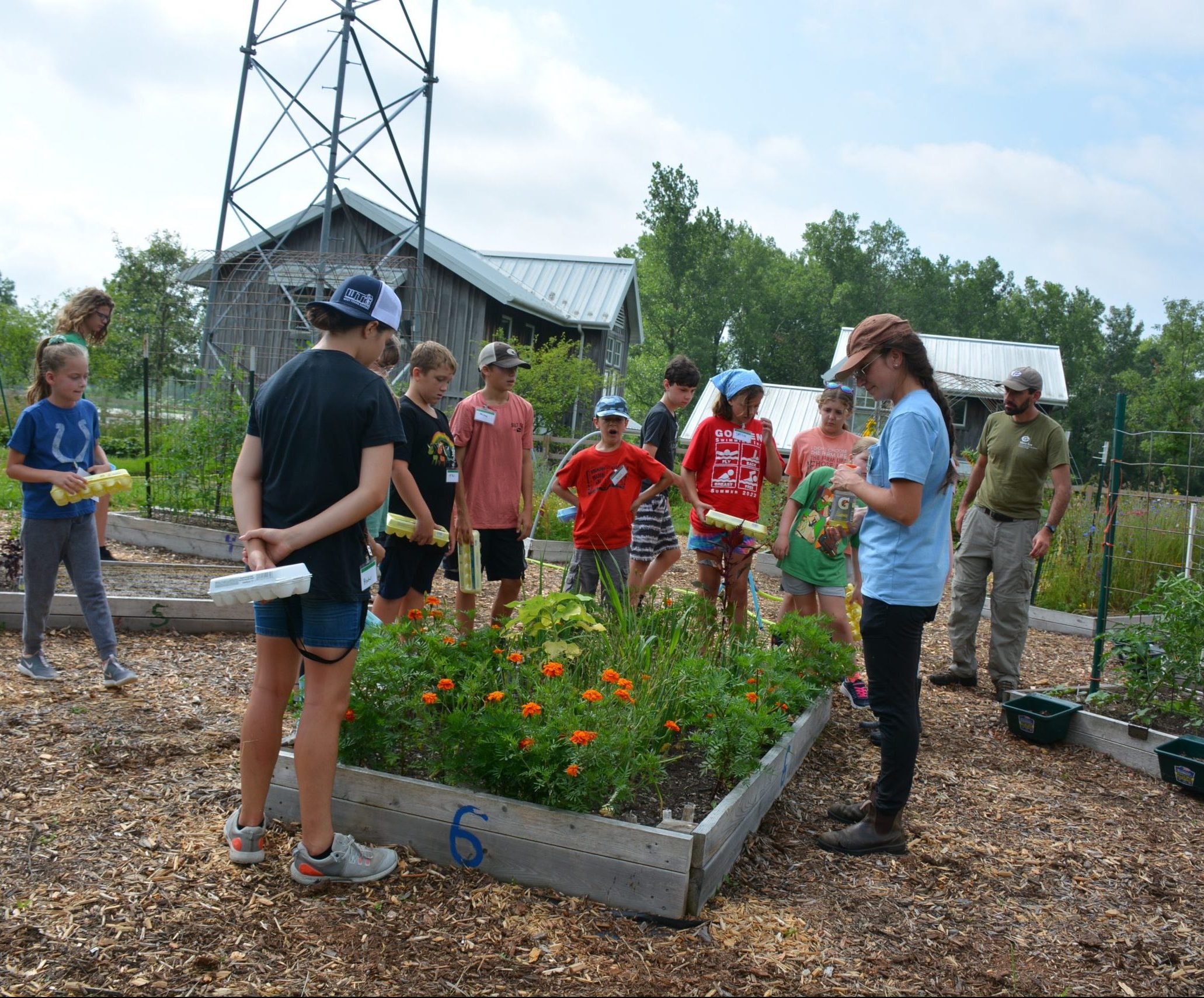 PreK – 12 Programs
Many student groups taste their way through our farm ecosystem to learn about where their food comes from. Learn more about the Exploring Merry Lea Teaching Farm field trip and sign up.
Field Trips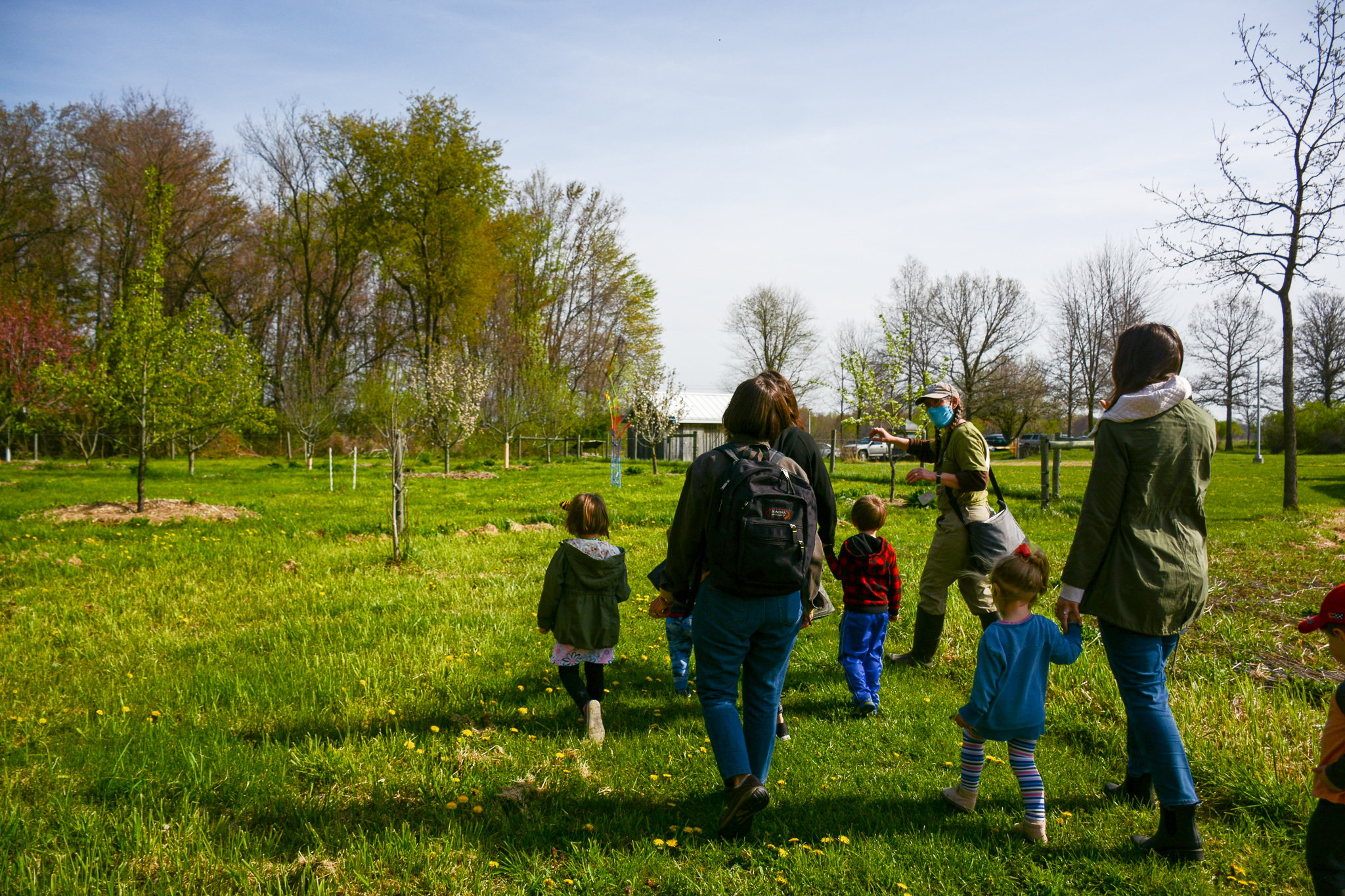 Public Events
We host various community events at our farm throughout the year. Topics have included: making goat cheese, making live ferments, seed starting and more. Check out upcoming programs on our Events page.
Upcoming Events
Farm to Table
Food Grown at the Farm
We grow a diversity of crops that vary year to year using regenerative and permaculture practices. These crops include traditional vegetables and herbs, heirloom crop varieties, some uncommon grains, orchard trees and more. We raise animals like goats, chickens, and pigs on the farm, integrating them with crop production.

The farm supplies food to local food pantries, Merry Lea programs and a student Community Supported Agriculture (CSA).

Check out what we're currently growing and what animals you can find at our farm:
Volunteering
Interested in getting outdoors and some soil under your nails? Volunteers can help on an occasional or frequent basis. Check out this video about one volunteer's experience.
Contact Maria Tice to to learn more and get started. Volunteers will need to fill out a form and agree to Goshen College guidelines.
Volunteers can also become a Worldwide Opportunities on Organic Farms (WWOOF) volunteer, and live on site or volunteer on an occasional non-residential basis. Find us on the WWOOF USA website to learn more.
Internships & Paid Crew Members
We have internships for college credit and paid farm crew positions during the growing season, accepted on a competitive basis. Interns typically help plant, tend, harvest, market annual vegetables and herbs, and care for fruit trees and livestock.
Paid Positions: Farm crew members can receive an hourly wage. They can also get paid while receiving academic credit if they choose (see below).
College Credit: Students wanting to earn academic credit may enroll in Goshen College's SUST 408: Merry Lea Farm Internship course. Farm crew are able to register and pay for these credits like any other summer course at Goshen College. One SUST 408 credit is equivalent to 40 hours of work at Merry Lea's Farm.
Contact Farm Manager Kaeli Evans at kaelire@goshen.edu for more information.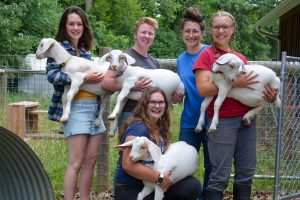 Research and Collaboration
Students and professionals may conduct research and collect data at Merry Lea Teaching Farm for their farm-based projects. Goshen College undergraduate and graduate students often participate in research studies, and high school students and collegiate faculty collaborate with us as well.