In celebration of Honoring the Headwaters: 10 Years of SLS, we interviewed three alumni from the Sustainability Leadership Semester (SLS):
Cecilia Lapp Stoltzfus – New Roots Farm & Garden Specialist
Mikhail Fernandes – Communications & Eco-DRR Knowledge Network Consultant
Benjamin Isaak-Krauß – Co-Pastor
Cecilia Lapp Stoltzfus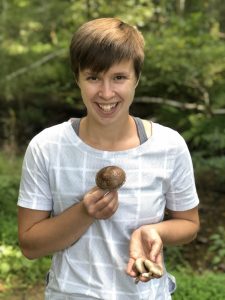 2015 SLS Student
New Roots Farm & Garden Specialist with the International Rescue Committee in Charlottesville, VA
What does your position entail?
"New Roots Charlottesville supports refugee food security and aids transition into the community through gardening, urban agriculture, nutrition education, and local food access initiatives. As New Roots Specialist I have the opportunity and privilege of coordinating 7 community sites that provide space for 85 refugees and immigrants to grow traditional crops passing on culinary heritage across generations, promote healthy eating, and create small-scale farm businesses. Day-to-day that looks like site and materials maintenance, connecting with gardeners and volunteers, and supporting the New Roots farmers market booth, as well as time in the office doing program reporting, networking with food justice partners, and supporting the IRC's resettlement work."
How did your SLS experience help shape your understanding about sustainability or community?
"I appreciate the applied community engagement projects that were integrated into SLS. These experiences reinforced the idea that sustainability is not an ideology per-se, but a methodology. Throughout the semester I surveyed residents of Bear Lake and Goshen to learn about community-members' experiences of their local waterways. These investigations assessed human-environment interaction spanning social, ecological, and economic analyses: the 3 pillars of sustainability. The experience challenged me to adapt my language/narrative to better connect across difference and to expand my understandings of both community and sustainability."
Describe a meaningful experience you remember from SLS.
"I am forever grateful to Merry Lea for changing how I see and interact with the natural landscape. The diversity of micro-climates, patchy ecological conditions, and diverse restoration objectives opened by eyes to what lies before, within, and beyond Indiana's agricultural landscapes. This was reinforced by walks along the many trails, as well as exploring in courses taught by Lisa Zinn and Jonathon Schramm."
What's something from SLS that you incorporate in your life today?
"Soon after completing SLS, I became connected to a piece of land in Virginia that has been stewarded by my extended family for 3 generations. The experiences I had interacting with Merry Lea's long-term land restoration efforts inspired me to join in my family's vision of protecting the hardwood forests, streams, and pastureland of Hebron Hill Farm and making them available for personal retreat and healing. Since the beginning of the pandemic, I have lived at the farm, supporting many collective efforts including rotational grazing, organic gardening, riparian buffer restoration, and navigating the community partnerships that give these projects life.
"Also… the first time I delved into canning was at Merry Lea (thanks to Fun Fridays with Tom Hartzell!). I'm slowly expanding my repertoire of food preservation techniques, to include canning, fermenting, and drying veggies from my garden(s)."
Mikhail Fernandes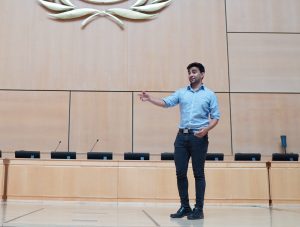 2014 SLS Student
Communications & Eco-DRR Knowledge Network Consultant at United Nations Environment Programme (UNEP) in Geneva, Switzerland
What does your position entail?
"UNEP is the leading authority in setting the global environmental agenda and promoting the implementation of the environmental dimension of sustainable development within the United Nations (UN) system. My role within the UNEP system is constantly evolving but my current work entails providing support for the upscaling of Ecosystem-based Disaster Risk Reduction (Eco-DRR) at the regional, national, and global level. On a regular basis, I'm coordinating, developing, and implementing communication-based activities set out by UNEP, focusing on providing greater visibility to our Eco-DRR work and providing support among networking partners who are advancing the field of Eco-DRR practice. The work is extensive but has been extremely rewarding, especially since I have the privilege of working alongside some of the leading experts in this field. Getting to this stage of my career has been a journey filled with immense financial and personal sacrifices. I would like to thank those who took my aspirations seriously and especially to those who provided me with a couch/place to crash when I needed it the most."
How did your SLS experience help shape your understanding about sustainability or community?
"The SLS programme provided me with the unique opportunity to live, learn, and reside at the picturesque campus of Merry Lea. Being immersed in a shared environment certainly contributed to the way I perceive certain things in this world. From a community standpoint, residing in Rieth Village was the best residential experience of my undergraduate years. Waking up to the sounds and sight of Nature for an entire semester was a spectacle not to be missed.
"There are a multitude of challenges that exist once you step out of Merry Lea, which I personally witnessed during my SLS experience. Some of these challenges include limited public transportation/infrastructure, politically/socially fragmented communities, and the growing mindset of the 'not in my backyard' sentiment. The complexity of these challenges is something that we as a collective need to overcome. I hope that more people can pro-actively take a course or programme at Merry Lea and use the lessons learned to help implement some of Merry Lea's positive environmental ideals into a larger societal framework."
Describe a meaningful experience you remember from SLS.
"It's tough to single out a specific experience, so hats-off to the colleagues who helped design the SLS programme. The headwaters/canoe trip to Lake Michigan from Merry Lea was a huge highlight for me. The 100-river mile journey provided a whole new perspective of the regional surrounding landscape and vividly portrayed the connections between local communities and their watershed. The canoe trip was not only educational but also provided a sense of physical wellbeing given the distance travelled during the trip. It was a highly rewarding experience which served as an excellent gateway for the SLS programme.
"My participation in the SLS programme was the key reason for my retention at Goshen. I would like to give a special shout-out to several former/present colleagues of Merry Lea: Hannah Miller, Jonathon Schramm, and Melissa Kinsey. I would like to specially thank them for going above and beyond in getting to know my backstory and supporting me during my ups and downs even till today."
What's something from SLS that you incorporate in your life today?
"During my time at Merry Lea, I had participated in a 1-month food challenge where I only consumed locally sourced food within a 100km range. I picked kilometers (km) instead of miles so that my fellow Midwestern colleagues could learn how to use a measurement which most of the world follows. The challenge was tough considering the monetization and prioritization of certain crops in the region. Regardless, I survived the local food challenge and am still striving to buy and support locally sourced produce and goods whenever possible. Given the rise of automation and e-commerce giants, it's vital to adapt and support local mom-and-pop shops as much as possible."
Benjamin Isaak-Krauß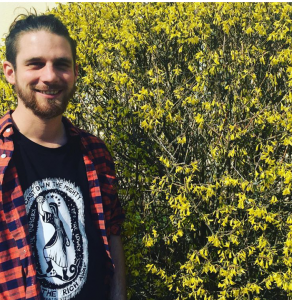 2018 SLS Student
Co-Pastor at Mennonite Congregation of Frankfurt in Frankfurt, Germany
What does your position entail?
"My wife Rianna and I are both co-pastors and the sole staff of our small congregation. We lead worship, preach, administrative tasks and logistics. We're experimenting a bit with wild church, which we got to know in the context of Merry Lea a bit; not directly, but in that ecosystem. Wild church works best to invite not only people from the congregation, but other people not from the church as well. [When we do wild church, I hope] to include a contemplative sermon, observation time, reflection from the text and time to respond to the surrounding nature and to what the creatures are telling us. It gives concrete spiritual practice to these environmental concerns and climate change concerns.
How did your SLS experience help shape your understanding about sustainability or community?
"My wife and I went to SLS through Anabaptist Mennonite Biblical Seminary. We were coming at it from this theological question of: we believe God created the world and, in some sense, charged us to take care of it, so why are we doing such a bad job of it? I had read a bunch about sustainability, but not in a systematic way, just whatever came across my path. SLS is a good curriculum, integrating many different sectors – natural sciences, social sciences, humanities – and the teachers were helpful at putting all these puzzle pieces I had together in a single framework.
"Not only was I learning new things, but the SLS legitimized the questions, concerns and bits of information I had, pointing me to what reputable people say and legitimize what I already knew. SLS really set me free to incorporate ecological concerns into my ministry by introducing me to concepts and ways to bridge ecology and theology, but also simply by giving me time and permission to explore these concepts myself. And it helped to be able to say: I actually studied this a bit, so this is serious stuff. After SLS, we were able to continue the conversation around ecology at the seminary and promote climate consciousness in the Mennonite church."
Describe a meaningful experience you remember from SLS.
"Our watershed canoe trip down the Elkhart and St. Joe all the way to Great Lake Michigan will forever stay etched in my mind as an initiation ritual into a place I thought I knew but got to know newly again. I'm German and not from that place, but I had been living in Elkhart for two years at that point. I knew my way around and knew of some community projects that were going on, but being on the river for such a long time and going at that pace – going the speed of how fast the river takes you and the speed of your paddle – it's much slower. It showed us the actual place and that it has a lot more life than just the human life. It brought me into communities I hadn't interacted with before, and brought us as a group together in connection with that watershed.
"It was a concrete touchpoint as a ritual. Baptism or graduating from school are rituals, but this was much longer, so it felt really strong. Even how we started each day of the canoe trip was carefully crafted and well thought-through."
What's something from SLS that you incorporate in your life today?
"I make space for regular time outside in wild spaces or those reclaimed by creation, worship in wild church style with creation, and gather people for group meals promoting the watershed as meaningful site for climate action.
"We have been trying to promote watershed-framing as a locus of action here [in Germany] and have conversations with people around that. I like the framing that [a watershed] is an ecological scale where meaningful action is possible, but larger than individual action. It brings us together as individuals and preachers. It's not a common ecological framework in Germany, but I find it really useful. In our congregation, lots of people feel overwhelmed with having another thing to do [regarding climate action]. Part of my job is to make them see what they are already doing and then seeing what we can do together; to help people see what the scales of action are and what the scale of appropriate action is."